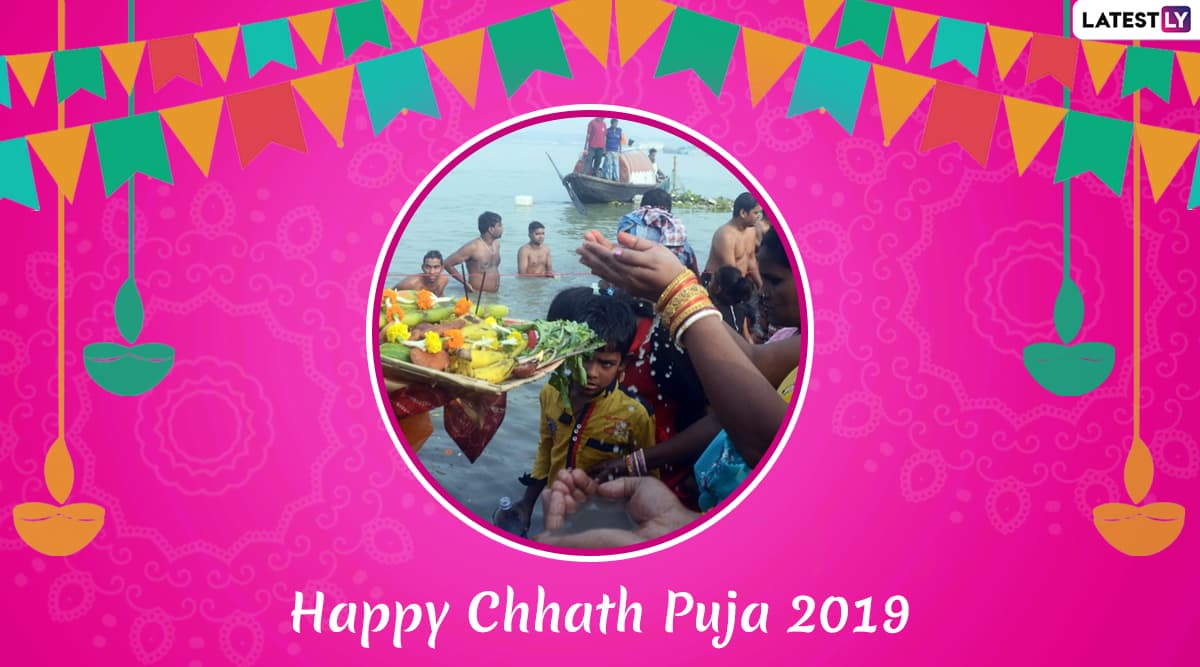 Chhath is a four-day Hindu festival celebrated widely in northern parts of India. Chhath Puja 2019 began on October 31 and will go on till November 3. People observe the festival with various rituals and traditions, including a stringent 36-hour fast dedicated to the Sun God. During the festival, believers worship the Sun God and his sister, Chhathi Maiya, thanking them for the gift of life. People celebrate this auspicious festival with friends and family by sending Chhath Puja Vrat Messages in English, Chhath 2019 WhatsApp Stickers, GIF Greetings, SMS and Facebook Status. Happy Chhath Puja 2019 Wishes For Kharna: WhatsApp Stickers, GIF Images, SMS, Quotes, Facebook Greetings to Send on Mahaparv Chhath.
Chhath is one of the most important and widely celebrated Hindu festivals in the Indian states of Bihar, Jharkhand, Uttar Pradesh and the Madhesh region of Nepal. The festival is celebrated just days after Diwali and is one of the most rigorous and challenging festivals observed by Hindus. The first day of Chhath celebrations begins with a holy dip in a water body, where the devotees begin offering their prayers to the Sun God, and is called as Nahay Khay. On this day, devotees who observe the fast, Parvaitin, consume food only one time. Chhath Puja Geet and Folk Songs: From Anuradha Paudwal and Sharda Sinha to Khesari Lal Yadav and Sunil Chhaila Bihari, Here's Your Playlist for Chhath Parv 2019.
The second day of Chhath brings with it the beginning of the strict 36-hour fast, where Parvaitins abstain from eating anything or even drinking water. The fast begins on the second day, after the devotees consume that day's prasad, after offering it to the Sun God. The 36-hour fast only ends on the fourth day, during sunrise, where the devotees conduct prayer and aarti for the Sun God, and finally, break their fast. As we celebrate Chhath Puja 2019 here are a series of Chhath Puja Vrat Messages in English, Chhath 2019 WhatsApp Stickers and Facebook Status Messages to send to your friends and family.
Happy Chhath Puja 2019 Wishes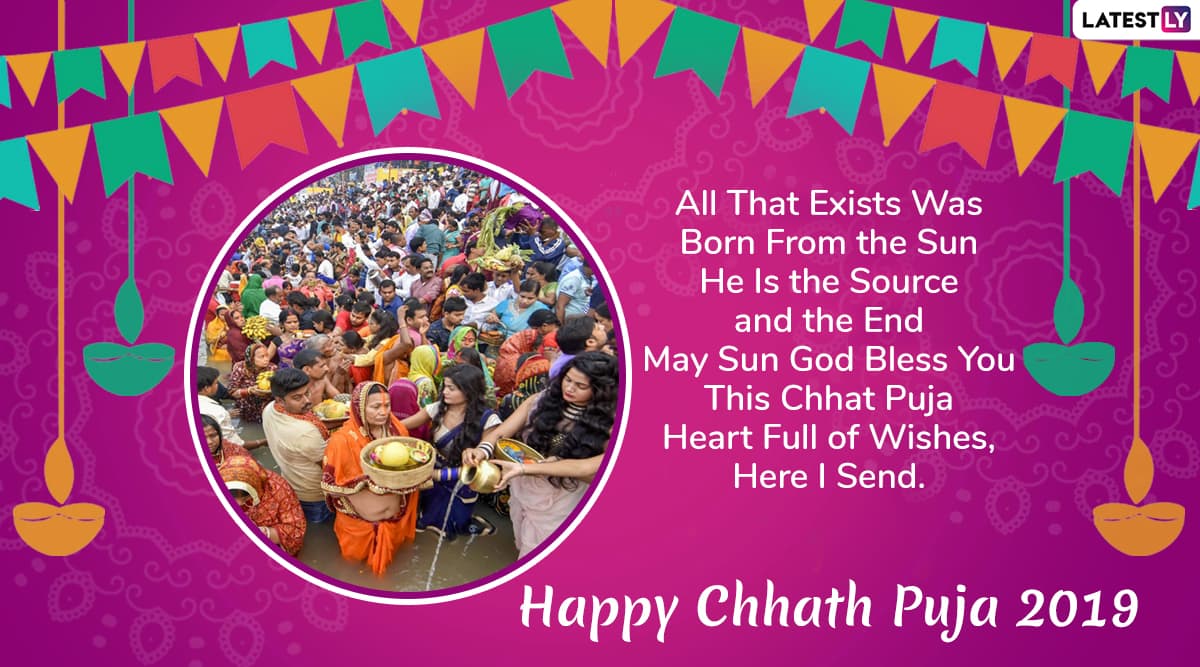 Message reads: All That Exists Was Born From the Sun He Is the Source and the End May Sun God Bless You This Chhat Puja Heart Full of Wishes, Here I Send. Happy Chhath Puja 2019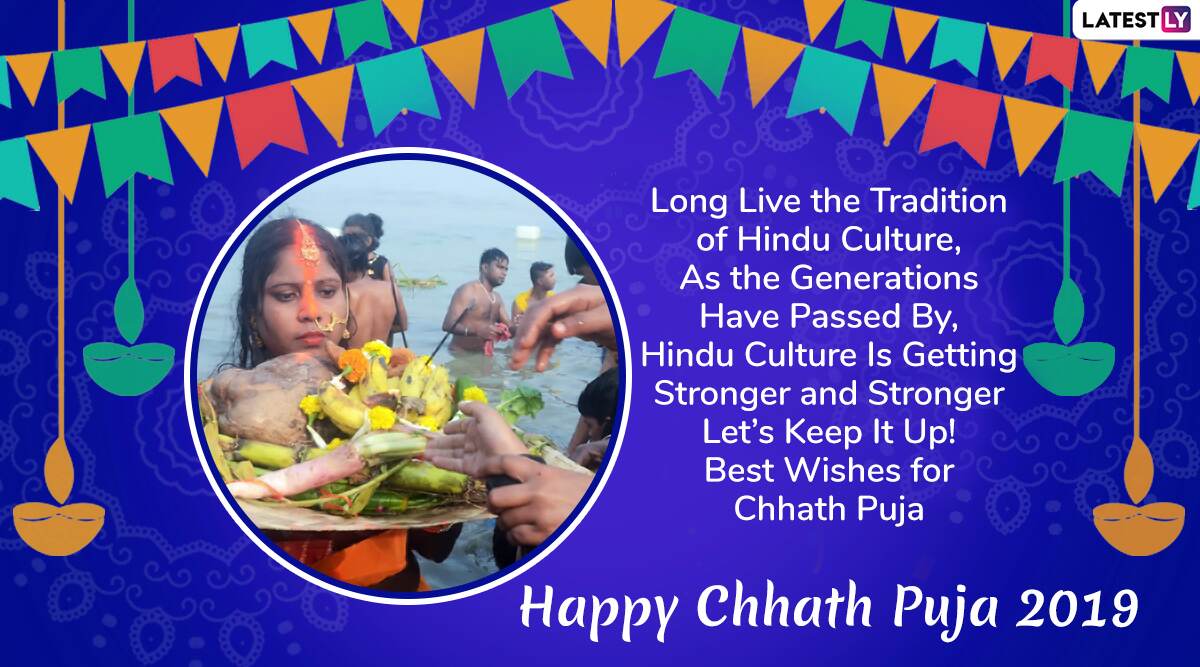 Message reads: Long Live the Tradition of Hindu Culture, As the Generations Have Passed By, Hindu Culture Is Getting Stronger and Stronger Let's Keep It Up! Best Wishes for Chhath Puja. Happy Chhath Puja 2019!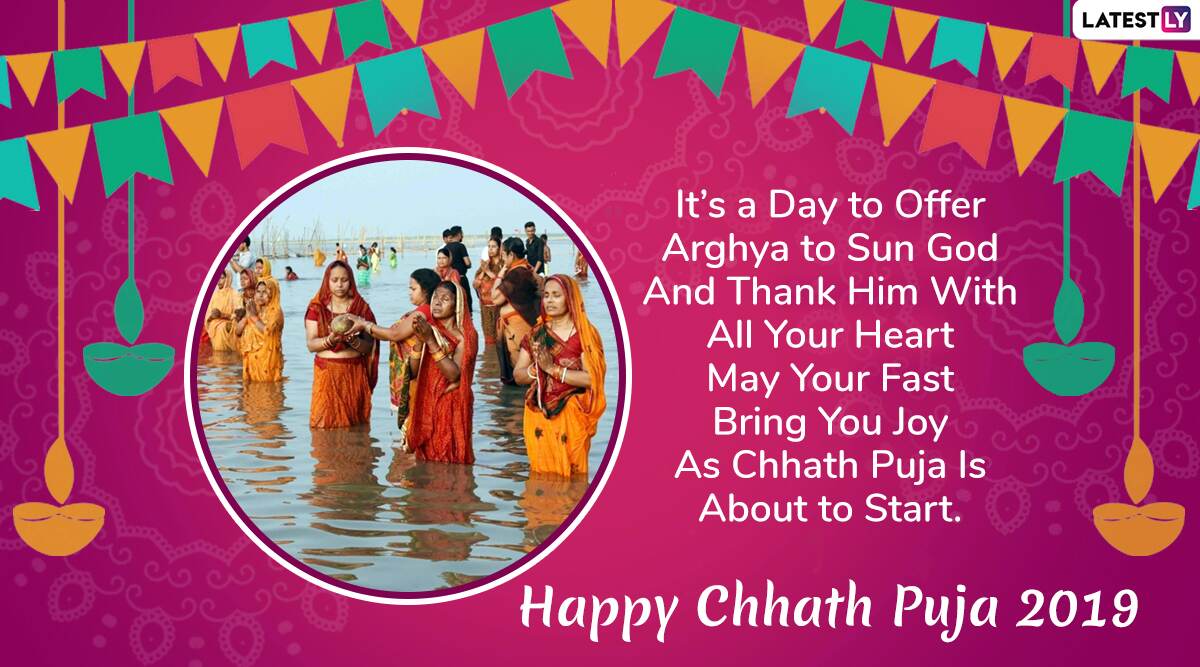 Message reads: It's a Day to Offer Arghya to Sun God And Thank Him With All Your Heart May Your Fast Bring You Joy As Chhath Puja Is About to Start. Happy Chhath Puja 2019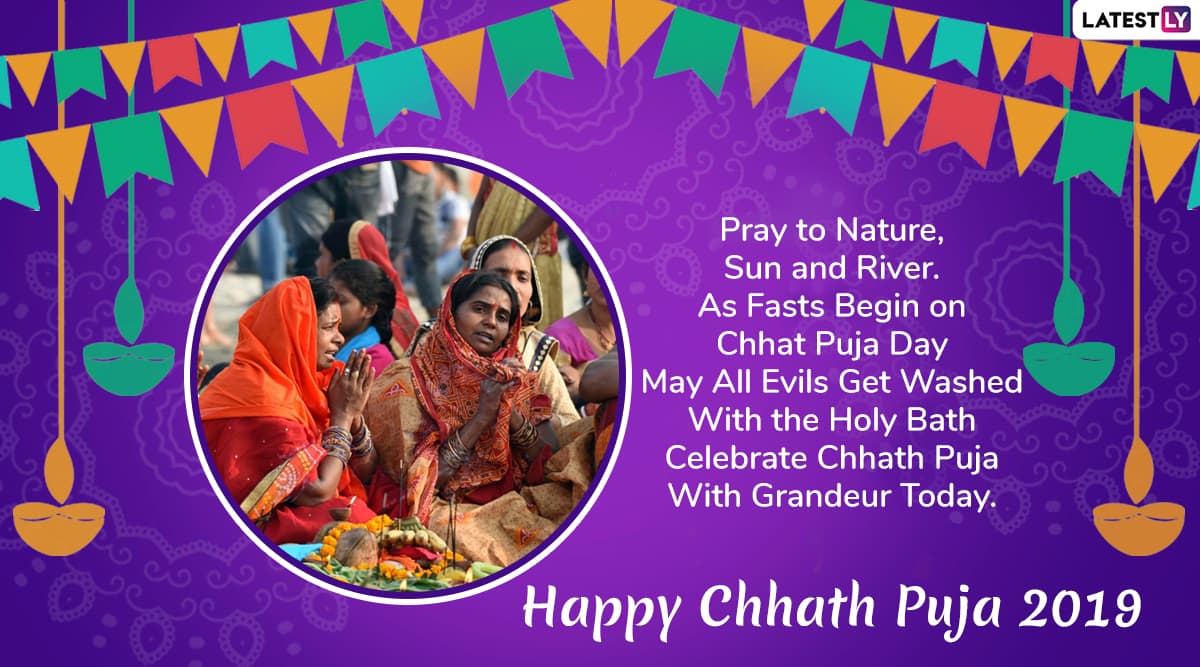 Message reads: Pray to Nature, Sun and River. As Fasts Begin on Chhat Puja Day May All Evils Get Washed With the Holy Bath Celebrate Chhath Puja With Grandeur Today. Happy Chhath Puja 2019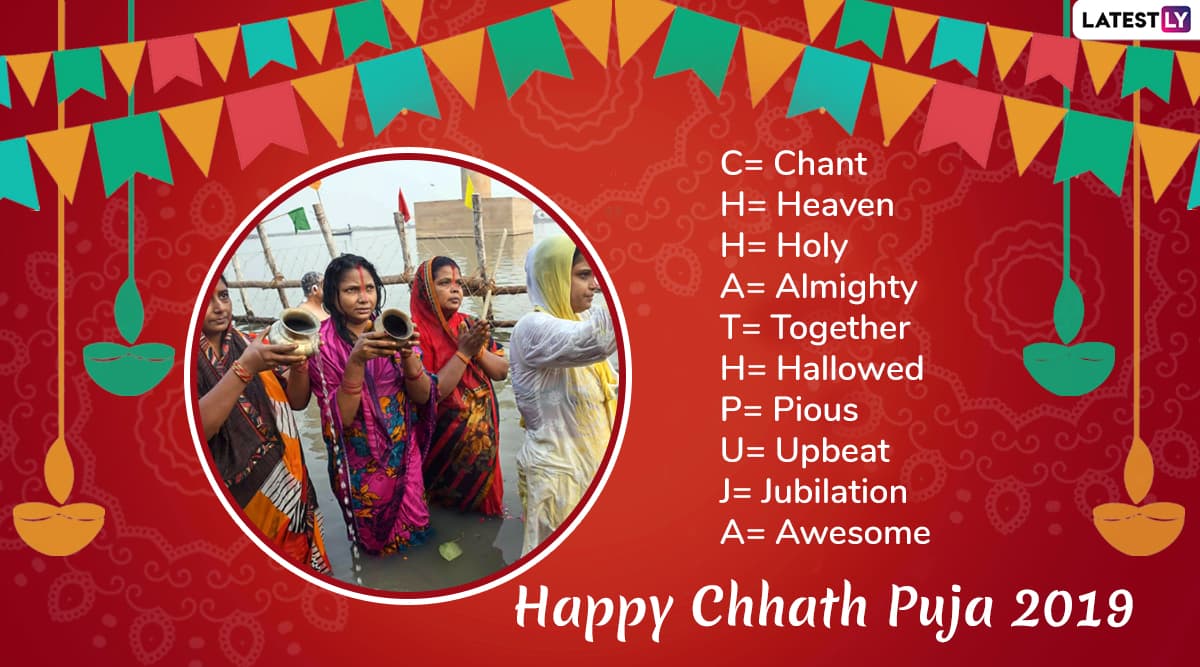 Message reads: C= Chant H= Heaven H= Holy A= Almighty T= Together
H= Hallowed P= Pious U= Upbeat J= Jubilation A= Awesome
Happy Chhath Puja 2019!
Here's a Video of Chhath Puja Messages:
Chhath Puja WhatsApp Stickers
The new way of sending greetings and wishes is WhatsApp stickers. You can also send your wishes for Chhath Puja with dedicated festive stickers. Go the Play Store and check for Chhath Puja WhatsApp stickers. You can then use them via the messaging application.
Chhath is said to be one of the most eco-friendly festivals as the celebrations mainly include praying to the Sun God during sunrise as well as sunset by offering water. During this festival, people also stand in water bodies for long periods of time, to offer their prayers, and ask for the long and healthy life of their kids. While it is predominantly observed by women in many families, Chhath is not gender-specific and does not revolve around any kind of idol worship. These factors all make Chhath a one-of-its-kind festival, that is breathtakingly beautiful.