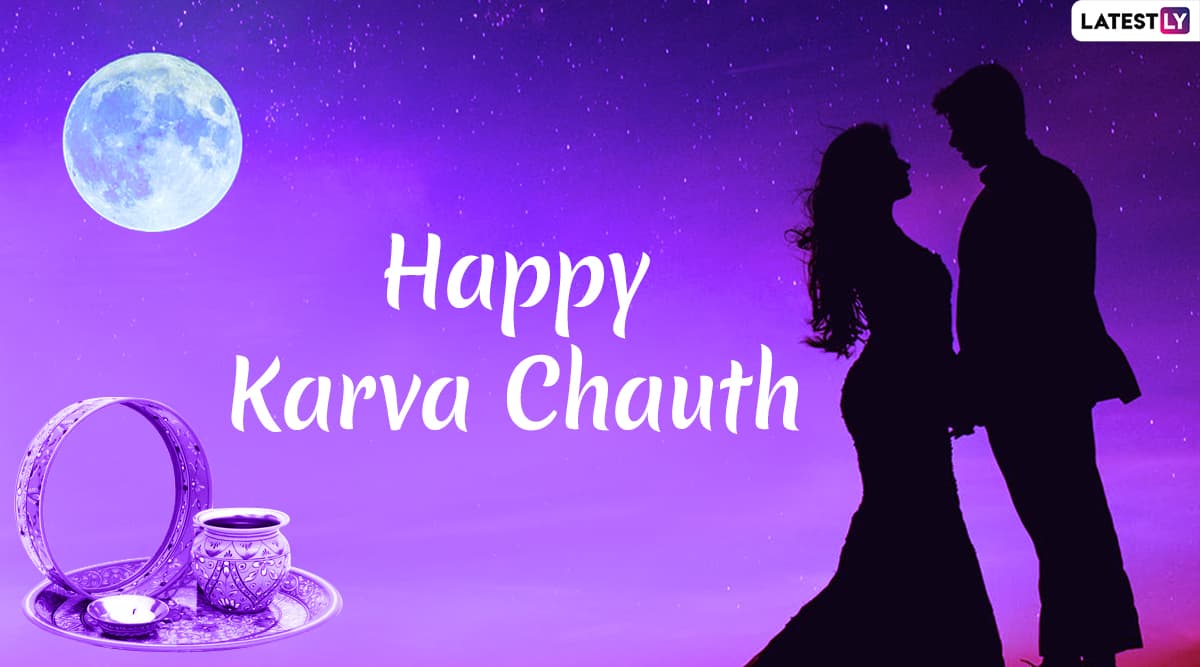 Karwa Chauth or Karva Chauth is a Hindu festival observed by married women. They fast all day praying for the health and well being of their husbands. They fast from dawn till dusk with no food or water. Karwa Chauth signifies the love and bond between a husband and a wife. Some husbands also accompany their wives in fasting on the observance. Husbands and wives send each other Karwa Chauth messages and greetings celebrating the day. On Karwa Chauth 2019, we have compiled a list of wishes and beautiful romantic images for husbands. Wives out there, who are looking for the best wishes to greet their husbands, you are at the right place. Here is a collection of Karwa Chauth WhatsApp Stickers, Facebook greetings, romantic messages for husbands, love quotes and GIF Image. Karwa Chauth 2019 Greeting Cards & Images: WhatsApp Stickers, GIF Messages, Romantic Photos, Quotes and SMS to Wish Your Husband or Wife!
Karwa Chauth is widely celebrated in the northern states of the country. As women fast on this day,  men shower them with gifts. From jewellery, gadgets to clothes, men surprise their women. Meanwhile, women also prefer to gift their husbands as a token of love. While you can express your love with gifts, a beautiful message is something that touches everyone's hearts. As we celebrate Karva Chauth 2019, send these beautiful wishes and messages to make your man feel special. Happy Karwa Chauth 2019 Wishes in Punjabi: WhatsApp Stickers, GIF Image Greetings, Messages, Quotes and SMS to Share on Karva Chauth.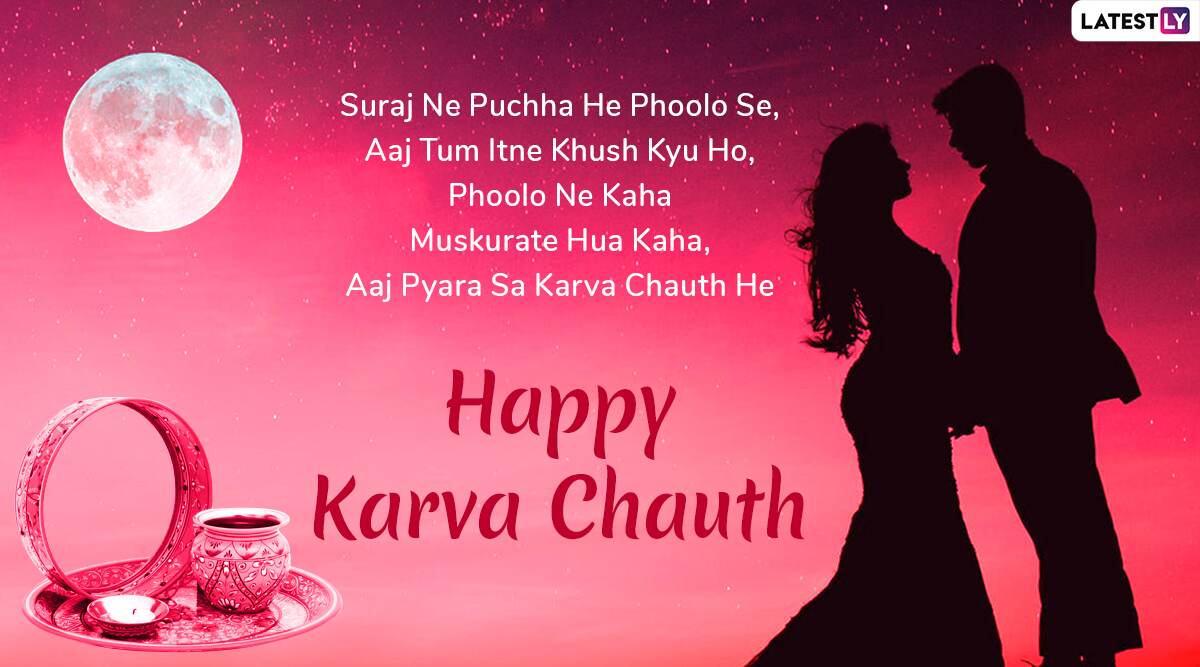 Karwa Chauth WhatsApp Message For Husband in Hindi: Suraj Ne Puchha He Phoolo Se, Aaj Tum Itne Khush Kyu Ho, Phoolo Ne Kaha Muskurate Hua Kaha, Aaj Pyara Sa Karva Chauth He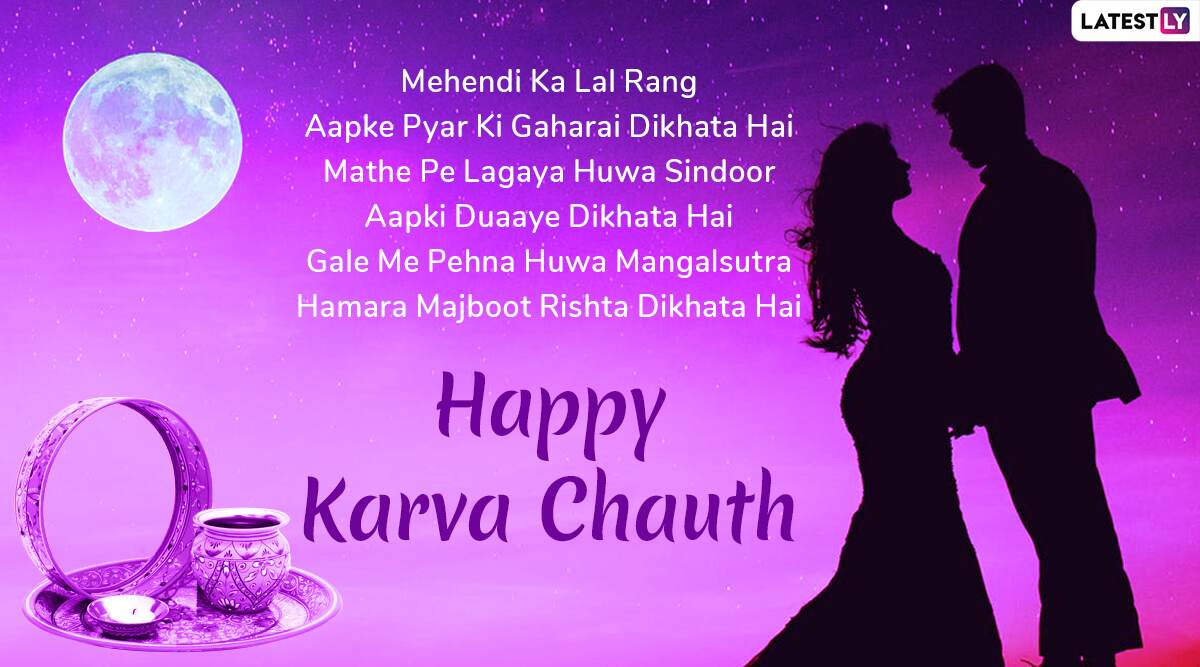 Karwa Chauth WhatsApp Message For Husband: Mehendi Ka Lal Rang Aapke Pyar Ki Gaharai Dikhata Hai Mathe Pe Lagaya Huwa Sindoor Aapki Duaaye Dikhata Hai Gale Me Pehna Huwa Mangalsutra Hamara Majboot Rishta Dikhata Hai.
Karwa Chauth GIF!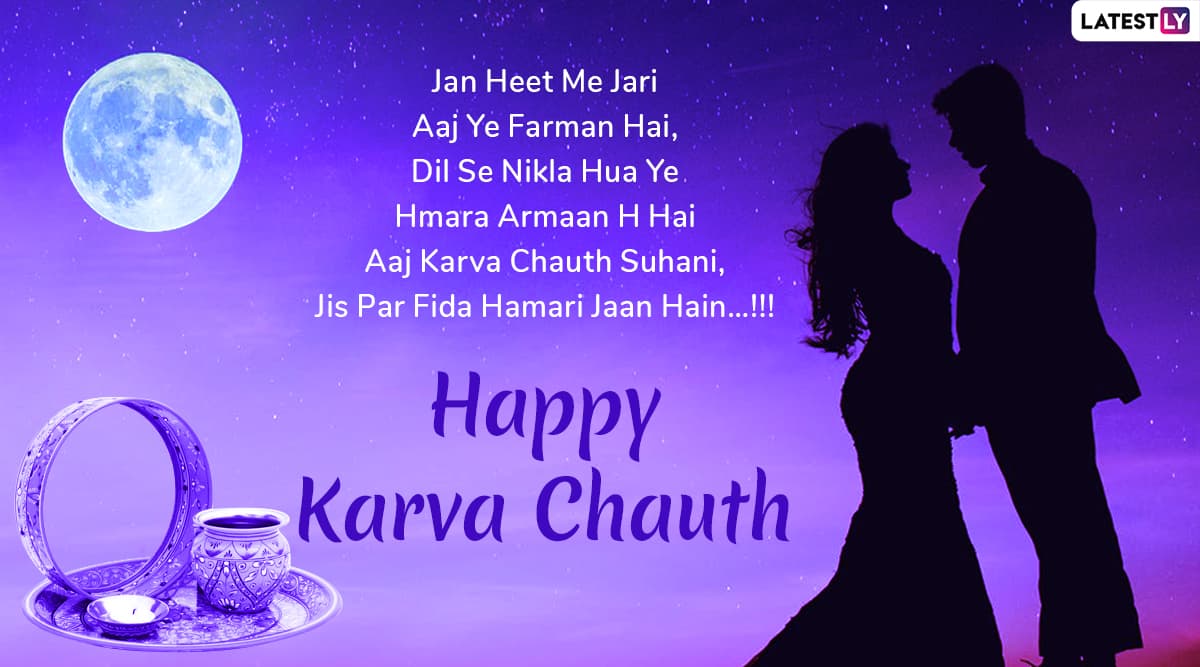 Karwa Chauth Facebook Greetings For Husband: Jan Heet Me Jari Aaj Ye Farman Hai, Dil Se Nikla Hua Ye Hmara Armaan H Hai Aaj Karva Chauth Suhani, Jis Par Fida Hamari Jaan Hain…!!!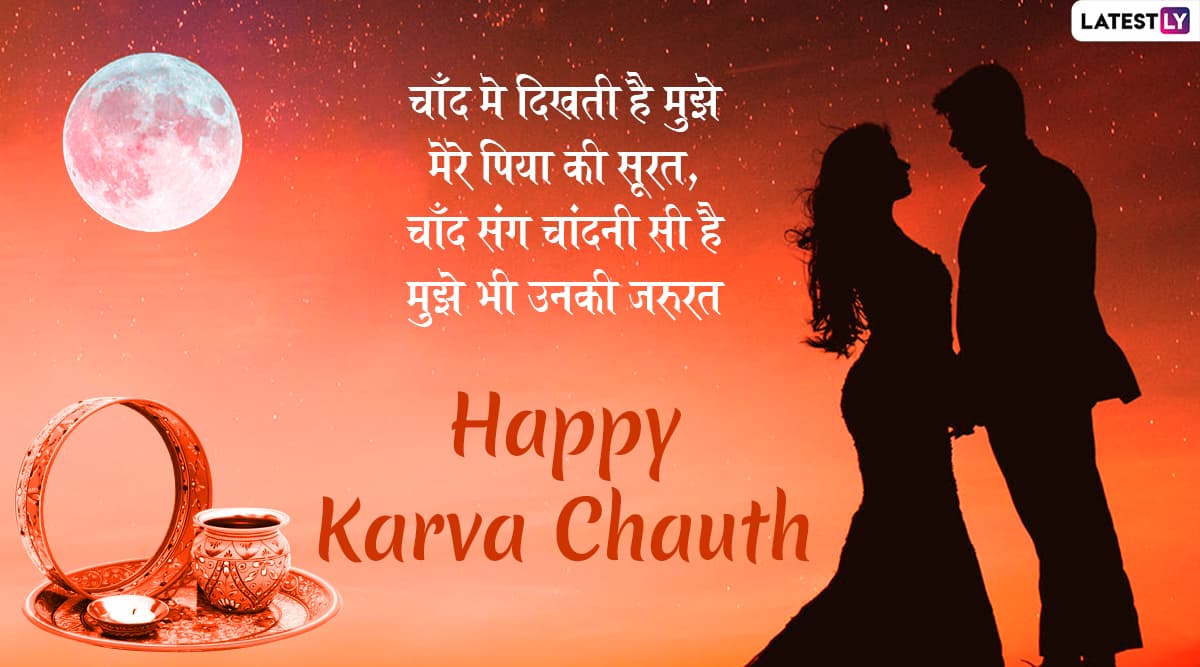 Karwa Chauth WhatsApp Message in Hindi: चाँद मे दिखती है मुझे मेरे पिया की सूरत, चाँद संग चांदनी सी है मुझे भी उनकी जरुरत.
Karwa Chauth GIF Image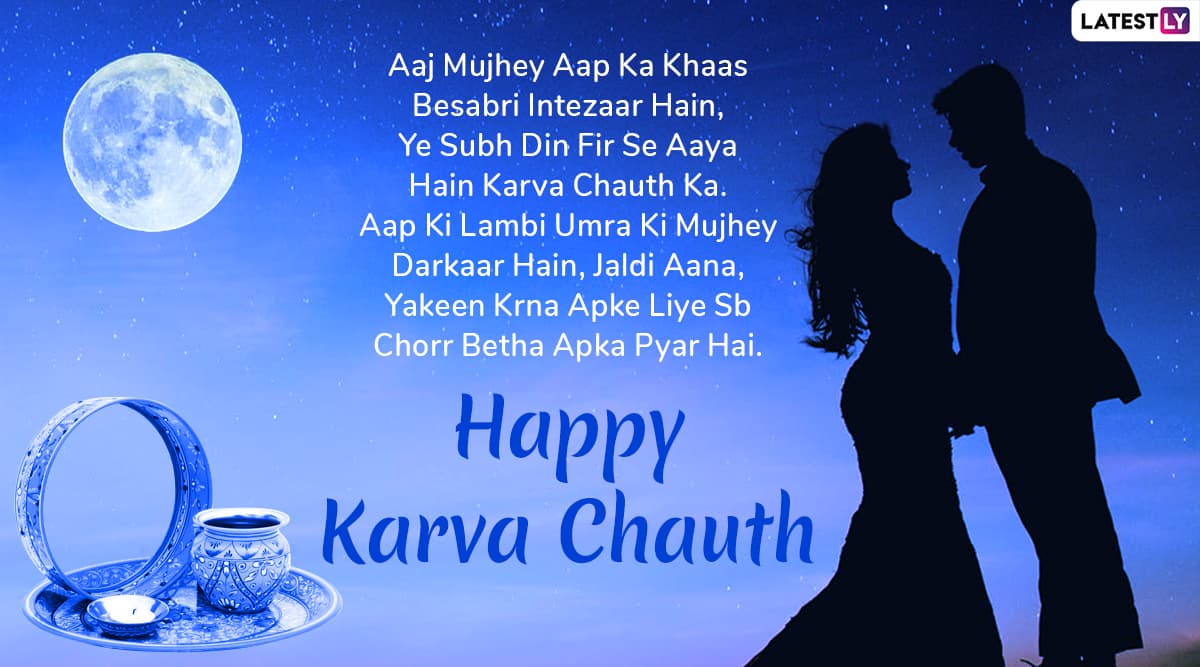 Karwa Chauth WhatsApp Message For Husband: Aaj Mujhey Aap Ka Khaas Besabri Intezaar Hain, Ye Subh Din Fir Se Aaya Hain Karva Chauth Ka. Aap Ki Lambi Umra Ki Mujhey Darkaar Hain, Jaldi Aana, Yakeen Krna Apke Liye Sb Chorr Betha Apka Pyar Hai.
How to Download Karwa Chauth WhatsApp Stickers
WhatsApp being a popular instant messaging platform, people take to the medium to wish on festivals, birthdays and other observances. As the platform has been growing, WhatsApp has introduced several new features to it. You can download Karwa Chauth WhatsApp Stickers from PlayStore.
Karwa Chauth falls on the fourth day after the full moon in the Hindu month of Kartik. As per the Gregorian calendar, this year it falls on October 17, 2019.  While married women celebrate the festival, it is also observed by unmarried women looking for prospective grooms. It is said that women who fast on this day get a good husband in the future. They adorn themselves in traditional clothes, beautiful jewellery, apply mehendi on their palms and spend the way with other women observing Karwa Chauth. We wish everyone celebrating a 'Happy Karwa Chauth!'