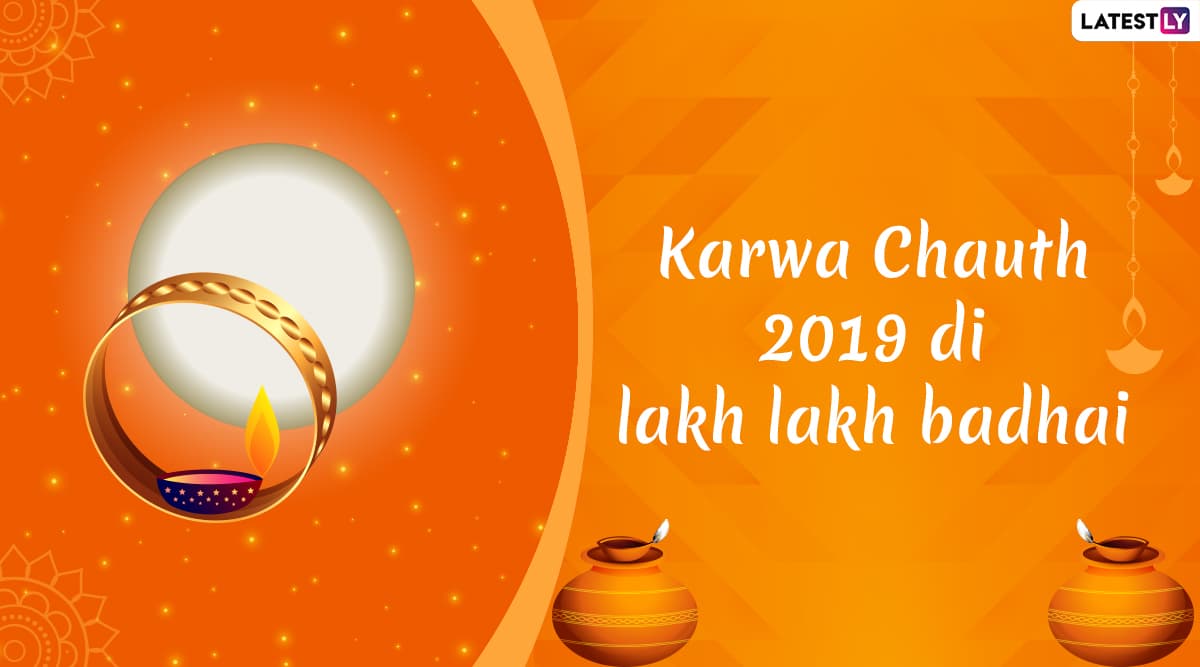 Karwa Chauth 2019 (also spelt as Karva Chauth) is being celebrated across the world on October 17, Thursday. The festival of Karvachauth celebrates the love and bond shared by a married couple. On this day, married women observe fast without water, praying for the long lives of their husbands. With changing times, in a bid to make traditions gender-neutral, the festival now sees both partners fasting for each other on this day. The day-long fast ends as the moon comes out in the evening sky. The festival is widely celebrated in North India, especially in Delhi, Uttar Pradesh, Haryana and Punjab. People in Punjab share Happy Karwa Chauth wishes and messages in Punjabi on this day. Karwa Chauth 2019 Dos and Don'ts: Here's How to Correctly Observe Karva Chauth Vrat For Women Celebrating The Festival For The First Time.
The day of Karvachauth begins with married women or men eating sargi early in the morning before sunrise. After sunrise, the fast begins and till moonrise, women do not eat or drink anything including water. After moonrise, women offer water (ark) to the moon (chand) and then drink the first sip of water for the day from the hands of their spouse. LatestLY gets you a collection of Happy Karvachauth 2019 WhatsApp messages, images and quotes in Punjabi to share with each other. Karwa Chauth 2019 Wishes For Husband & Wife: WhatsApp Stickers, Romantic Facebook Greetings, GIF Images, SMS and Love Quotes For Karva Chauth!
Happy Karwa Chauth 2019 Greetings in Punjabi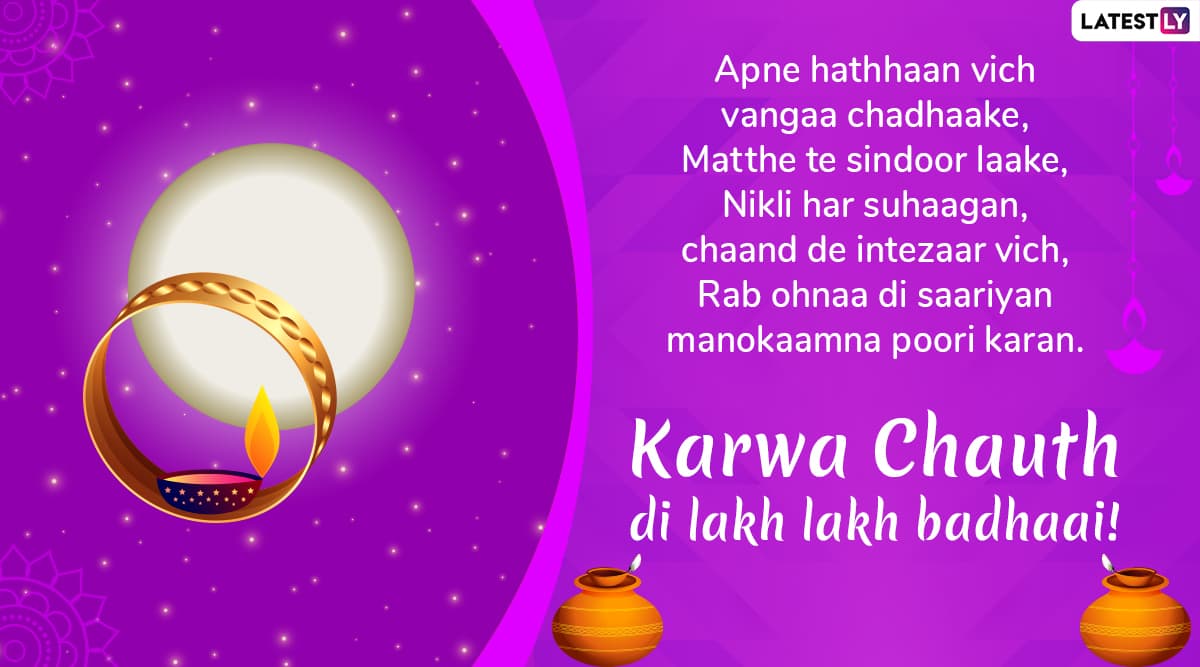 WhatsApp message reads: Apne hathhaan vich vangaa chadaake, Matthe te sindoor laake, Nikli har suhaagan, chaand de intezaar vich, Rab ohnaa di saariyan manokaamna poori karan. Karwa Chauth di lakh lakh badhaai!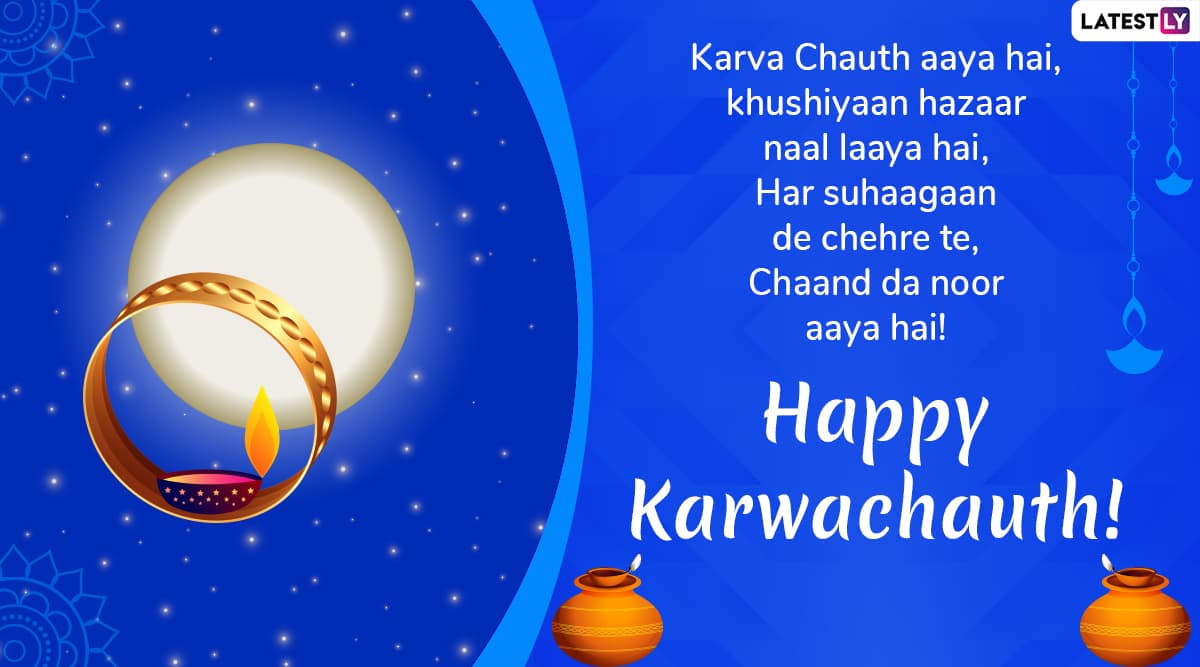 WhatsApp message reads: Karva Chauth aaya hai, khushiyaan hazaar naal laaya hai, Har suhaagaan de chehre te, Chaand da noor aaya hai! Happy Karwachauth!
WhatsApp message reads: Chaand di roshni ek paigaam laayi hai, Tuhaade layi mann vich khushiyaan chhaayi hain, Sab ton pehlaan tuhaanu Karwachauth di lakh lakh badhaai hai!
WhatsApp message reads: Chhand di chamak de naal, Saahaan di mehak de naal, Shraddha di raat liye, Vishwaas di saugaat liye, Aaya hai Karwa Chauth da tyohaar. Karvachauth di badhaai!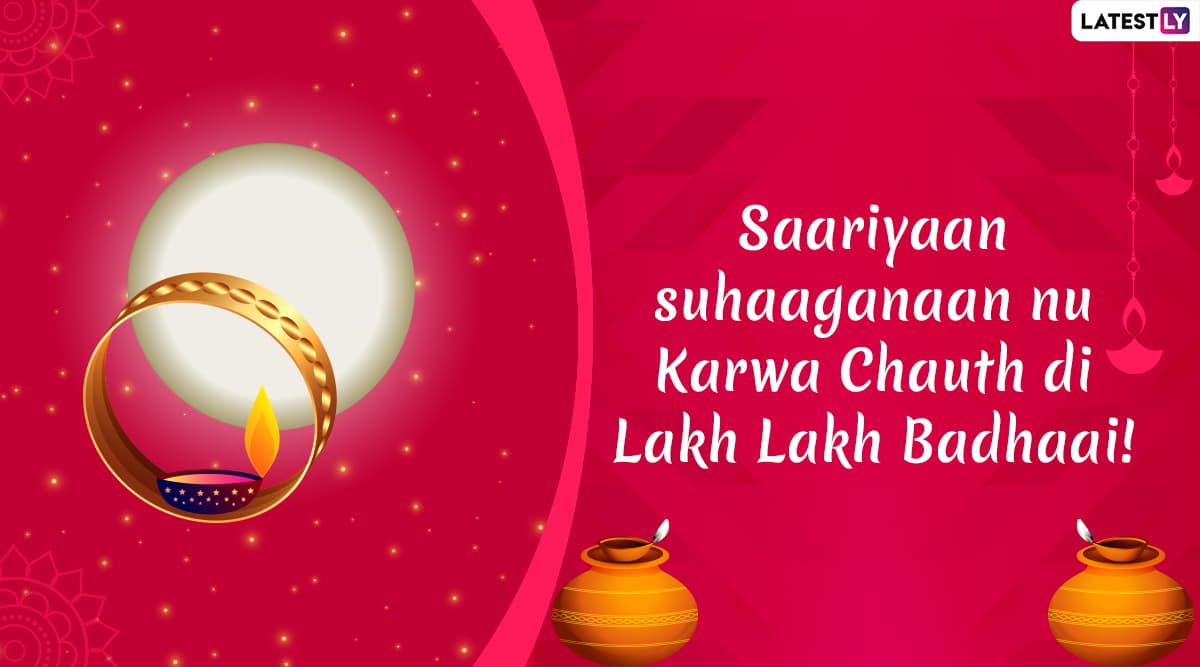 WhatsApp message reads: Saariyaan suhaaganaan nu Karwa Chauth di Lakh Lakh Badhaai!
Karvachauth GIF
The festival of Karwa Chauth witnesses women dressing up in the best attires and also applying mehendi on the palms. It is also a day when spouses exchange gifts with each other to express their love for each other. Women also give gifts to their mothers-in-law on this day. LatestLY wishes all its readers a very Happy Karvachauth 2019!