It is the festival of the harvest that is observed by the individuals across the nation followed by different names and traditions. Makar Sankranti 2019 is celebrated on January 14 to some parts of India, while others will mark the festivity on January 15. Magh Bihu or Bhogali Bihu is one such celebration which is observed in Assam, marking the end of harvesting season, in the month of Maagha with feasting last for a week. As the north-eastern state is at their celebratory mood, all you want now are those beautiful wishes that you can share this Magh Bihu 2019. Hence, we have compiled a handful of photo messages and quotes that you can send your warmest greetings to your family members and loved ones. Magh Bihu 2019 Date: Know Significance, Tradition and Celebrations Related to Assam's Harvest Festival. 
Like Makar Sankranti and Uttarayan, the festival is celebrated to mark a slight shift in the earth's rotational axis bringing the end of chilly winters and welcoming the spring. Bhogali Bihu 2019 is one of three Bihu celebrated by the Assamese community. 'Bhogali' is derived from the word Bhog, which refers to eating and enjoyment. Just as the name suggests, there is definitely plenty of food involved in the celebrations along with traditional songs and dance. The eve of Magh Bihu is known as Uruka, the last day of the lunar month of Pousha. People spend the night near bhelagha or meji (bonfire) by singing songs and performing folk dances. As we have hit the festivity, here are some heart-warming wishes and messages that you can share with your family and friends through WhatsApp, Facebook and other social media sites. Happy Makar Sankranti 2019 Wishes & Photos.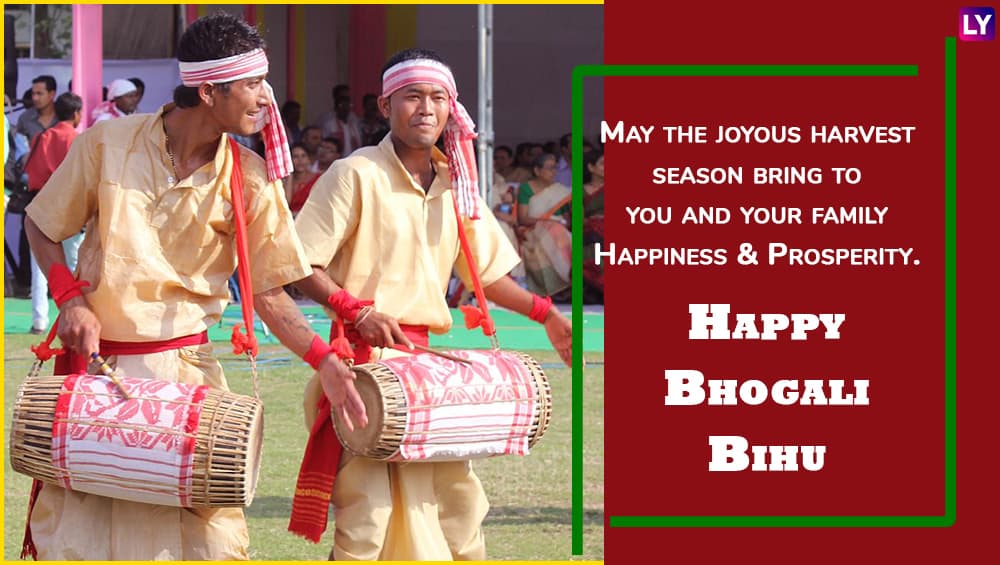 WhatsApp Message Reads: May the joyous harvest season bring to you and your family Happiness & Prosperity. Happy Bhogali Bihu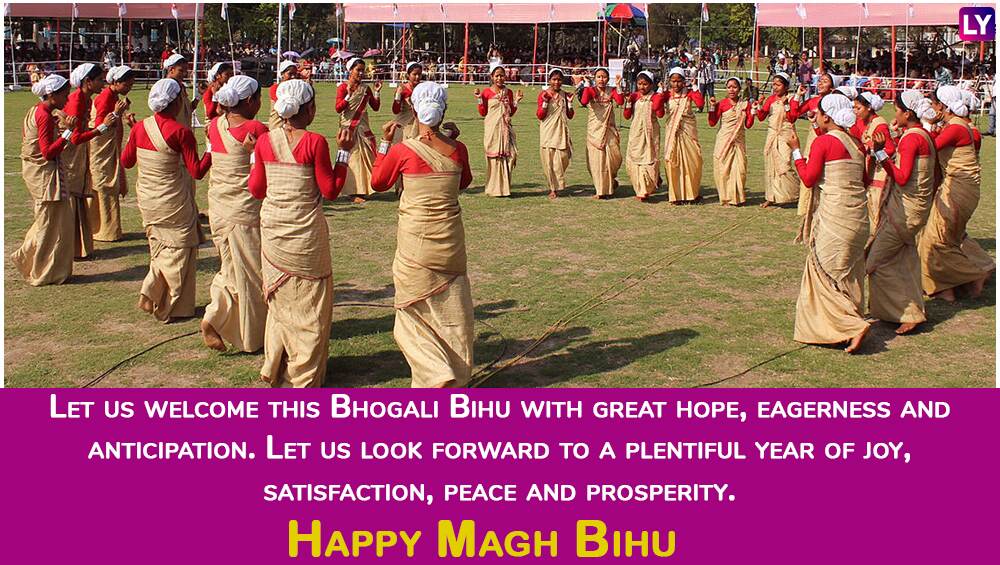 WhatsApp Message Reads: Let us welcome this Bhogali Bihu with great hope, eagerness and anticipation. Let us look forward to a plentiful year of joy, satisfaction, peace and prosperity. Happy Magh Bihu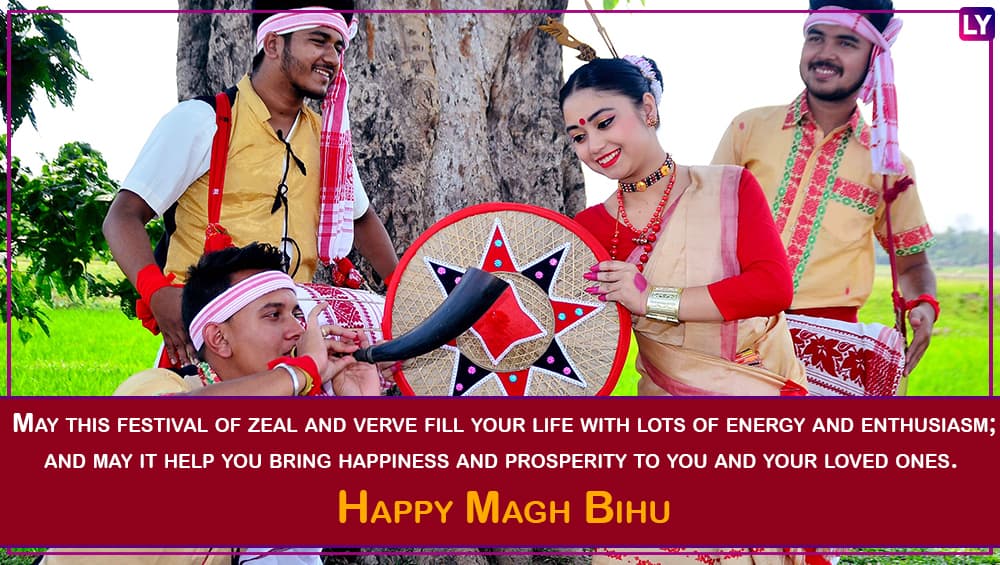 WhatsApp Message Reads: May this festival of zeal and verve fill your life with lots of energy and enthusiasm; and may it help you bring happiness and prosperity to you and your loved ones. Happy Magh Bihu
WhatsApp Message Reads: Mati mahor khuwadere, mitha alur mithare. Bora saulor athare, joha saulor khugandhare. Jibon Bhogali hoi porok, tare kamonare Bhogali Bihur khubheswa janalo… Happy Bhogali Bihu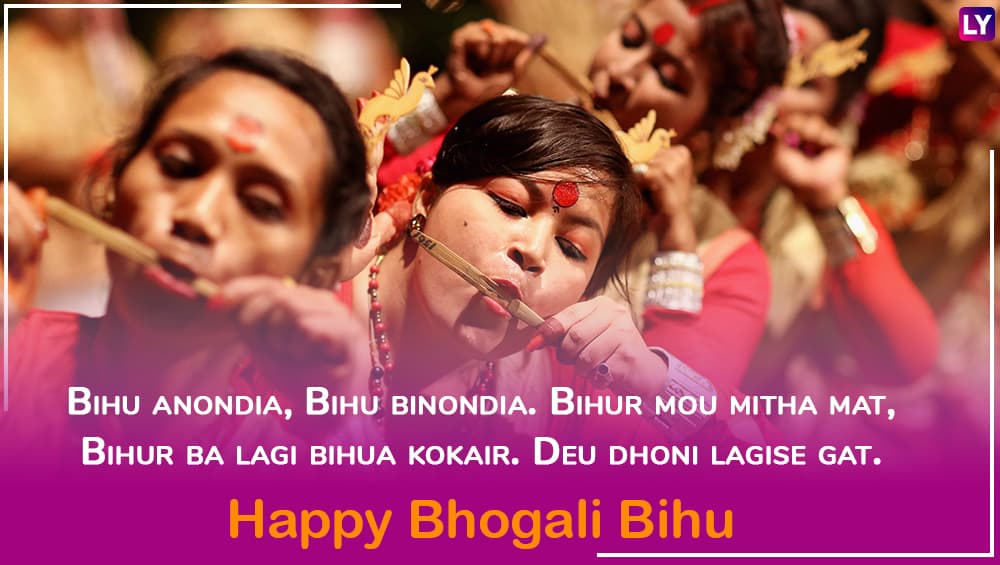 WhatsApp Message Reads: Bihu anondia, Bihu binondia. Bihur mou mitha mat, Bihur ba lagi bihua kokair. Deu dhoni lagise gat. Happy Bhogali Bihu
Bihu is celebrated widely in all parts of Assam. We hope, the above greetings will be useful to you while you share warm wishes to your dear ones. Individuals thank the fire god to mark the end of the harvest season and take back his blessing in the form of burnt woods and bamboo. Any Bihu celebration is incomplete without the melodious folk Bihu Geet (songs) and their traditional dance. Adorn in new clothes, eat those delicious pithas and dance into the tune of Bihu Geet, this festivity. Happy Bihu.