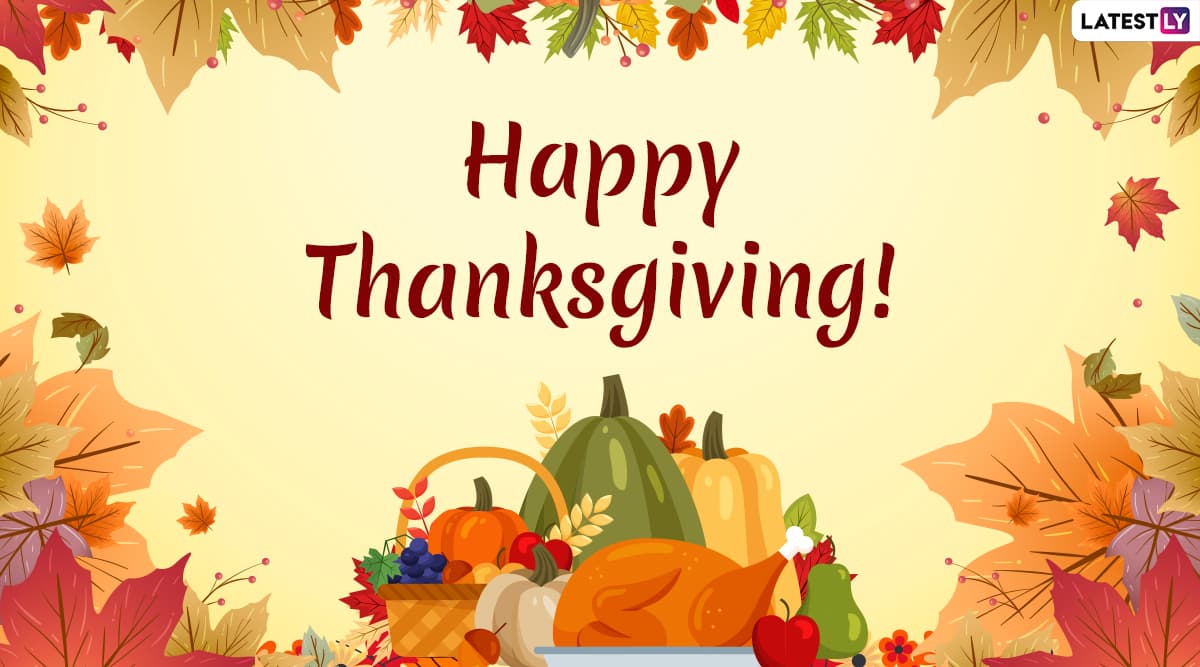 Happy Thanksgiving 2019, fellas! Thanksgiving is a federal holiday in the United States of America celebrated with much enthusiasm and grandeur. Thanksgiving 2019 is observed on November 28. Thanksgiving's celebrations began as a harvest festival originally. On this day, people send Thanksgiving greetings through WhatsApp Stickers, Instagram Stories, Facebook Messages, Snapchat, and other social media apps. As we celebrate the day, we have compiled some of the best Thanksgiving 2019 greetings. People wish their family, friends, relatives, employees, clients and others with beautiful Thanksgiving messages. Thanksgiving Dinner Prayers & Thanksgiving Day 2019 Images: Prayers to Offer to Thank God for The Previous Year's Harvest.
People can also send 2019 Thanksgiving greetings to their loved through text messages, picture messages, GIFs, videos, and SMSes as well. If you are searching for the latest and top Thanksgiving 2019 greetings which you can share with your dear ones, then you need not worry, as we have got you covered. We at LatestLY present you some of the newest and top Thanksgiving 2019 greetings that you convey your feelings with on this special day. Thanksgiving Day 2019 Wishes & Messages: WhatsApp Stickers, Hike GIF Images, SMS, Quotes, Photos and Captions to Send Happy Thanksgiving Greetings.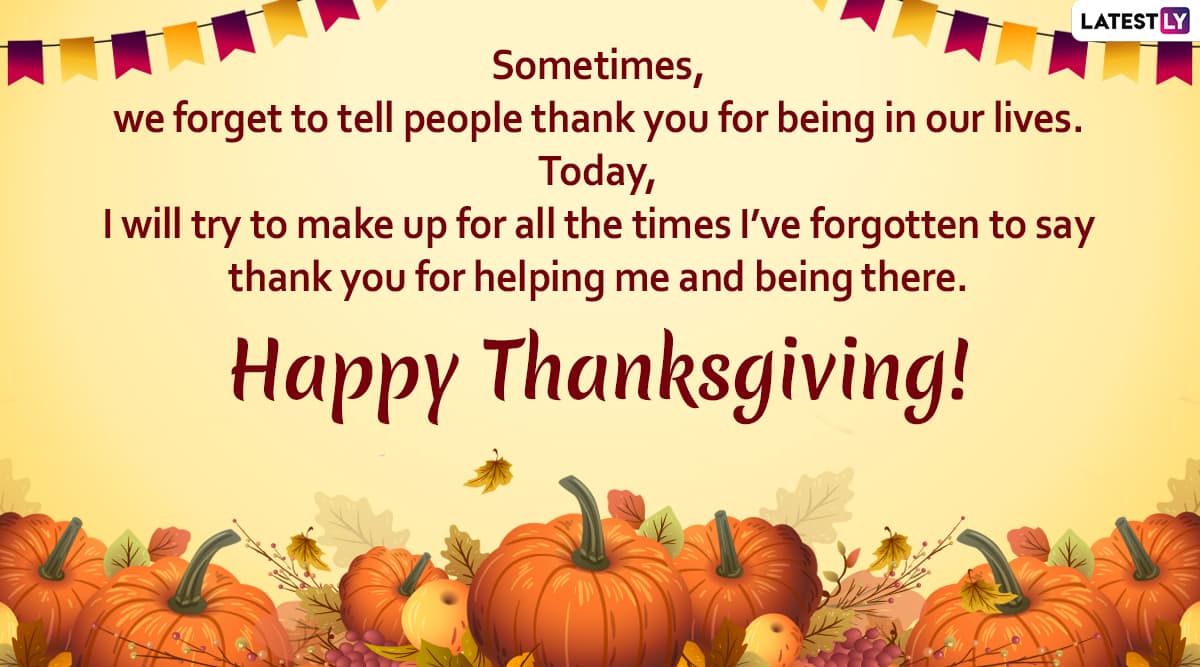 WhatsApp Message Reads: Sometimes, We Forget to Tell People Thank You for Being in Our Lives. Today, I Will Try to Make Up for All the Times I've Forgotten to Say Thank You for Helping Me and Being There. Happy Thanksgiving!
Thanksgiving GIFs!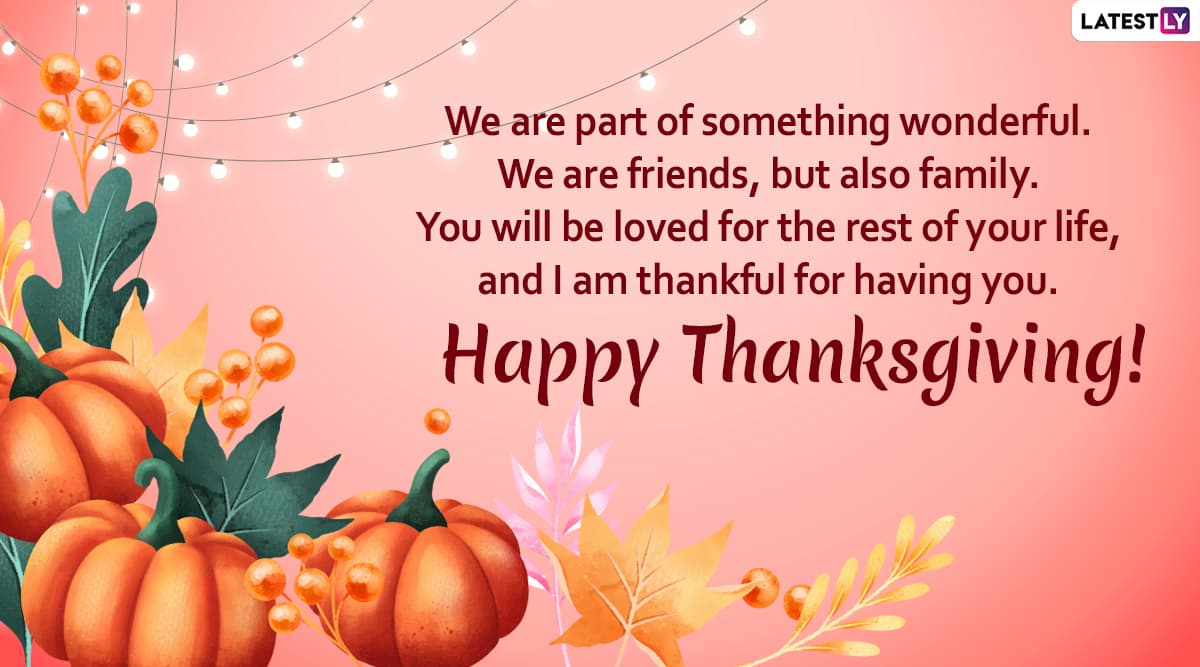 WhatsApp Message Reads: We Are Part of Something Wonderful. We Are Friends, but Also Family. You Will Be Loved for the Rest of Your Life, and I Am Thankful for Having You. Happy Thanksgiving!
Thanksgiving GIF Images!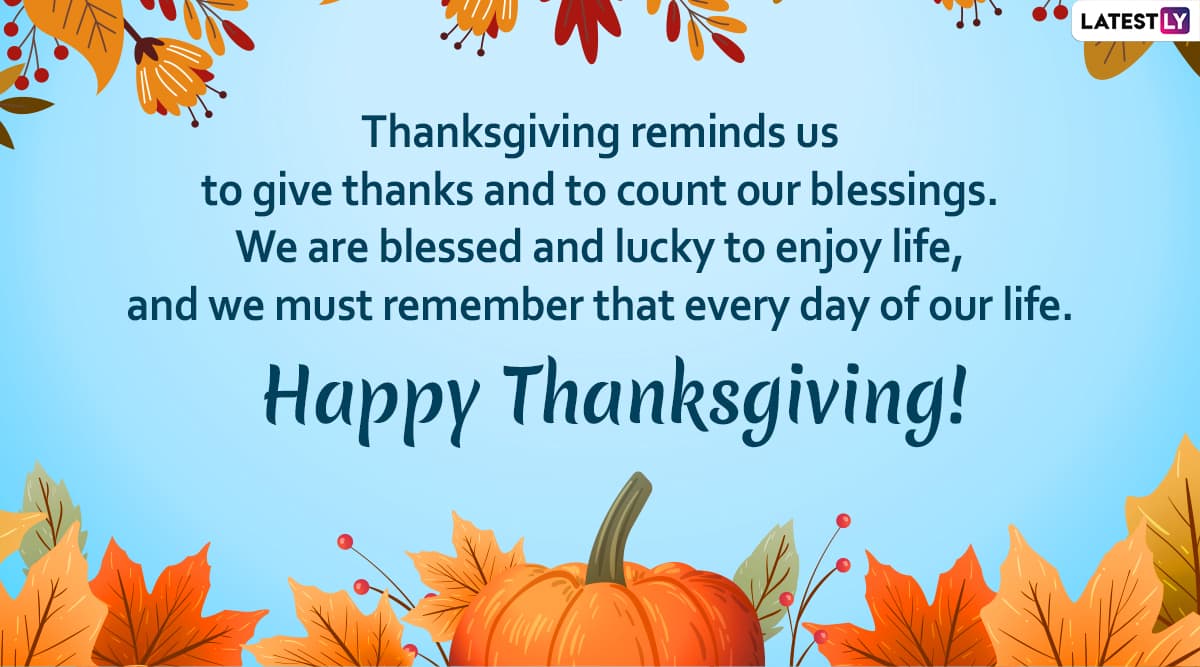 WhatsApp Message Reads: Thanksgiving Reminds Us to Give Thanks and to Count Our Blessings. We Are Blessed and Lucky to Enjoy Life, and We Must Remember That Every Day of Our Life. Happy Thanksgiving!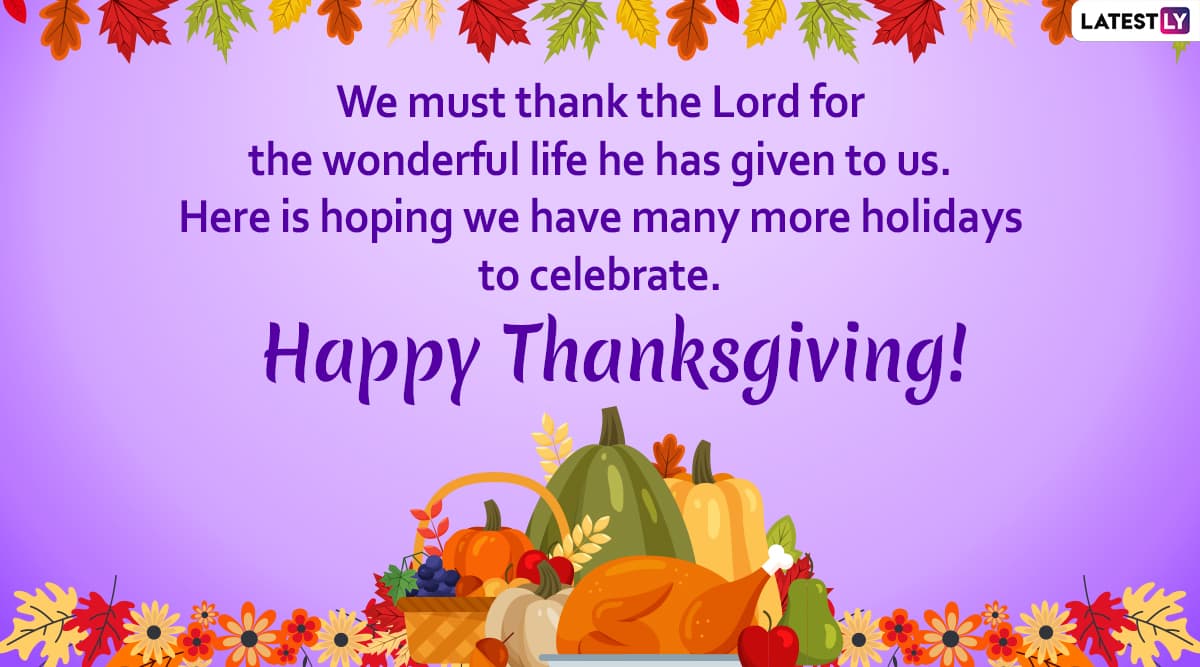 WhatsApp Message Reads: We Must Thank the Lord for the Wonderful Life He Has Given to Us. Here Is Hoping We Have Many More Holidays to Celebrate. Happy Thanksgiving!
Thanksgiving 2019 WhatsApp Stickers
With WhatsApp becoming a popularly used instant messaging app, people use the medium to send festive greetings too. WhatsApp Stickers is another feature to send wishes on festivals, anniversaries and other such occasions. You can download Thanksgiving 2019 WhatsApp Stickers from PlayStore.
The day of Thanksgiving is also regarded as the beginning of the fall-winter season. Thanksgiving is celebrated in many countries around the world on different days. The celebrations include charity drives, fun events, and a traditional Thanksgiving dinner form the major part of it. As the celebratory day nears, i.e. November 28, we at LatestLY wish you all a very 'Happy Thanksgiving 2019!'