72nd Independence Day of India is finally here. The much-awaited annual event when the entire country unites to celebrate India's Independence Day on 15th of August. After all, it was on this day seven decades ago, India got its freedom from the clutches of British rule and became a free nation. Every citizen celebrates the day with great joy and fervour. One of the common ways of expressing delight and joining in I-Day revelry is exchanging messages, especially in Hindi. From "Sare Jahan se Accha" to "Vande Mataram", patriotic songs, poems and quotes used to wish Independence Day 2018 in Hindi is pure joy. We have listed down a collection of Independence Day 2018 wishes in Hindi, consisting of GIF Images, and text messages, which can be sent on WhatsApp and Facebook or kept as status and even DPs.  Independence Day 2018 GIF Images: Download HD Quality Tiranga Pictures and 15th August WhatsApp Greeting Cards to Wish Happy Independence Day 2018.
Indian Independence Day is of great importance to Indians as the country got freedom from the British rule after years of slavery. The day also remembers the sacrifice made by the brave heroes like Bhagat Singh, Shubash Chandra Bose and more. It has been declared as the National and gazetted holiday across the country.
Independence Day should be celebrated with great enthusiasm like any other religious festival in India and honour the sacrifices of thousands of people who strove hard for our country's independence. To mark the occasion, we have curated motivational messages in Hindi to wish your friends and family Happy Independence Day. Wish each citizen of India Happy Independence Day with these thoughtful messages and wishes in Hindi. Be proud to be an Indian and along with these messages, share the significance of this day. Independence Day 2018 Wishes: Best Happy I-Day GIF Images, SMSes, Patriotic Quotes, WhatsApp Messages, Facebook Status & Greetings for 15th August
Independence Day Messages in Hindi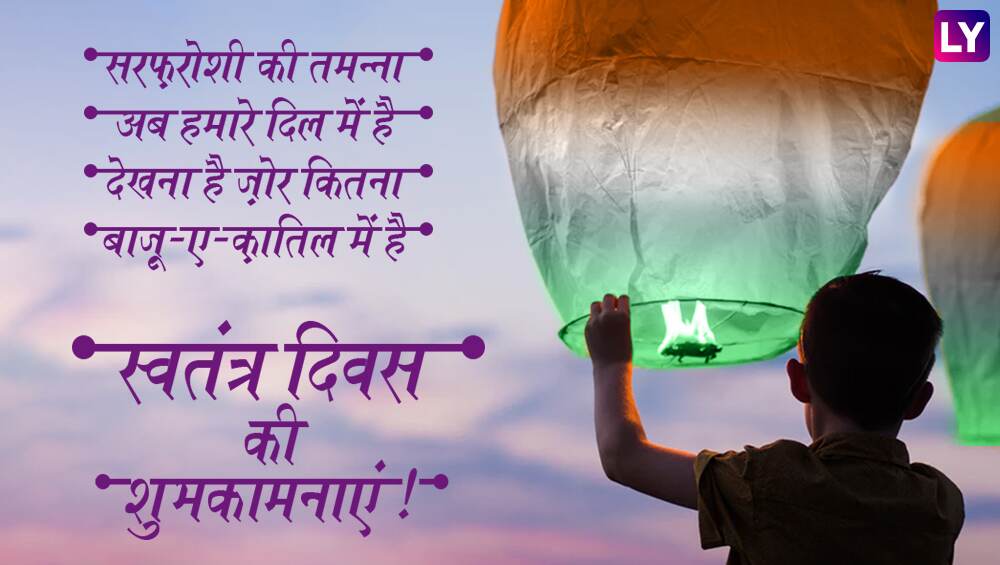 Message Reads: Sarfaroshi ki tamanna ab humare dil mein hain, dekhna hain zor kitna baju-e-katil mein hain. Swatantra Diwas ki Shubhkamnayein (सरफ़रोशी की तमन्ना अब हमारे दिल में है, देखना है ज़ोर कितना बाज़ू-ए-क़ातिल में है)
Message Reads: Khoon se khelenge holi, Agar watan mushkil mein hain, Sarfarosh ki tamanna, Ab humarey dil mein hain, Aao milkar kare desh ko salam, Bolo mera bharat mahan!! Jai Hind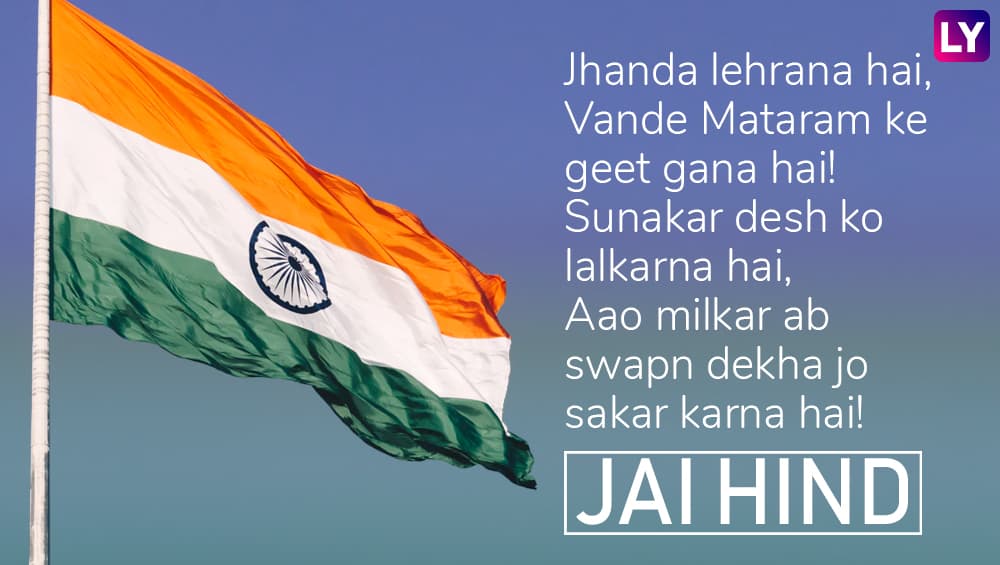 Message Reads: Jhanda lehrana hain, Vande Mataram ke geet gana hain! Sunakar desh ko lalkarna hain, Aao milkar ab swapn dekha jo sakar karna hain! Jai Hind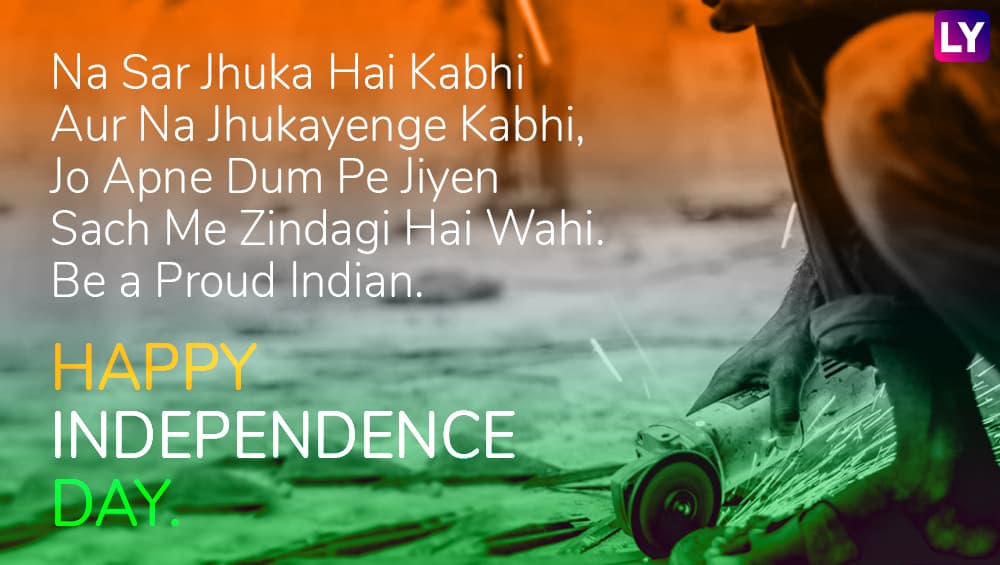 Message Reads: Na Sar Jhuka Hain Kabhi Aur Na Jhukayenge Kabhi, Jo Apne Dum Pe Jiyen Sach Mein Zindagi Hain Wahi. Be a Proud Indian. Happy Independence Day
Message Reads: Ab Tak Jiska Khoon Na Khaula, Woh Khoon Nahi Woh Paani Hain...Jo Desh Ke Kaam Na Aaye, Woh Bekaar Jawaani Hain...Bolo Bharat Mata ki Jai..(अब तक जिसका खून न खौला, वो खून नहीं वो पानी है…जो देश के काम ना आये, वो बेकार जवानी है… बोलो भारत माता की जय.. स्वतंत्र दिवस मुबारक हो!)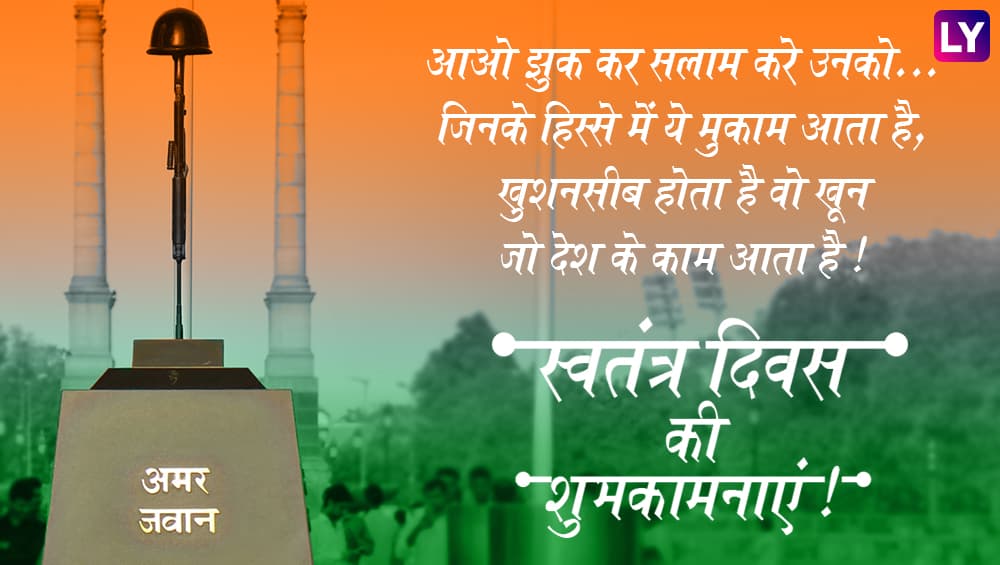 Message Reads: Aao Jhuk Kar Salaam Kare Unko...Jinke Hisse Mein Yeh Mukaam Aata Hain, Khushnaseeb Hota Hain Woh Khoon, Jo Desh Ke Kaam Aata Hain! Swatantra Diwas ki Shubhkaamnayein! (आओ झुक कर सलाम करे उनको… जिनके हिस्से में ये मुकाम आता है; खुशनसीब होता है वो खून जो देश के काम आता है! स्वतंत्र दिवस की शुभकामनाएं!)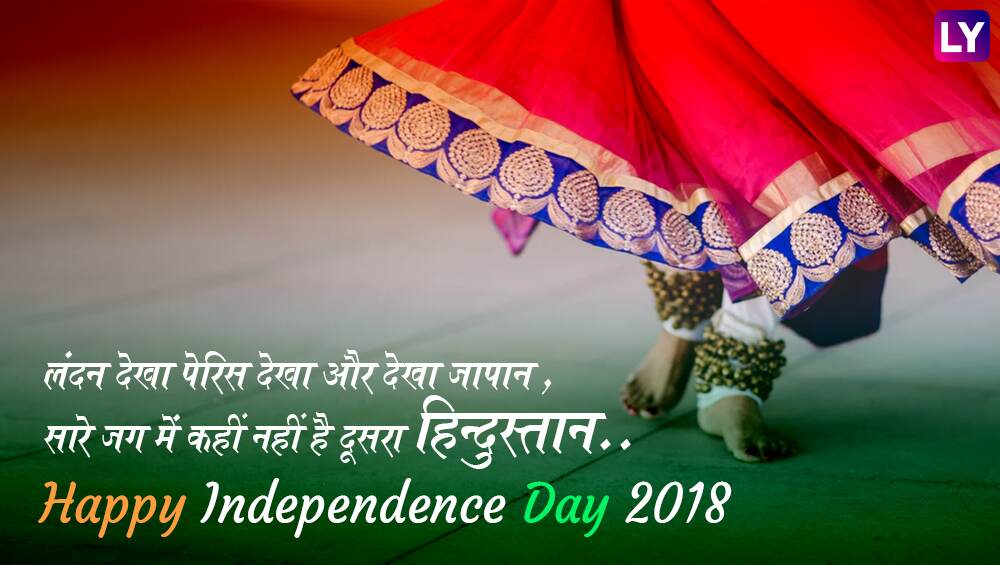 Message Reads: London Dekha, Paris Dekha Aur Dekha Japan, Saare Jag Mein Kahin Nahi Hain Doosra Hindustan...Happy Independence Day 2018 (लंदन देखा पेरिस देखा और देखा जापान , सरे जग में कहीं नहीं है दूसरा हिन्दुस्तान.. Happy Independence Day 2018!!)
Happy Independence Day 2018 Gifs
Message Reads: Vande Mataram, Happy Independence Day! I am Proud to be an Indian. Jai Hind!
The I-Day is celebrated across the country with cultural programmes like singing patriotic songs, dancing to the tunes of famous Bollywood songs dedicated to our country and speeches given by the renowned political leaders of the country. While India celebrates its 72nd year of independence, as a citizen of this country make a pledge to take your country to new heights and strive to make the country safe for one and all. Rise above all the barriers of caste, creed and ethnicity and celebrate the diversity the nation has to offer. We at Latestly, wish you a Happy Independence Day 2018!
(The above story first appeared on LatestLY on Aug 15, 2018 12:13 AM IST. For more news and updates on politics, world, sports, entertainment and lifestyle, log on to our website latestly.com).