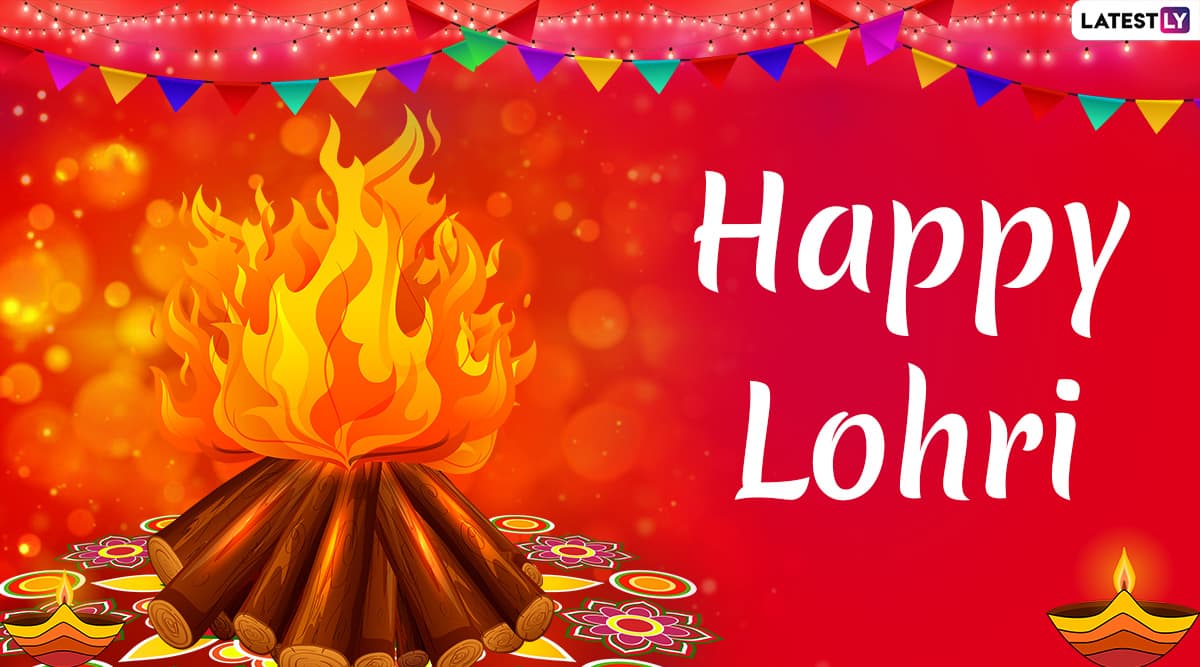 Get your hands on the latest Lohri 2020 wishes in Punjabi! The festival of Lohri celebrated every year on January 13 by both Hindus and Sikhs of the Punjab region. Lohri is observed a day before the Makar Sankranti. Punjabis considered that Lohri marks the end of the winter solstice and it is the celebration of the arrival of longer days. People celebrate Lohri by lighting bonfire at night and singing and dancing around it. They send Lohri wishes greetings on WhatsApp, Facebook, Hike, and other social media platform. Here are popular Lohri 2020 wishes and greetings. We bring you a collection of Lohri messages in Punjabi, Happy Lohri 2020 greetings, Lohri images HD,  Lohri messages in Hindi, Lohri wishes in English, Lohri WhatsApp Stickers, Lohri SMS, Lohri GIFs and more for free download online. Happy Lohri 2020 HD Images and Wallpapers in Punjabi: WhatsApp Stickers, Messages, GIFs and Greetings to Send Lohri Ki Lakh Lakh Vadhaiyan!
The date of Lohri depends on the lunisolar Bikrami calendar. Lohri is also a harvest festival as it is observed after rabi season cropping work. Farmers of Punjab consider the day after Lohri as the financial New Year. Punjabis celebrate this festival with great enthusiasm and fervour. They perform Bhangra and Giddha around the bonfire. People invite friend and relatives to their home to celebrate Lohri. Til, gachchak, crystal sugar, gur (jaggery), moongphali (peanuts) and phuliya or popcorn are the edibles associated with this festival. Lohri 2020 Date: History, Significance and Celebrations of Harvest Festival Marked in Punjab Ahead of Makar Sankranti.
One of the folklores links Lohri to the tale of Dulla Bhatti, who lived in Punjab during the reign of Mughal Emperor Akbar. Dulla Bhatti was regarded as a hero in Punjab, for rescuing Hindu girls from being forcibly taken to be sold in slave market of the Middle East. The central theme of many Lohri songs is the legend of Dulla Bhatti. On this day children go door to door and sing popular Lohri song "Sundar Mundriye" and ask for money and sweets. They also fly kites in the afternoon.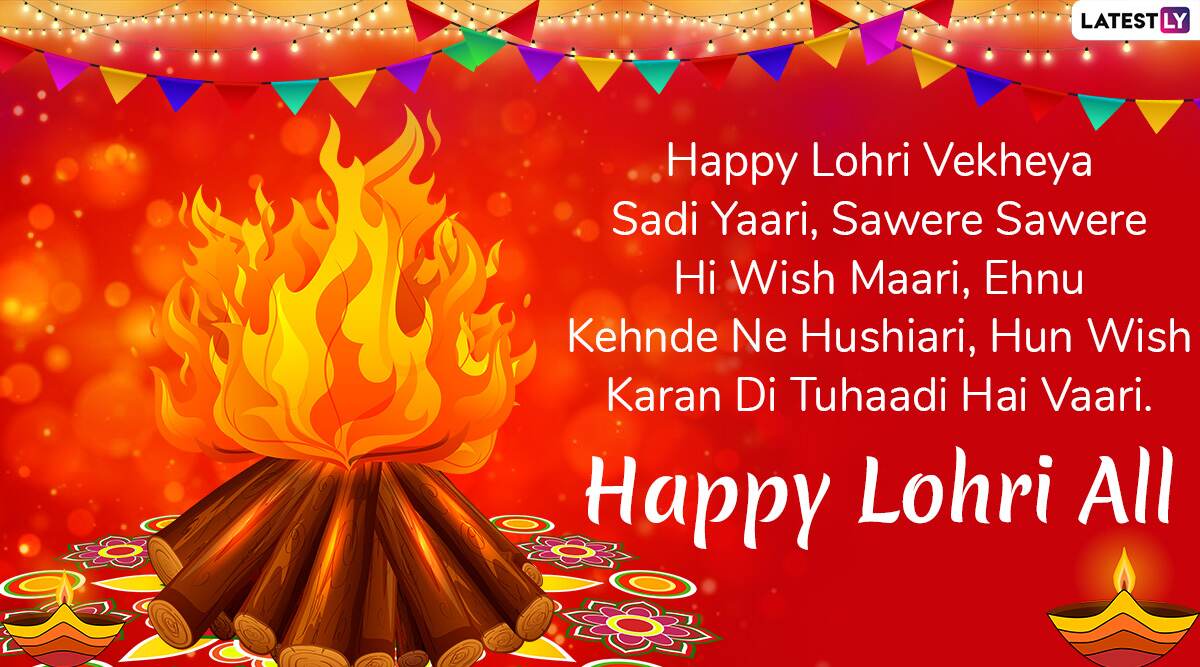 WhatsApp Message Reads: Happy Lohri Vekheya Sadi Yaari, Sawere Sawere Hi Wish Maari, Ehnu Kehnde Ne Hushiari, Hun Wish Karan Di Tuhaadi Hai Vaari. — Happy Lohri All.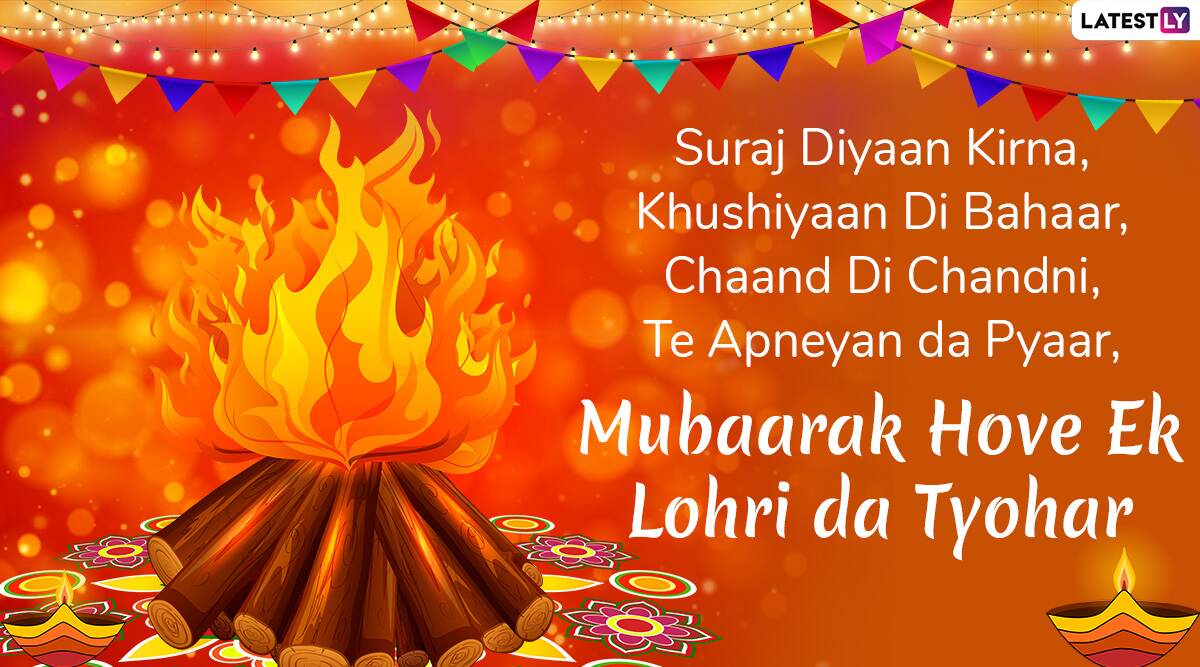 WhatsApp Message Reads: Suraj Diyaan Kirna, Khushiyaan Di Bahaar, Chaand Di Chandni, Te Apneyan da Pyaar, Mubaarak Hove Ek Lohri da Tyohar. Happy Lohri.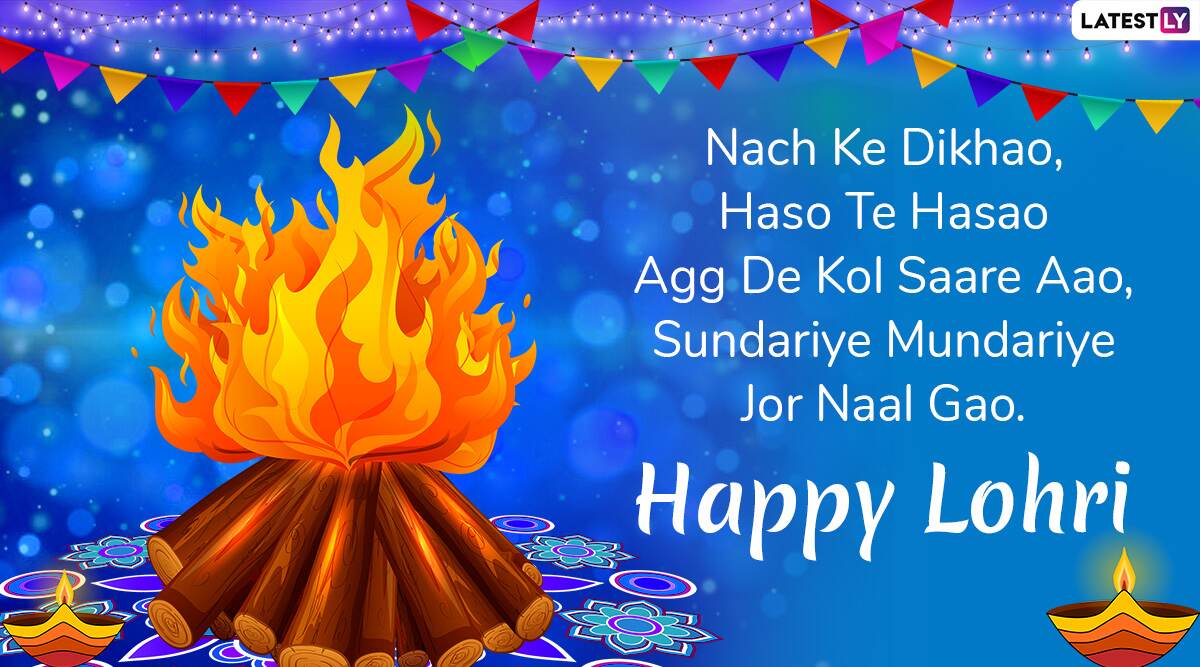 WhatsApp Message Reads: Nach Ke Dikhao, Haso Te Hasao, Agg De Kol Saare Aao, Sundariye Mundariye Jor Naal Gao. Happy Lohri 2020.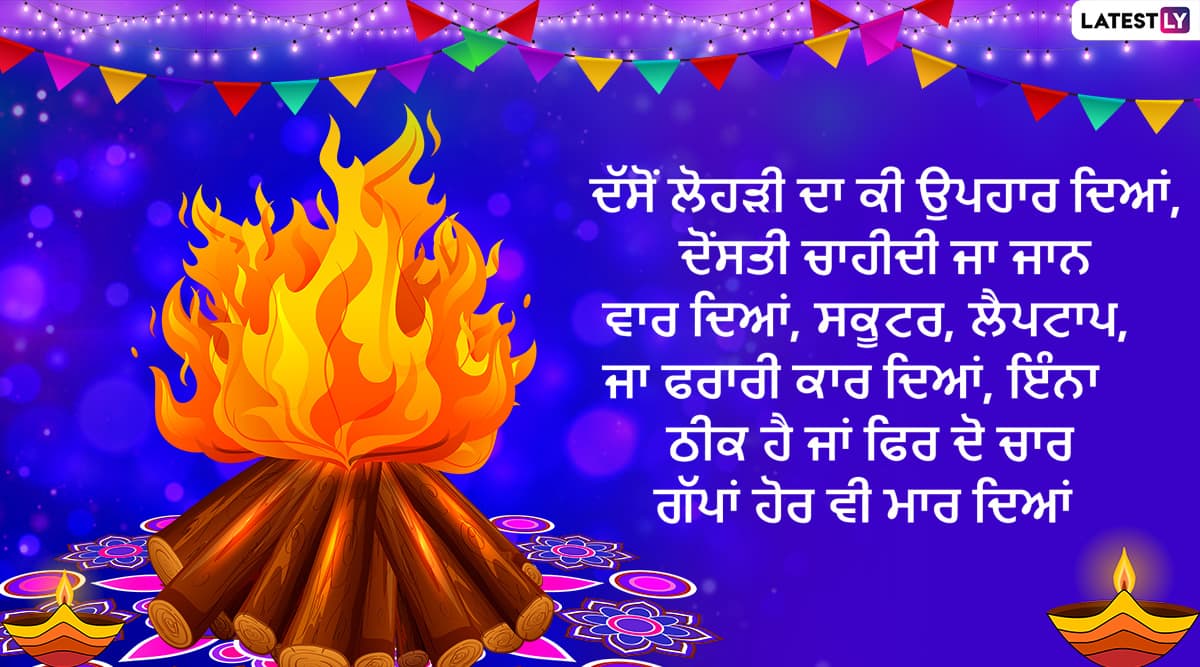 WhatsApp Message Reads: ਦੱਸੋਂ ਲੋਹੜੀ ਦਾ ਕੀ ਉਪਹਾਰ ਦਿਆਂ, ਦੋਂਸਤੀ ਚਾਹੀਦੀ ਜਾ ਜਾਨ, ਵਾਰ ਦਿਆਂ, ਸਕੂਟਰ, ਲੈਪਟਾਪ, ਜਾ ਫਰਾਰੀ ਕਾਰ ਦਿਆਂ, ਇੰਨਾ, ਠੀਕ ਹੈ ਜਾਂ ਫਿਰ ਦੋ ਚਾਰ ਗੱਪਾਂ ਹੋਰ ਵੀ ਮਾਰ ਦਿਆਂ.
WhatsApp Message Reads: Aao Ral Mil Bhangre Payiye, Nach Nach Aj Dharti Hilayiye, Sab Narazgi Chado Mitro, Tyohar LOHRI da Manaiye. Happy Lohri 2020.
WhatsApp Message Reads: Laah De Kambal, Laah De Loi, Vekh Nazaaraa Mitraan Da, Lohri Agge Asaan Ral-Mil Nachna, Ajj Dihaada Khushiyaan Da. Happy Lohri 2020.
How to Download Lohri WhatsApp Stickers Online?
You can download Lohri stickers for WhatsApp from the Play Store app. There are several greetings, images, messages, photos and wallpapers available as well and are perfect when it comes to sending family and friends. Here is your link to download Happy Lohri 2020 WhatsApp Stickers online.
Happy Lohri 2020 Greetings: Quotes, WhatsApp Messages, Wishes and Images to Send to Family & Friends
According to another legend associated with Lohri is that the festival has derived its name from Loi, the wife of Saint Kabir. Some people also believe that Lohri comes from the word 'loh', which means the light and the warmness of fire. Happy Lohri 2020!