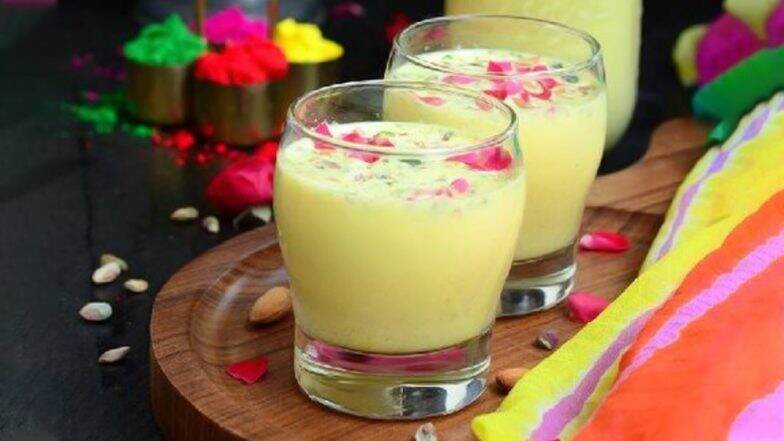 Shivratri 2019 will be celebrated in India on Monday, 4th of March. Maha Shivaratri is celebrated in honour of Lord Shiva and is one of the main festivals celebrated in India. It is believed that since Lord Shiva has spent most of the time in deep meditation and that Bhang, cannabis-infused Indian cooler, helped him stay in a state of complete bliss and concentrate. The reasons behind Shiva's love for Bhaang are many according to Vedas. It is said that when the ocean was churned(Samudra Manthan) by the Gods and the demons, a drop of the nectar fell on Mount Madra and a plant sprouted out it. The drink from the leaves of the plant became a favourite of all Gods, including Lord Shiva. Therefore it is that Lord Shiva brought the cannabis down from the Himalayas for humans. The intoxicating drink, Bhang is commonly made in India from the leaves and flowers of the female cannabis plant. Also called the 'nectar of the Gods,' Bhang has also been used as natural medicines. Mahashivratri 2019: Visit These Lord Shiva Temples in India to Witness The Best of Maha Shivaratri.
Cannabis is consumed widely across the world in different forms. However, the legalisation of it differs from countries. Cannabis is called by different names in India depending on its variety. Weed, marijuana, bhang, charas, ganja are some of the many names. Bhang also read भांग in Hindi is a culinary preparation of cannabis originating from the Indian subcontinent using Hemp leaves. This refreshing cooler traditionally distributed by Hindus during the spring festival of Holi. People usually associate Bhang with Holi and a form of offering given to Lord Shiva or Shankar.
Here are some of the Bhang recipes you can try this Shivratri:
Bhang Thandai
Bhang Thandai is the tastiest way to consume bhang. With ingredients such as Milk,  Sugar, Almonds, Cashewnuts, Pistachio, Watermelon seeds (Chaulmugur), Fennel seeds, Black peppercorns, Poppy seeds (posto), Saffron - 1 tsp (extra for garnish), Green cardamoms, Cinnamon Stick, Cloves, Ice cubes, etc.
Here's how you can make Bhang Thandai:
Bhang Lassi
Why drink regular lassi when you can infuse it with Bhang? All you will need is ingredients you would use to make the normal lassi like curd, sugar and ice as well as some bhang leaves.
Here's how you can make Bhang Lassi:
Uttarakhandi Homemade Bhaang ki Chutney
This special chutney comes all the way from Uttarakhand. This famous chutney is tangy and easy to make. With simple ingredients, you can easily make this special chutney from Uttarakhand at home.
Here's how you can make Uttarakhandi Homemade Bhaang ki Chutney:
Bhang Chocolate
Bhang chocolates is another popular Bhang infused sweet treat you can try this Shivratri or Holi. Easy to make, yummy chocolates is something nobody can deny. Here's how you can make Gulkand, Bhang chocolate.
Here's how you can make Bhang chocolates at home:
However, it is said that Bhang leaves have been used in food and drink as early as 1000 BCE by Hindus in ancient India. Bhang is legally available in shops in the form of beverages such as bhang lassi and bhang thandai; however, the hemp leaves are not.