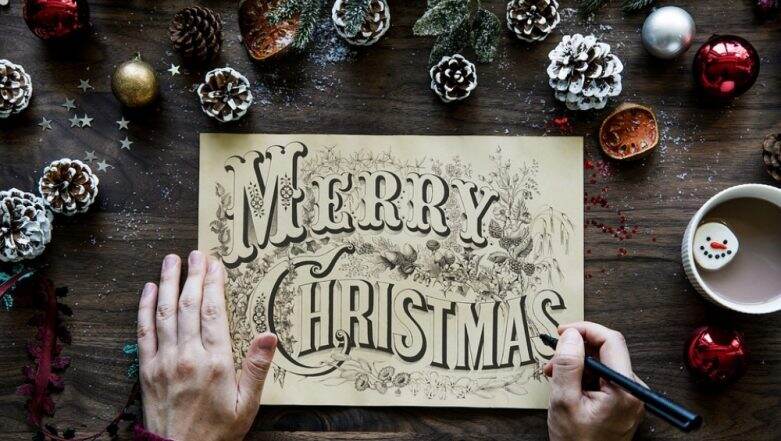 Christmas 2018 is finally here and there is so much to do. The final touch to your Xmas tree, gifts and preparing delicious recipes for the dinner time, all these need your last-minute attention. Apart from the decorations and traditions, there is an interesting fact that you should know about Christmas.  Why do we wish saying Merry Christmas and not Happy Christmas? While for most other good occasions we use the word 'happy', Christmas always goes with word 'merry'. With the upcoming Christmas season, we pondered over the saying and it seems the words have quite some reasoning attached to it.
Going by meaning, both the words 'happy' and 'merry' have the same meaning, but different implications. What does the word 'happy' bring to your mind? Something good, right? It could be a birthday, anniversary, an observance or for that matter a festival itself. On the other side, what does the word 'merry' bring to your mind? The word 'happy' gone a little crazy? Merry is more of an emotion than just being happy. On a festival like Christmas, people are not just happy, but merry! They are in a celebratory mood, high in spirits (read: alcohol), partying or rather merrymaking. Merry Christmas 2018! Significance, Stories and Christian Celebrations Attached to the Festival.
To understand the concept better Mental Floss has created a video in collaboration with Arika Okrent and Sean O'Neill. Explaining the difference, it says, the birth of a child in a family is a happy occasion; there are happy faces everywhere, smiles, laughter and get-together, but will you call it a 'merry' moment? We don't expect music, dance and drinks there, it is not a merrymaking episode and we would not want it to be one. Christmas 2018: Home Decoration Ideas to Brighten Up Your Place for Holidays (Watch Video)
Watch the video below:
The word 'merry' became less popular during the 18th and 19th centuries, but thanks to Charles Dickens novels it gained popularity. While Merry Christmas stuck on, people of England likes to wish everyone 'Happy Christmas'. The Royals believe Merry is attached to rowdiness and thus to the lower class, hence likes Happy more. However, Americans loved merry and decided to go on with it, so much so that, Christmas feels incomplete without the word Merry. Christmas 2018: Who is Santa Claus? Surprising Facts About Father Christmas, Including His Connection With Coca-Cola.
And they have more reasons to like 'merry'. King George V of England used the word happy instead of merry in the first Christmas radio address. With the King using the word 'Happy' everyone believed it was more classy and related to Dickens characters as just rowdy and hence merry. But Americans who were not really bothered by what King George V had to say, kept merry close to them.