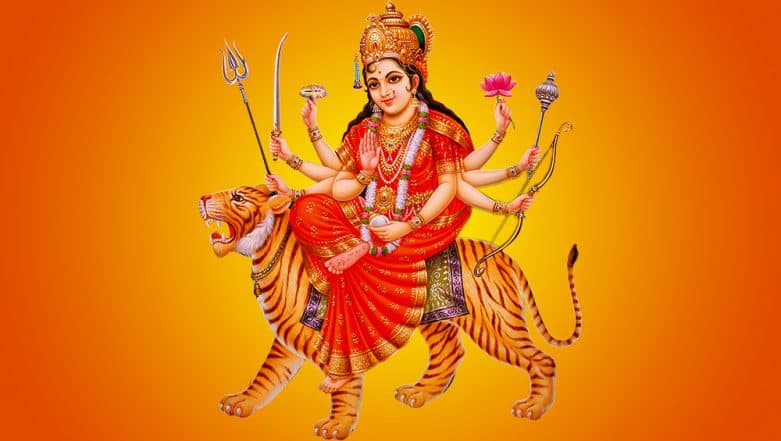 When someone mentions Navaratri, we think of the nine days of dandiya raas, fasting and festivities. But that's Sharad Navaratri or Maha Navaratri, which occurs between September and October in the lunar month of Ashwin. There's another Navratri celebrated in the spring-summer months of March and April called Chaitra Navaratri or Vasantha Navaratri. Both the festivals involve fasting for nine days, performing pujas and worshipping the forms of Shakti. But the former is celebrated during the advent of winter and the latter during summer. Chaitra Navratri Bhakti Geet by Gulshan Kumar: Devotional Songs Playlist to Worship Maa Durga During Vasant Navratri 2019.
What is Chaitra or Vasantha Navaratri?
Vasantha Navaratri or Chaitra Navratri is celebrated during the Shukla Paksha of the Chaitra month. The nine-day festival also marks the beginning of the New Year according to the Hindu calendar. Around this time, various regions in India observe the New Year as Ugadi, Vishu, Gudi Padwa or Navreh. Chaitra Navaratri is celebrated mainly in the northern parts of India. The changing of the seasons from spring to summer is also a reason why Chaitra Navratri is observed.
The festival is mostly about celebrating Shakti or the Supreme Goddess. But on the ninth day of the festival, Ram Navami or the birth of Lord Sri Rama is celebrated.  Chaitra Navratri 2019 Full Dates & Hindu Calendar: Ghatasthapana Puja Shubh Muhurat Time & Significance of Nine-Day Navaratri Festival.
What is Sharad Navaratri?
Sharad Navaratri is the one that is celebrated with much pomp in the country. Known also as Maha Navaratri, it is celebrated in the month of Ashwin. Sharad signifies the beginning of winters, hence it comes in the months of September-October.
Like Chaitra Navaratri, Sharad Navaratri also celebrates Shakti or the supreme feminine energy. In Bengal, the festival is known as Durga Puja. But unlike Chaitra Navaratri, Sharad Navaratri observes nine days of dandiya raas where men and women come together to re-enact Krishna's dance with the gopis.
Totally, there are four Navaratri in a year. Apart from Chaitra and Sharad, there are also Ashada Navaratri and Magha Navaratri.