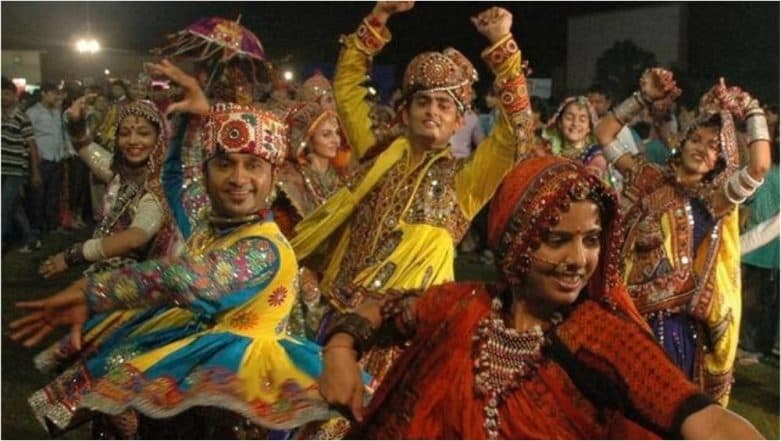 The season of festivals has begun. After the grand celebration of Ganesh festival, people are gearing up to celebrate Navratri. Sharad Navratri or Maha Navratri is a festival dedicated to Goddess Durga. In 2018, Navratri will commence from October 10 and the nine-day festival will end on October 19. Earlier in the year, Chaitra Navratri was celebrated in March. Navratri is celebrated in most Indian states; however, it is popular in the states of Gujarat and Maharashtra. One of the most enthralling experience during the festival of Navratri is to see people of all age groups perform the dance form Garba. Below we help you with different forms of Garba and provide you with step-by-step tutorials of the dance form. Ace your dancing game before Navratri begins. 2018 Chaitra Navratri Dates & Calendar: Significance and Ghatasthapana Shubh Muhurat Time of Nine-Day Navaratri Festival.
The word Garba or Garbo is originated from Sanskrit word 'Garbhdeep'. It essentially means an earthen pot with circular holes. The earthen pot symbolises human body and the lamp inside signifies the divine soul. The preparations have already started as devotees eagerly wait to welcome the idol of Goddess Durga. If you are still not fluent with the dance steps of Garba, we have compiled video tutorials that will help you in mastering the dance form like a pro.
Watch Video: Different Forms of Garba & Step by Step Tutorials
1. Dodhiya
This style of Garba includes dancing four steps forward and two steps backward. It is a fun but strenuous as well and involves a grace and technique.
2. Teen Tali Garbo
As the name suggests, this dance is done by clapping thrice. It is popular among middle-aged women as it used to be common in the villages of Gujarat.
3. Garba Hinch
It is a competitive dance form where people get together in a circle, bend forward and clap while moving in circular motion. As the beats move faster, the dance also becomes fast.
4. Dandiya
Originated in Vrindavan, Dandiya is played using two colourful sticks. Dandiya dance has a complicated rhythmic pattern. It is not only done solo but also has a complex multiple relationship with people in the circle.
Garba is performed in circular motions around the idol of Goddess Durga. It is believed that the dancers moving around in circles represent circle of life which moves from life to death and rebirth, leaving only Goddess Durga unmoved and invincible. On this occasion friends and family come together and dance to the tunes and celebrate the festival with great enthusiasm. Men and women dress in colourful attires – women wear traditional Chaniya Choli and men wear Kediyu. Follow these tutorials and get prepared to shake a leg or two during Navrati.