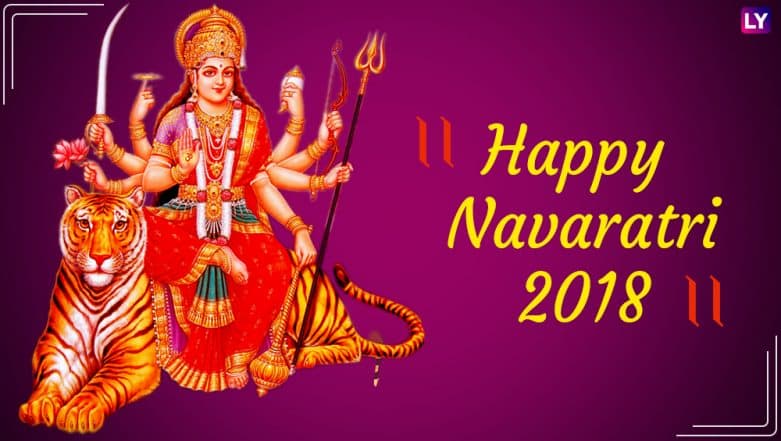 The auspicious festival of Navratri is upon us and for millions of devotees in India, the nine nights dedicated to worshipping goddess Durga and its various forms is quite revering. Maha Navratri starts on the 10th of October and will continue till the 19th of October with Vijayadashami and Dussehra. India is a country of various cultures, and accordingly, the Navratri too is celebrated as per the local customs in different states which glorifies the country's variant beliefs when it comes to worshipping Durga. But there's a common practice - wishing and greeting with lovely WhatsApp Messages with beautiful Durga Maa images.  We bring to you a collection of Navratri 2018 wishes and photo greetings, WhatsApp messages, GIF images, Jai Mata Di Facebook status, quotes and SMSES to wish Happy Navaratri. Jai Mata Di!! Navratri HD Photos & Maa Durga Images for Free Download Online: Happy Navaratri Wallpapers in 1080p & Navadurga GIFs for WhatsApp Greetings.
The 2018 Navratri falls in the category of Sharad Navratri which is also called as the Maha Navratri in several parts of India. The festival Navratri basically involves worshipping the nine forms of Goddess Durga which are Maa Shailputri, Maa Brahmacharini, Maa Chandraghnta, Maa Kushmanda, Maa Skandamata, Maa Katyani, Maa Kalratri, Maa Mahagauri and Maa Siddhdatri. The main theme of this festival which falls in the month of Ashvin is the victory of good over the evil. As per the beliefs, the Navratri marks the end of the monsoon and is also celebrated after the autumn harvest. Several other important festivals like the Diwali, Dussehra are associated in some or the other way with Navratri, and there are many stories revolving around it. Navratri Aarti 2018: From 'Jai Ambe Gauri' to Durga Chalisa Mantra, Best Devotional Songs to Celebrate Navaratri Festival.
It is observed that majority of Hindu families fast during the nine days of Navratri. There are a variety of foods consumed only during the fasting period and are quite famous in Indian households. Each day is also associated with a particular, and most Indian women tend to wear clothes as per these colours. Garba or Dandiya are two events quite famous in Gujrat and Maharashtra during these nine days of Maha Navratri. The festival has a completely different vibe when it comes to West Bengal where it is their major festival. Each state has its own folklore and stories behind the celebration, but it is one of India's premier festival. Navaratri 2018 Dates & Tithi Calendar: Shubh Muhurat & Time for Puja and Aarti During Nine-Day Sharad Navratri Festival.
Navratri Wishes Greetings, Navratri Greetings Cards, Happy Navratri Status, Navratri Images 2018, Navratri Images HD, Durga Maa Image, Durga Maa Image HD Download, Durga Maa Image HD Wallpaper, Navaratri 2018 picture greetings, Jai Mata Di aarti images -- you will find everything below to wish your family, friends, relatives, employees, colleagues and just about everyone a very happy and glorious Navratri 2018.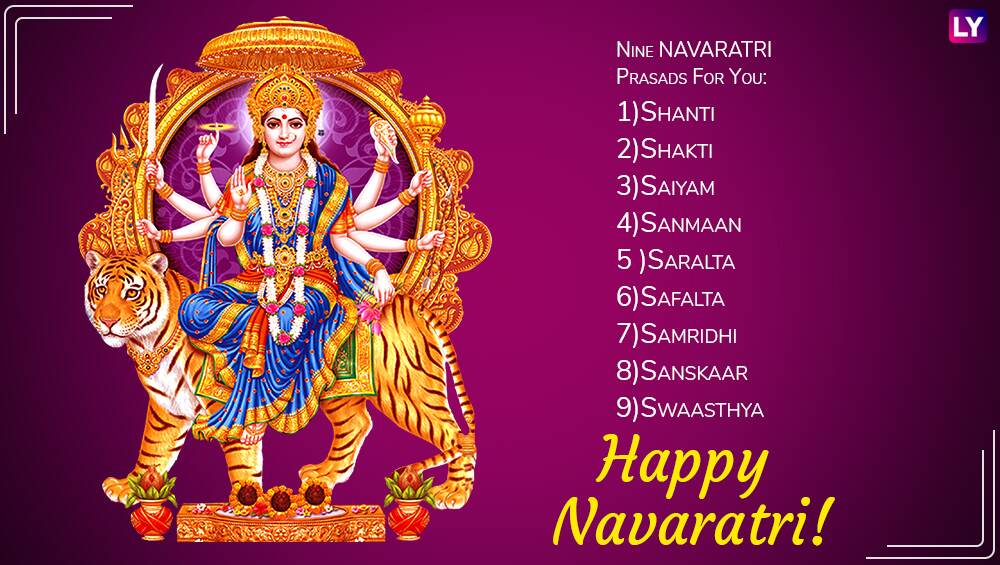 WhatsApp Message Reads: Nine NAVRATRI Prasads For You: 1)Shanti 2)Shakti 3)Saiyam 4)Sanmaan 5 )Saralta 6)Safalta 7)Samridhi 8)Sanskaar 9)Swaasthya. Happy Navratri 2018.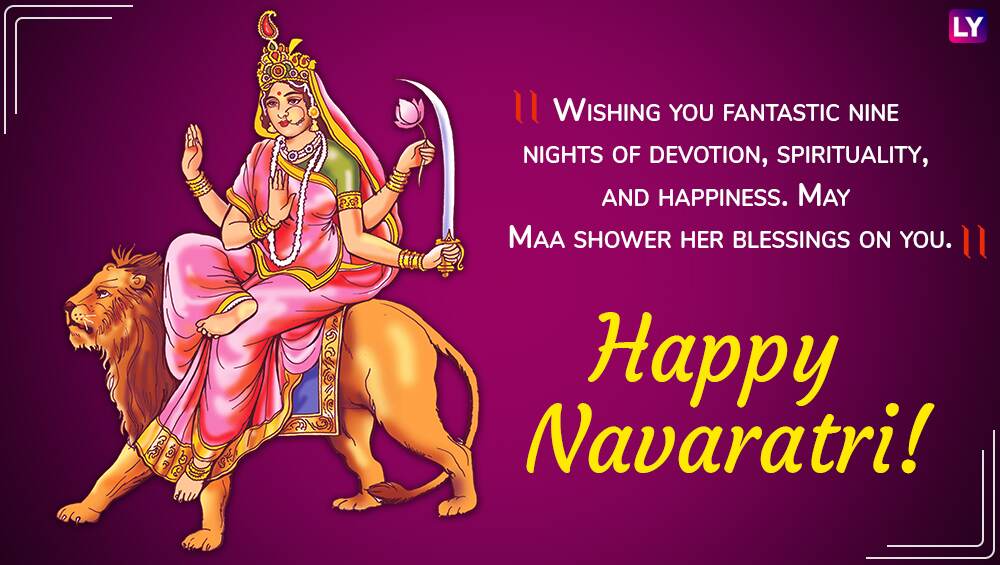 WhatsApp Message Reads: Wishing You Fantastic Nine Nights of Devotion, Spirituality, and Happiness. May Maa Shower Her Blessings on You. Happy Navratri!
WhatsApp Message Reads: Happiness in your life…Hatred be far apart from your life. Enjoy the festival with love on your heart. Those Who Has Learned To Respect And Not To Greed Will Be Fortunate. I Know You Are Always Respectful and so You Are Among the Fortunate! Excellent Wishes for a Merry Navratri…Happy Durga Puja and Navratri 2018.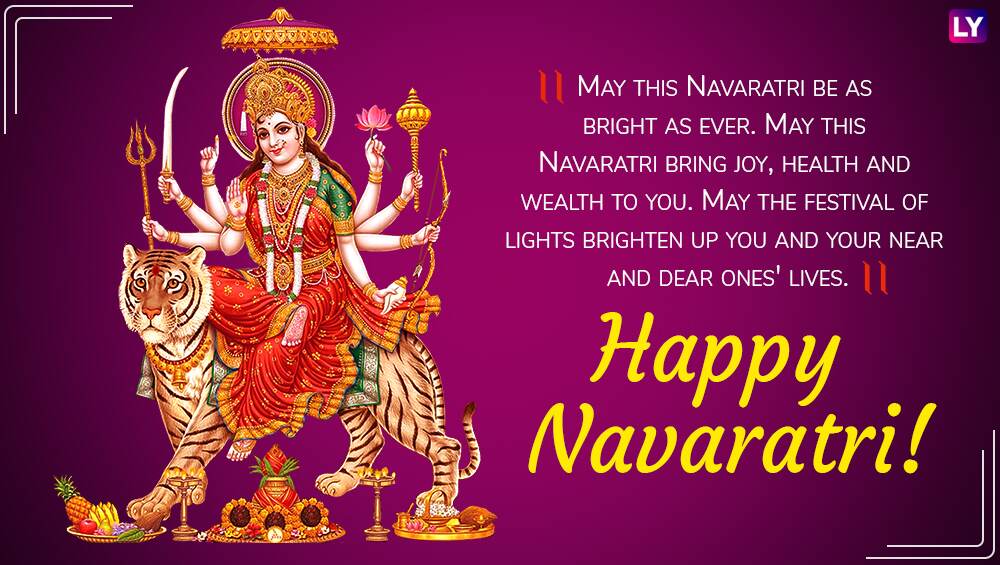 WhatsApp Message Reads: May This Navratri Be As Bright As Ever. May This Navratri Bring Joy, Health and Wealth to You. May the Festival of Lights Brighten Up You and Your Near and Dear Ones' Lives. Happy Navratri 2018.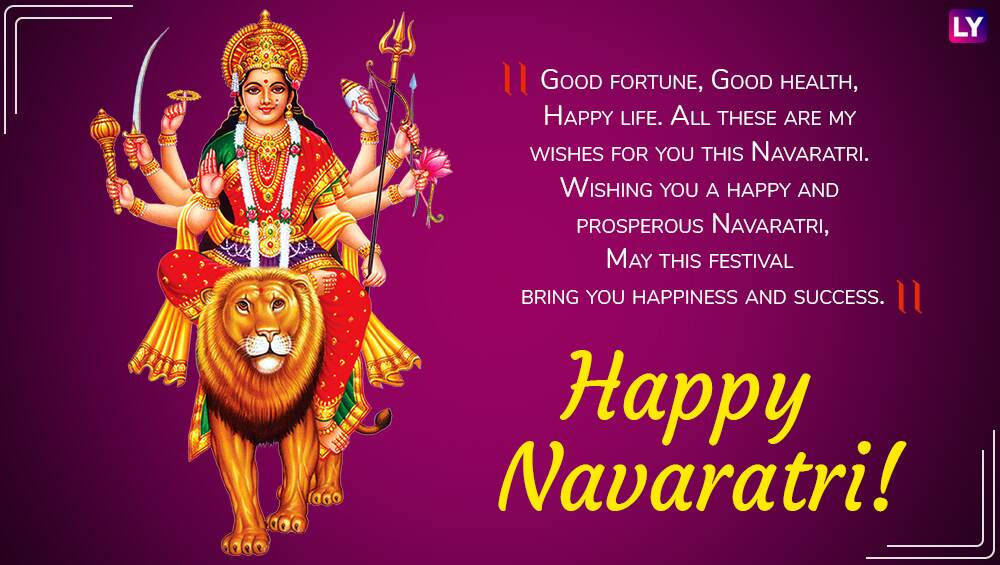 WhatsApp Message Reads: Good Fortune, Good Health, Happy Life. All These Are My Wishes for You This Navratri. Wishing You a Happy and Prosperous Navratri, May This Festival Bring You Happiness and Success.
WhatsApp Message Reads: As She Returns to Her Earthly Abode. Giving Us Cause for Celebration, at Home and Abroad, So Light the Brightest Diyas, Sing the Sweetest Sangeets, Adorn Yourselves in Finery, Prepare Those Sumptuous Feasts, Revel in the Merrymaking. Happy Navratri 2018.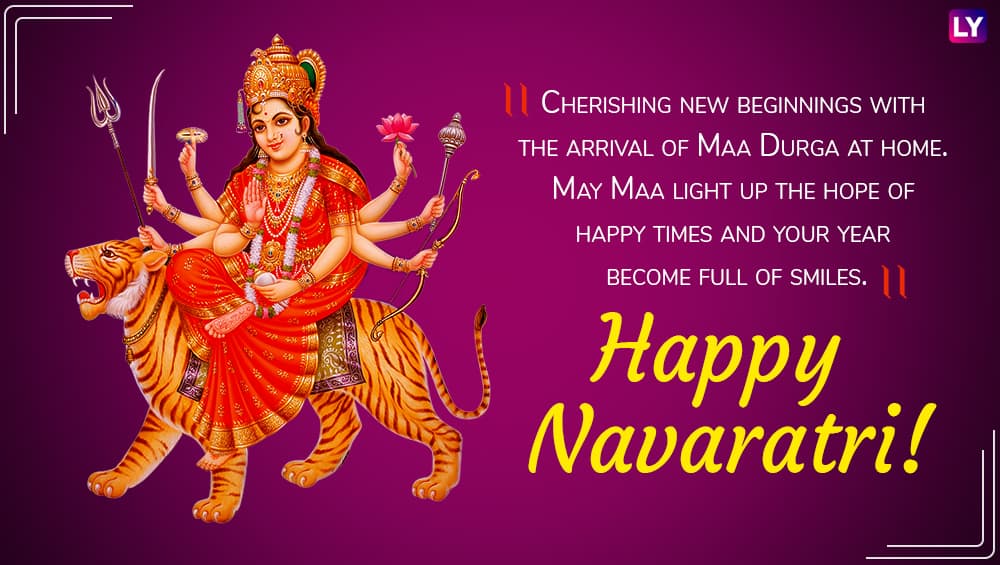 WhatsApp Message Reads: Cherishing New Beginnings With the Arrival of Maa Durga at Home. May Maa Light Up the Hope of Happy Times and Your Year Become Full of Smiles. Happy Navratri!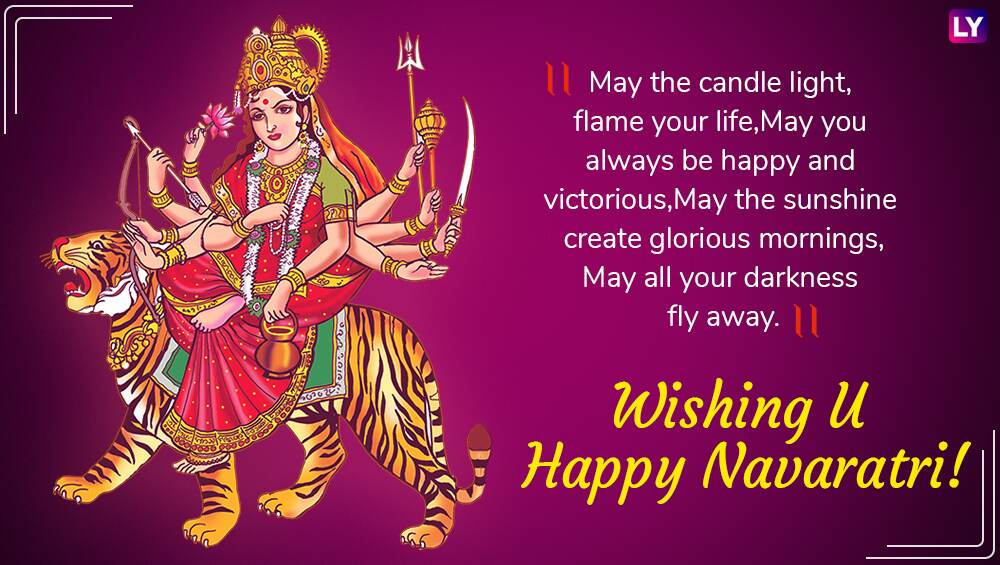 WhatsApp Message Reads: May the Candle Light, Flame Your Life, May You Always Be Happy and Victorious, May the Sunshine Create Glorious Mornings, May All Your Darkness Fly Away, Wishing U Happy Navratri!
WhatsApp Message Reads: As the Candlelight Flame Ur Life May Always Be Happy, As the Mountain High U Move Without Shy, As Sunshine Creates Morning Glory Fragrance Fills Years As Flory, All Darkness Is Far Away As Light Is on Its Way…Wishing You All a Very Happy Navratri 2018!!
We hope you found the above collection of colourful photos of Maa Durga and lovely greetings helpful. Let us celebrate Navratri, the festival dedicated to out-an-out divine feminine power with much joy and fervour. The country is gripped with festive fever and it will only increase over the nine days of Navratri festival. Bookmark this article for easy access to an extensive collection of Navratri messages and greetings. We wish everyone a very Happy and Prosperous Navaratri 2018. May Maa Durga fulfil all your desires and dreams.