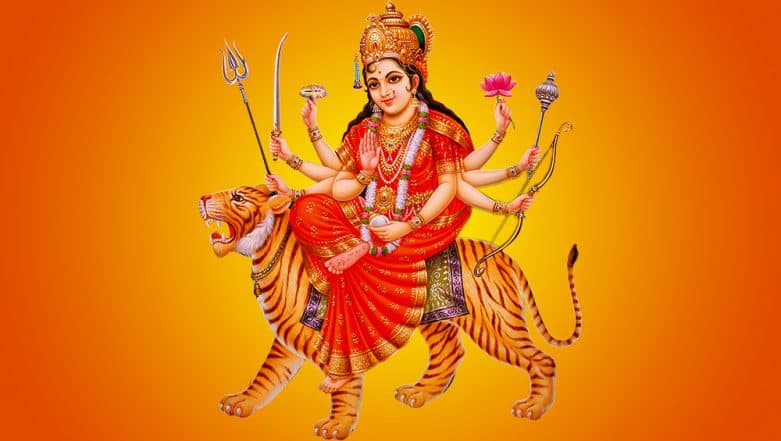 It is time to put all routine and mundane chores aside and indulge yourself in the preparation of the vibrant festival, Navratri. The nine-night long festival commemorating the triumph of good over evil begins from October 10 and will end on October 18 followed by Dussehra or Vijaya Dashami on October 19, 2018. During this time, devotees worship the different avatars of Hindu divine Goddess Durga and seek her blessings. They please the goddess with devotional prayers, combined with melodious bhajans, aartis and songs. From 'Jai Ambe Gauri' to Durga Chalisa, you will hear popular mantras reverberated in every corner. Different customs are followed in various regions across the country. Durga Puja 2018 in Kolkata: From Padmaavat to Haldi Being Used as Themes, Pandal Hoppers Can't Avoid These Popular Pujas. 
A few devotees observe fasts and organise overnight prayers, while others celebrate the victory of Goddess Durga through Garba songs and participating in Dandiya dance events. The story associated with the celebration of Navratri is the battle that took place between Goddess Durga and the demon king Mahishasura. Each of the nine days is dedicated to a distant avatar of the goddess and has a significant colour attached to it, which devotees wear while taking part in the festivities. Since you are already busy in the preparation to welcome Goddess Durga, here we have listed top devotional songs and bhajans that you can listen and groove to honour the deity during Navratri 2018. Navratri Colours 2018 to Wear During Nine Days: Images and List of 9 Colours for Each Date of Sharad Navaratri Festival. 
Jai Ambe Gauri—Navratri Aarti by Anuradha Paudwal
'Jai Ambe Gauri, Maiya Jay Shyaama Gauri', is one of the most popular songs that is sung during the Navratri aarti to seek Maa Durga's blessings. Famous Indian playback singer and Padma Shri awardee, Anuradha Paudwal had lent her voice in the Navratri aarti video. In Hinduism, Goddess Durga is depicted as the invincible or unconquerable mother riding over a tiger or a lion and is prayed with great enthusiasm by people all over India.
Udo Bola Udo Ambabai Maulicha Ho—Navratri Aarti in Marathi by Madhura Kumbhar
Udo Bola Udo Ambabai Maulicha Ho, is famously sung by devotees in Maharashtra during Navratri Aarti. During the festival of nine nights, devotees observe fast and hold an overnight bhajan for the supreme. The song which is voiced by singer Madhura Kambhar in this video, can often be heard in different pandals honouring the deity. Navratri 2018 Recipes Without Onion & Garlic: Here's What All Sattvic Food You Can Cook This Navaratri. 
Maa Durga Chalisa
Maa Durga Chalisa is another beautiful verse to worship the various forms of the divinity during Navratri. It is believed that there are the same power and influence in Durga Chalisa which is in Durga text, very effective from the perspective of Shakti worship. Hence, an individual who chants the verses of Durga Chalisa during Navratri is expected to be free from all the sins, and the desires would also come true.
Navratri Bhajans 2018
The above is a compilation of various bhajans that can be sung during Navratri 2018. Singers like Sapna Mukherjee, Mahendra Kapoor, Sadhana Sargam and Ravindra Sathe have voiced to the beautiful collection of most popular Maa Durga songs. 'Jai Ambe Jagdambe Mata' to 'Jai Mata Sherawali' to 'Jai Adhya Shakti', each song evokes the power of Goddess Durga in her many avatars.
Navratri is one of the major Hindu festivals in India. There are many things which captivate individuals during this festivity. Each day has a different ritual connected with it. Predominantly, in Gujarat and Maharashtra, there is a custom of wearing different colours of dress in each day. While in West Bengal, Assam, people worship the Mahisasura Mardini offering her with a variety of bhog, Prasad and puja offerings, till the time, she departs on Vijaya Dashami. Have a blissful festivity!