On the seventh day (saptami) of the Krishna Paksh during the Shravana month, a great Hindu saint and poet, Tulsidas was born. And every year on this day, Tulsidas Jayanti is celebrated in various parts of India. In 2018, Tulsidas Jayanti will be observed on August 17. Born in Uttar Pradesh, Tulsidas was renowned for his devotion to Lord Rama. The great saint is also the author of Ramcharitmanas, a retelling of Valmiki's Ramayana in Sanskrit. Tulsidas Jayanti is dedicated in honour of this great poet and saint. Devotees celebrate the festival with great enthusiasm across the nation by reciting his works. Tulsidas Jayanti 2018 Date: Significance, Rituals & Saptami Tithi on the 521th Birth Anniversary of Greatest Hindu Poet-Saint.
Tulsidas was born in a Brahmin family to Atmaram Dubey and Hulsi. It is believed that at the time of birth Tulsidas was born with 32 teeth in his mouth and pronounced the word Ram from which he got the name Rambola. Tulsidas' writings are still read and recited by many devotees. His writings comprise of inspirational quotes and to celebrate Tulsidas Jayanti we have curated messages in Hindi and English which you can share with your friends and family on Whatsapp, Facebook and SMSes.
Tulsidas Jayanti Quotes in English & Hindi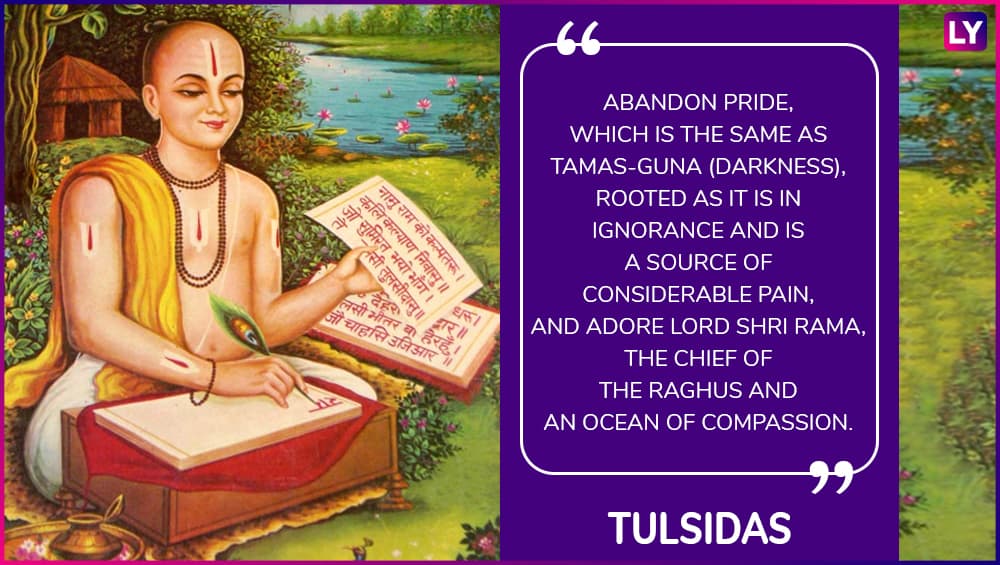 Message Reads: Abandon pride, which is the same as Tamas-guna (darkness), rooted as it is in ignorance and is a source of considerable pain; and adore Lord Shri Rama, the Chief of the Raghus and an ocean of compassion.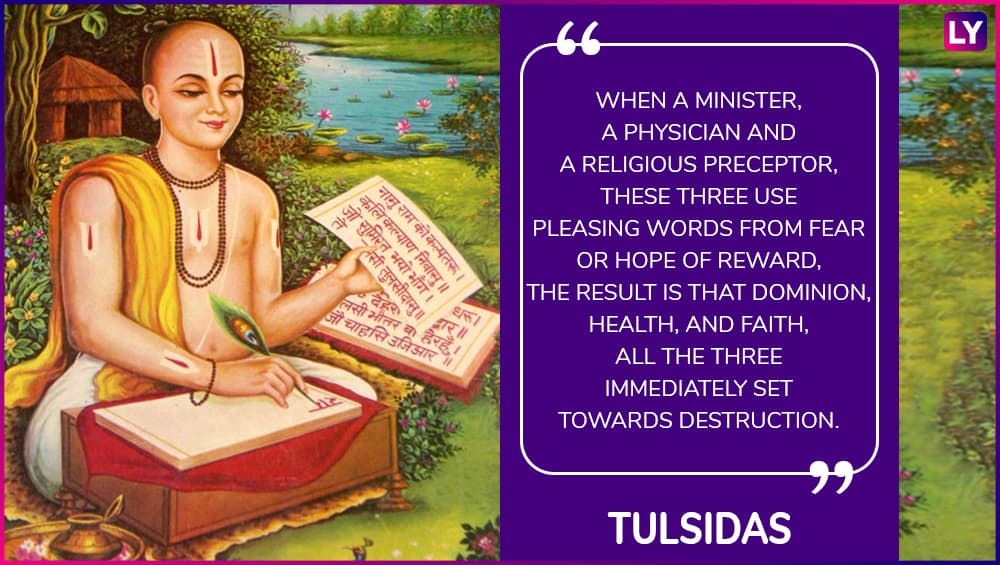 Message Reads: When a minister, a physician and a religious preceptor; these three use pleasing words from fear or hope of reward, the result is that dominion, health, and faith, all the three immediately set towards destruction.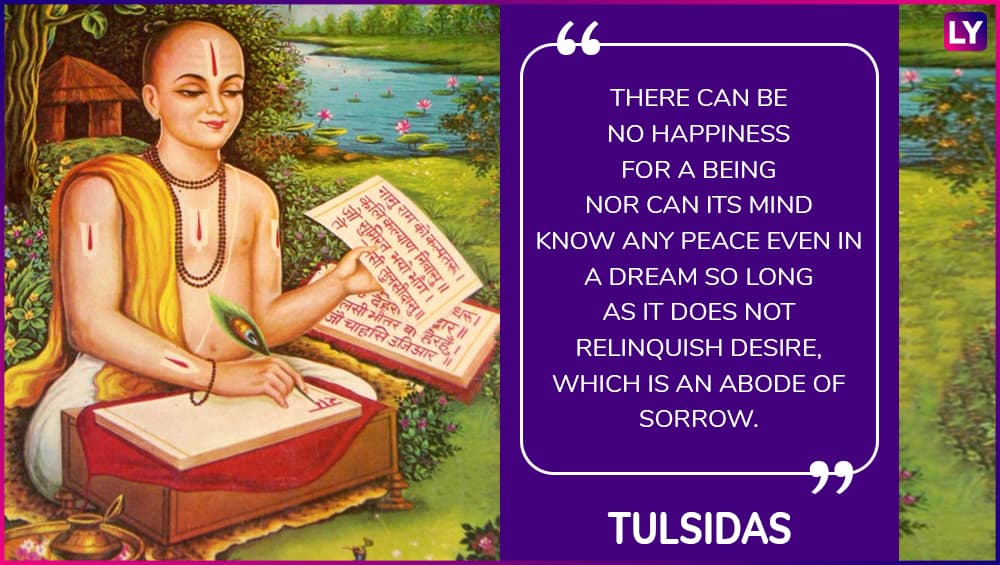 Message Reads: There can be no happiness for a being nor can its mind know any peace even in a dream so long as it does not relinquish desire, which is an abode of sorrow.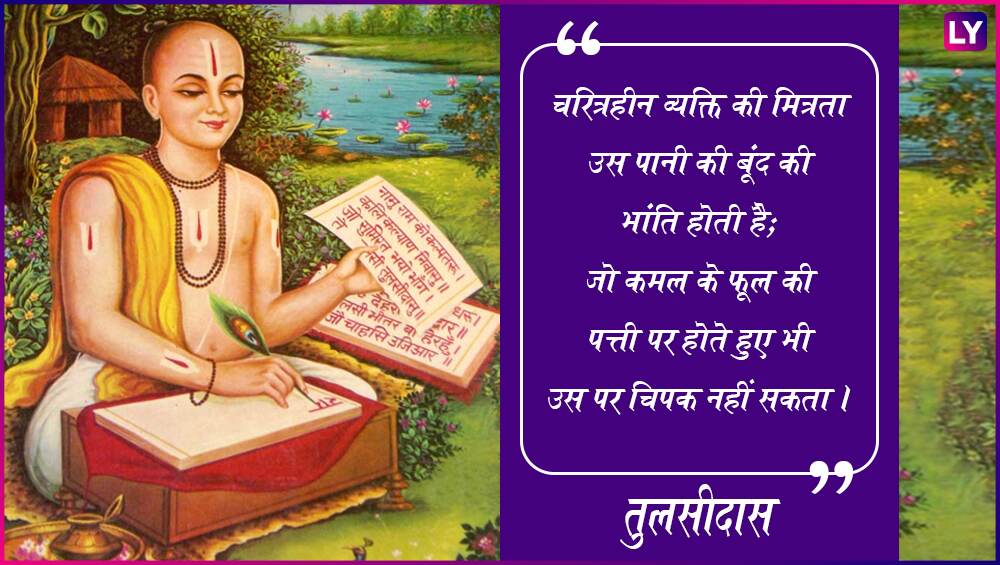 Message Reads: चरित्रहीन व्यक्ति की मित्रता उस पानी की बूंद की भांति होती है; जो कमल के फूल की पत्ती पर होते हुए भी उस पर चिपक नहीं सकता।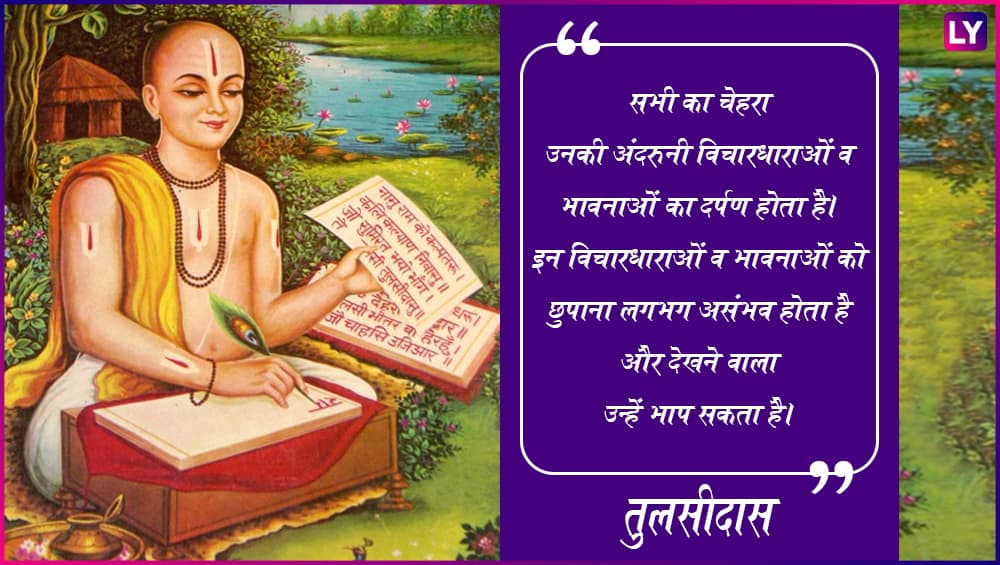 Message Reads: सभी का चेहरा उनकी अंदरुनी विचारधाराओं व भावनाओं का दर्पण होता है। इन विचारधाराओं व भावनाओं को छुपाना लगभग असंभव होता है और देखने वाला उन्हें भाप सकता है।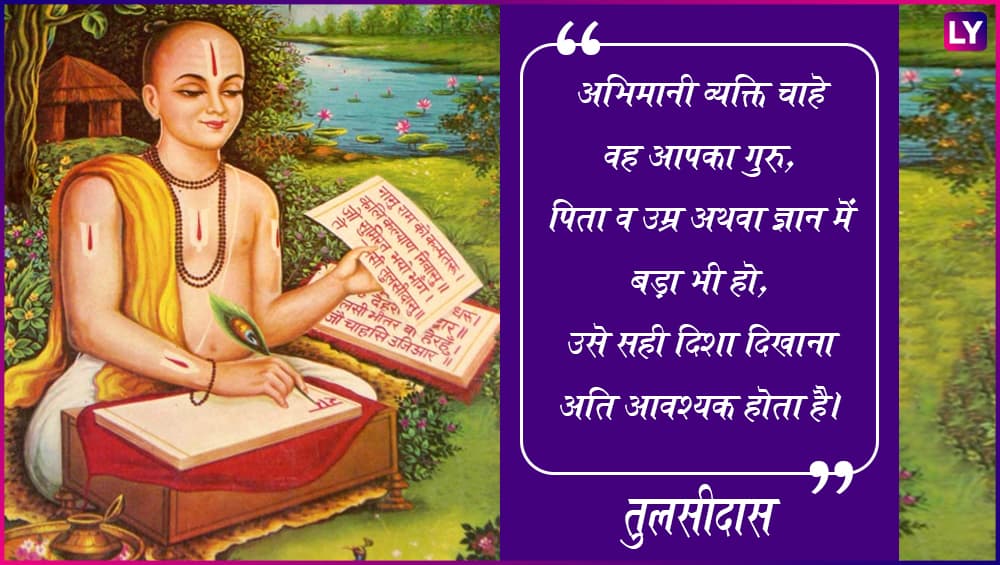 Message Reads: अभिमानी व्यक्ति चाहे वह आपका गुरु, पिता व उम्र अथवा ज्ञान में बड़ा भी हो, उसे सही दिशा दिखाना अति आवश्यक होता है।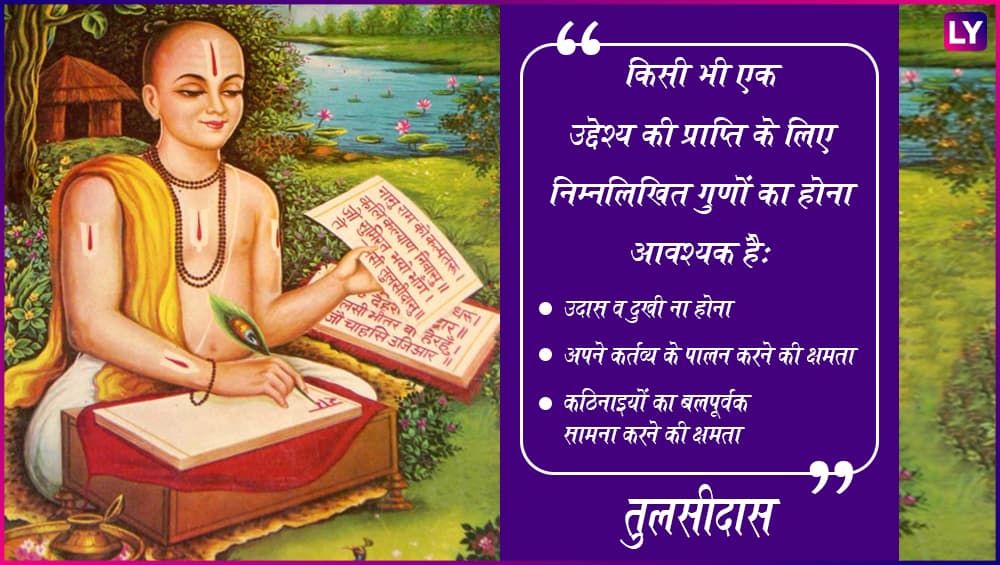 Message Reads: किसी भी एक उद्देश्य की प्राप्ति के लिए निम्नलिखित गुणों का होना आवश्यक है: उदास व दुखी ना होना, अपने कर्तव्य के पालन करने की क्षमता, कठिनाइयों का बलपूर्वक सामना करने की क्षमता|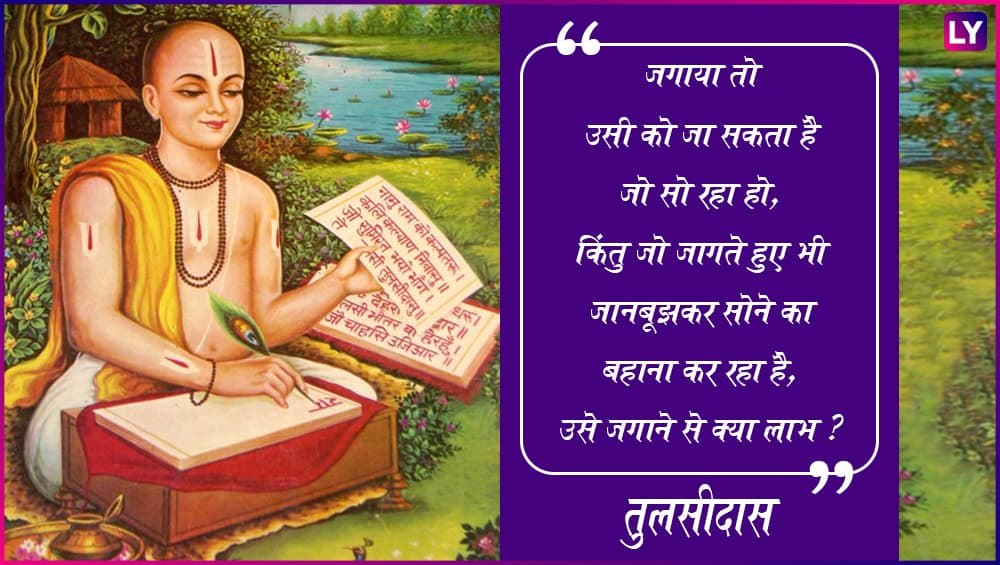 Message Reads: जगाया तो उसी को जा सकता है जो सो रहा हो; किंतु जो जागते हुए भी जानबूझकर सोने का बहाना कर रहा है; उसे जगाने से क्या लाभ?
Tulsidas tried to remove various types of theories in the society at that time. Through his writings, he criticised the evils, cultism and the evils created in the society. He attempted to raise the Ramrajya. The great saint spent his last days in Kashi on the famous Assi Ghat. On the day of Sharavan Krishna Tritya, he renounced his body while remembering the name of Lord Rama.