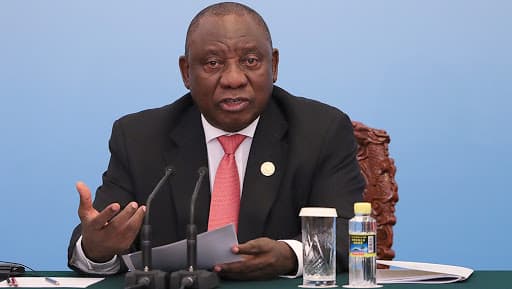 New Delhi, January 25: South African President Cyril Ramaphosa on Friday landed in the national capital to attend the 70th Republic Day Celebrations of the country on Saturday. He will be the fifth International nation head to attend the Republic Day ceremony of India after Barack Obama (2015), François Hollande (2016), Mohammed bin Zayed Al Nahyan (2017) and ASEAN Heads of State (2018).
Prime Minister Narendra Modi had invited the South African President during his visit to the country for BRICS Summit in June last year. The invitation to Ramaphosa was extended after US President Donald Trump expressed his inability to attend the event citing other commitments. Republic Day 2019 Significance: Know the Importance & History Behind 26 January Celebrated as India's Republic Day.
To confirm the invitation, PM Modi met the South African President again on November 1, 2018, and invited him to be the chief guest for the 70th Republic Day celebrations. Other than attending the celebrations, Ramaphosa will also hold talks on bilateral, regional and global issues of mutual interest with PM Modi and other Union ministers.
Here's what you need to know about South African President Cyril Ramaphosa:
1: Cyril Ramaphosa succeeded former president Jacob Zuma and took office in February 2008.
2: Ramaphosa is a keen Gandhi follower and was Nelson Mandela's choice for future President of South Africa.
3: In April last year, Ramaphosa led nearly 5,000 people on the 33rd edition of the annual 'Gandhi Walk' in an Indian township south of Johannesburg.
4: Ramaphosa was recognised with National Order of the Baobab in Silver award for his contribution in constitution-making in 2009.
5: After obtaining his B. Proc degree in 1981, he founded the National Union of Mineworkers and was instrumental in building the union into the most powerful union of the time. Ramaphosa even led mineworkers in one of the biggest strikes in the nations' history in the year 1987.
The decision to invite the Ramaphosa by the Indian government comes from the aspect of celebrating Mahatma Gandhi's homecoming from the South Africa. Incidentally, the Pravasi Bharatiya Diwas days were adjusted with the Republic Day celebrations to mark Ramaphosa's visit to India.