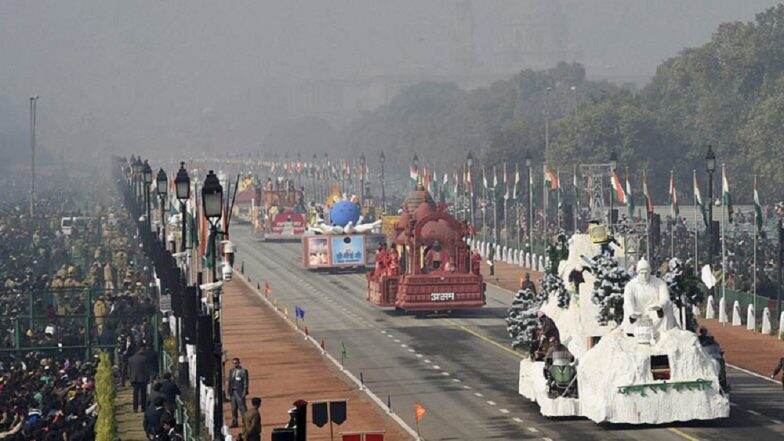 New Delhi, January 26: India will display its military might and unity in diversity at Rajpath on the occasion of the country's 70th Republic Day. The Republic Day 2019 Parade will begin at India Gate at 9 am. You can watch the live streaming of the parade online on the YouTube channel of Doordarshan. Also catch all the live updates on the Parade from Rajpath here. The Press Information Bureau (PIB) is also live streaming the Republic Day parade on its YouTube channel. Republic Day Parade 2019 to Have 58 Tribal Guests, 22 Tableaux, School Children Performances.
The 90-minute Republic Day Parade will feature 22 tableaux of states and central government departments and performances by school children. The states who will display their floats include Jammu and Kashmir, Gujarat, Uttar Pradesh, West Bengal, Maharashtra, Punjab, Arunachal Pradesh, and Goa. The tableaux of Delhi and Andaman and Nicobar will also be part of the parade.
Watch Live: Republic Day Parade 2019
For the first time, a woman officer would be leading the Army Services Corps at the 2019 Republic Day Parade.
On behalf of the Centre, 58 tribal guests from various parts of the country have been invited to witness the celebrations in Delhi. The tribal guests and tableaux artists will call on the president, the vice president, the prime minister and the tribal affairs minister. Mahatma Gandhi's Time in National Capital Subject of Delhi's Tableau for Republic Day Parade.
Four helicopters would precede the parade commander. The lead helicopter will carry the national flag and the other three choppers would carry services flags, while the echelon aircraft would shower flower petals.
The Chief Guest this year is South African President Cyril Ramaphosa, who landed in the national capital on Friday to attend the 70th Republic Day Parade at Raisina Hill Rashtrapati Bhavan in New Delhi. Republic Day Parade 2019 Chief Guest: South Africa President Cyril Ramaphosa Reaches Delhi, Here's All About Him.
Meanwhile, the Delhi Traffic Police have put an advisory in place as the parade will start at 9.50 am on Saturday from Vijay Chowk and will proceed to the Red Fort.
The Republic Day celebrations will conclude in the national capital with the Beating the Retreat ceremony in which the defence contingents and bands display their might and talent at Vijay Chowk. The chief guest for this ceremony is the President of India who arrives in a cavalry unit.