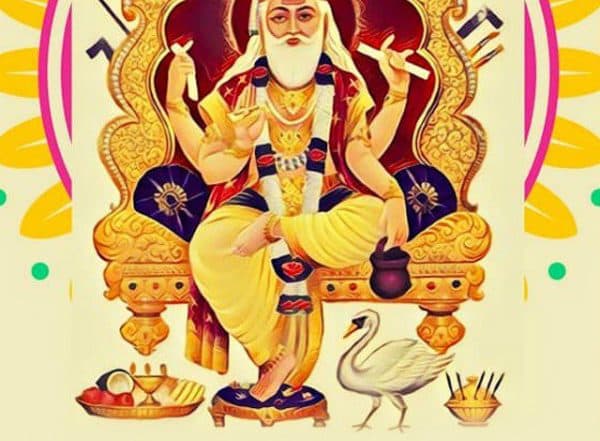 Vishwakarma Jayanti, an auspicious day dedicated to Lord Vishwakarma who is known to be the divine architect is celebrated in the various northern part of India mostly. According to the Gregorian calendar, the day usually falls on the 16th, 17,18th of September depending on the Subh Muhurat. However, in a few areas of Rajasthan, Vishwakarma Jayanti is celebrated on the 17th of February. Lord Vishwakarma is known to be the creator of all the palaces of Hindu Gods and Goddesses. Being the divine architect, he is also known to create weapons and vehicles. Vishwakarma Jayanti is celebrated as a grand festival among the Hindus that marks the birth anniversary of Lord Vishwakarma every year. Also known as 'Biswakarma Puja', 'Kanya Sankranti' or 'Bhadra Sankranti,' the calculation of this day is done as per the 'Bisuddhasidhanta.' It is one of the major festivals amongst Bengali and the eastern states of India like Orissa, West Bengal, Jharkhand and Tripura. Vishwakarma Jayanti 2018 Date & Significance: Puja Time & Vidhi to Celebrate the Birth of God of Architecture.
History and Significance of Vishwakarma Jayanti
The most important and auspicious day for artisans and craftsmen, Vishwakarma Jayanti is celebrated as the birth anniversary of the divine architecture- Lord Viswakarma. It is celebrated when the Lord Surya leaves Leo zodiac sign and enters Virgo sign. Lord Viswakarma's science of architecture and mechanics are mentioned in the Rig Veda and Sthapatya Veda. Lord Vishwakarma was born because of sea churn (Samudra Manthan) which was carried out by Gods and Devils together and therefore is celebrated on the day according to Hindu mythology and scriptures. Puranas have it that Lord Vishwakarma created the whole world. He is said to have constructed the Holy city of Dwaraka which was ruled by Lord Krishna.
Vishwakarma Jayanti Puja Timing & Puja Vidhi in Rajasthan
Rajasthan will see Vishwakarma puja celebration in this month aka February celebrated amongst the Tahsildar community in Rajasthan. This year, 2019 will see the Vishwakarma puja celebration on 17th of Feb and Shubh Muhurat is said to be from 5 am in the morning. As a part of special prayers and puja are held in shops, factories, offices and workplaces are decorated with flowers and devotees set to worship Lord Vishwakarma and His 'Vahan' (vehicle), the elephant at these decorated places. Next, the idol Lord Vishwakarma is placed and puja rituals are held. After the completion of puja, Prasad is distributed among all the workers and workers are seen offering their tools to the lord and no work is done on this day. The food prepared is eaten together as a part of prasad. Some people also fly kites on this day.
The festival is mostly celebrated in industries and factories. People ask for prosperity from Lord Vishwakarma and the safety of the factory, manufacturing units, machinery and betterment of the people working over there.