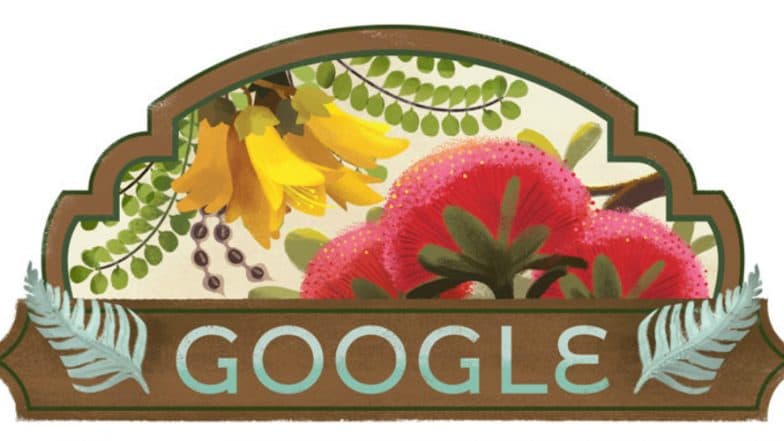 Festivals, live music and history tours are among the ways people in New Zealand are celebrating Waitangi Day. It is the national day of the country which commemorates the signing of the Treaty of Waitangi in 1840, which happened on February 6. It is regarded as New Zealand's founding document and is a very significant day in the history of the nation. The day is observed annually and is designated a public holiday. Honouring Waitangi Day 2019, Google Doodle has a unique native flora of the island nation. Lunar New Year 2019 Google Doodle. 
The Google Doodle, features silver fern and beautiful unofficial national flower, upholding New Zealand diverse variety of plant life. About 80 per cent of the islands' fern, flower and tree species are native to the country, and most of them cannot be found anywhere else across the world. The Doodle archive also mentioned how the silver fern has long been a symbol of New Zealand's identity that appears on the uniforms of a national sports team as well as military troops. To the people of Maori, it has been a symbol of strength and resilience. The leaves are known to grow up to 10 meters in height that are said to reflect moonlight, making it helpful when following forest trails at night. Here's Why Son-in-Law & Dogs Are Treated Special on Second Day of the Spring Festival. 
The Treaty of Waitangi was signed on February 6, 1840, on the grounds of the British Resident James Busby's house, which is also known as the Treaty House at Waitangi, in the Bay of Islands. As per the historical records, the treaty was signed by representatives acting on behalf of the British Crown. It was initially signed by 45 Maori chiefs, and in the next seven months, copies of the treaty were toured around the country to give it to other heads an opportunity to sign. The signing of the agreement had the effect of securing British sovereignty over the islands of New Zealand, which was proclaimed on May 21, 1840. The annual commemorations of the treaty signing began in 1947 and since then, Waitangi Day is celebrated with as much enthusiasm and fervour.