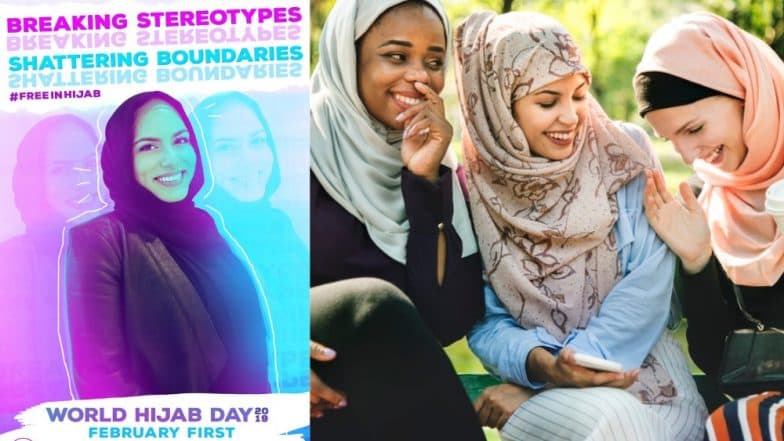 World Hijab Day is observed annually on February 1 since 2013. Founded by Nazma Khan, the day is celebrated in 140 countries today. The theme of World Hijab Day 2019 is 'Breaking Stereotypes | Shattering Boundaries.' Its aim is to encourage women of all religious and ethnic backgrounds to wear and experience the hijab (headscarf) and to support those who wear it. Non-Muslim women are invited to events where they are taught how to wear a hijab. The importance of hijab in Islam is also highlighted on this day.
World Hijab Day attempts to eradicate the popular thought that wearing a hijab is oppression towards women. The day tries to promote that most women who wear hijab do not feel oppressed in it. Women share photos and videos of them wearing the veil with the hashtag #FreeInHijab showcasing its importance among Muslims. World Hijab Day 2019: Why Women Wear Hijab.
According to a poll conducted on Facebook and Instagram Story by worldhijabday.com, 94% women didn't feel oppressed in hijab and 93% of women said hijab wasn't forced on them. It says that 94% of women felt empowered by hijab and 93% of women felt confident in hijab. World Hijab Day 2019: From Athletes to Beauty Queens, 5 Muslim Women Who Rocked the Headscarf With Pride.
World Hijab Day events have been organised in different countries including Albania, different parts of America, Bangladesh, Brazil, Barbados, Canada, Ghana, India, Ireland, Kyrgyzstan, Liberia, Macedonia, Malaysia, Montenegro, Nigeria, Pakistan, Philippines, Scotland,  South Africa, Spain, Tanzania, Ukraine, Venezuela and the United Kingdom. Vogue Does It Again! Magazine Features Hijab-wearing Model Halima Aden On Their British Cover.
However, the day is widely criticised also, for trying to politicise the beliefs of Islam. Nazma Khan told Turkey's state-run Anadolu Agency (AA), "#FreeInHijab is the much-needed hashtag for our current global situation where women in hijab are labelled by media as oppressed and symbolically imprisoned. Through this hashtag, women are encouraged to voice their choice of wearing the hijab; thus dispelling common misconceptions. Perhaps, this one-day experience will make them see the hijab in a different light."