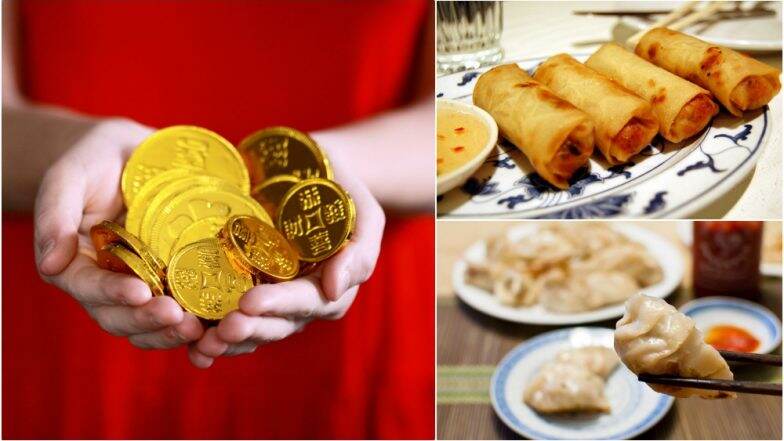 Chinese New Year or Spring Festival is China's most important festival and holiday time, which this year falls on February 5. The holiday is a two-week long festival filled with reunions among family and friends, an abundance of mouth-watering dishes and wishes for a new year filled with prosperity and good fortune. This year's zodiac is Pig. Chinese New Year 2019 lasts from the night before the first day of the lunar year, until the Lantern Festival, which is 15 days later. Food holds a special significance in Chinese culture, and it is no surprise that certain dishes play a significant role in New Year celebrations. During the two-week Chinese Spring festival, "lucky" foods are served among the individuals, welcoming the new year. What Does It Mean to Be Born in the Year of the Pig?
It is a tradition across most of Asia to hold a lavish feast, celebrating the lunar new year. China is all adorned in festive red lanterns and auspicious door decorations. Families gather in the evening wearing new clothes and enjoy a special meal together, which is an essential element of all. Each dish has a symbolic significance in the Chinese culture, and it is fascinating to see all the feature foods that are considered to be lucky among them. Here are the top five lucky foods and their symbolism to welcome the Year of the Pig. Ahead of the Spring Festival, Tourists in China Enjoy Human Hotpot Spring Pools. 
1. Jiaozi (Dumplings): Wealth
The practice of making dumplings together has its roots in China's north, where the wheat used in the tender dumpling skins was once a more common staple than rice. Crescent-shaped Jiaozi (dumplings) is a symbol of wealth and prosperity because of their resemblance to ancient Chinese money (silver ingots).
2. Dayu Darou (Whole Fish or Meat): An Increase in Prosperity
The Lunar New Year meal will always include dayu darou which are big fish or big meat. The fish is usually steamed whole in style proportionate with the region of China where it is being served. Eating fish on the New Year's Eve signifies an increase in prosperity.
3. Chun Juan (Spring Rolls): Wealth
The spring rolls (Chun Juan) take their name from the holiday—the spring festival (chunjee), also known as the Chinese New Year. In China, spring rolls, egg rolls, symbolise wealth because of their shape is similar to gold bars. Most of the Chun Juan are deep-fried, for a crackling-crunchy and piping-hot shell that surrounds the soft filling.
4. Changshou Mian (Longevity Noodles): Happiness and Longevity
The translation of Changshou Mian is "long-life noodles." The two-foot-long noodles make an appearance on all special occasion in China, representing the wish for a long, happy and healthy life.
5. Tang Yuan (Glutinous Rice Balls in Sweet Syrup): Family Togetherness
No feast can be complete without a sweet. These small delightfully gummy rice balls are served as symbols of togetherness and family reunion to the Chinese community. In some parts of China, Tang Yuan is eaten at the beginning of the Lantern Festival, marking the end of Chinese New Year period. But in Shanghai and the south of China, people eat them throughout the New Year festivities.
Every traditional food that is eaten during the Chinese New Year has a special significance because of the way the Chinese word sounds. Tangerines and oranges are passed out freely during the festivity as they sound similar to luck and wealth. From appetisers to desserts, the Chinese New Year recipes are considered to be lucky in their culture. These classic dishes will surely bring you daji dali (good luck and great prosperity).