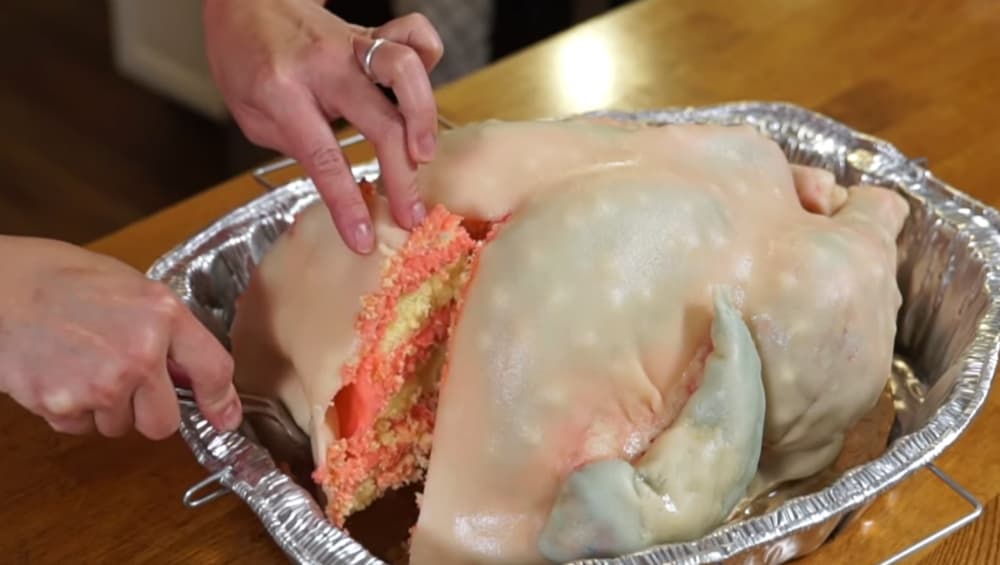 This Turkey is not what it looks like! And no, you are not eating it raw. The appearance is fooling your naked eyes, and it is going to do the same to your guests. If you can make it right! The turkey is not actual raw meat, skin and bones, but an edible cake. Everything from the pink, plucked skin, to the properly-proportioned wings and drumsticks, was so perfectly executed that is hard to believe that it is not a turkey, ready to go into the oven. Planning a Thanksgiving treat is not easy, and since the festival is here, turkey is always the centre-piece of the dinner table. But what if you trick your guests by keeping a raw turkey plate instead of a roasted one. They will freak out, right? Only you would know that it is actually a dessert and not raw meat. You can make the Thanksgiving 2019 a little unique this year, by serving this raw turkey (cake) to celebrate the occasion. Do not stress out, as we have also included the recipe accompanied by a video that will help you make this delicious, yet creepy-looking dessert for Thanksgiving. Best Thanksgiving 2019 Turkey Alternatives: From Roasted Cornish Hens to Spicy Cooked Lambs, These 5 Recipes Are Finger-Licking Good Options!
Sarah Hardy, an English cake artist, Sarah Hardy has become the talk of a social media sensation, after she introduced her skills of this meticulously decorated cake that looks so lifelike. Her video gained as much appreciation, and the world wanted to know how to make this unique recipe. Thanksgiving 2019 Dinner Menu Ideas: Easy and Yummy Recipes to Wow Your Guests.
Here's the Video:
While her tactic might look a bit too professional for you, we have also provided another video that shows you, exactly how and with the help of which materials, you can make this edible raw turkey cake for Thanksgiving.
Watch Video: How to Make Raw Turkey Cake?
As you have understood, this cake is made from four years of sponge layered with buttercream icing that gives the realistic pinkish tone. To give the impression of plucked skin, you can make small dots all over the cakes. Paint some more details with a food dye around the turkey's legs to give it a more realistic look. Your Thanksgiving 2019 raw turkey cake is ready to serve.