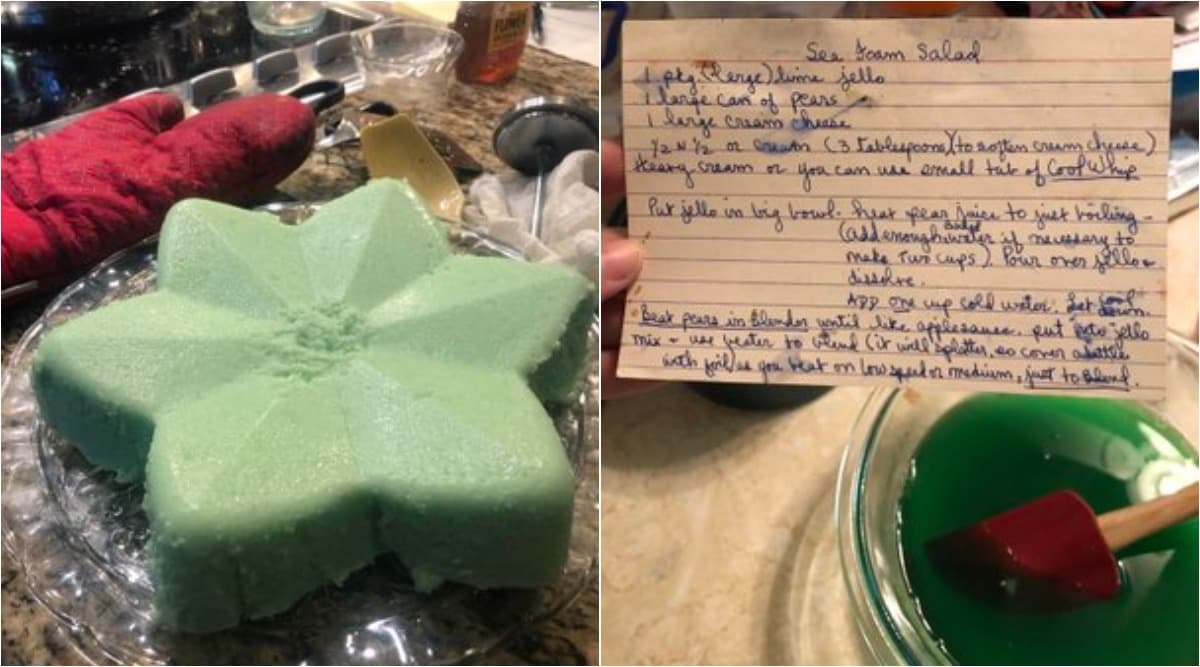 Thanksgiving is almost here and preparations are in full swing. Food being an integral part of the festivities, people have already begun arrangements. Traditional recipes hold a lot of significance as people believe in passing down age-old food habits and culture. While Thanksgiving 2019 is approaching, Americans are sharing another side of the age of dishes made during the festival. Some of them have taken to Twitter sharing the 'gross side' of traditional Thanksgiving meals. After Twitter user Maya Ksoff shared a photo of a traditional side dish called 'Seafoam Salad' prepared in her family on Thanksgiving, people took to social media sharing similar stories. From the weirdest recipes including questionable ingredients to unappetising food, Twitter is filled with pictures and recipes of dishes, people wished they didn't have to eat. Thanksgiving 2019 Dinner Ideas: Vegan Turkey Substitutes That Will Ensure Your Gratitude Day Is Absolutely Delicious!
Maya Ksoff also asked Twitterati to share traditional Thanksgiving dishes they are not fond of saying, "I cannot wait to hear about the recipes you're all excited to make for thanksgiving but I am also here to hear about the weird inexplicable retro family recipes that end up on your Thanksgiving table per tradition or nostalgia or whatever." Sharing a picture of Seafoam Salad, she wrote, "Ours is a wild creation called seafoam salad. I thought this was a normal thing every family made and served for thanksgiving next to the turkey and the stuffing until I was 18." Thanksgiving 2019: Why is Turkey a Specific Delicacy For This Feast Dinner?
That's Seafoam Salad!
ours is a wild creation called seafoam salad. i thought this was a normal thing every family made and served for thanksgiving next to the turkey and the stuffing until i was 18. pic.twitter.com/xE7mQ8W99R

— maya kosoff (@mekosoff) November 23, 2019
Lettuce With Cherry?
This reminds me of the Pear "salad" my mom used to make growing up. We never had a cherry on top but it was served on a bed of lettuce (iceberg obviously). pic.twitter.com/78z9viniyN

— I'm Betty Blackwell (@mjprestarri) November 23, 2019
That is a Little Worrying!
Ours had lime jello, lemon jello, cream cheese, crushed pineapple, and I believe a packet of Dream Whip. It was always my job to whip that up with the hand-crank egg beater 🥵

— Susie (@TheNewSusie) November 23, 2019
What is Even That?
And in this classic from 1960s:

Ham Mousse! pic.twitter.com/Hkp9zUgq5O

— Patricia (@Patrici96470626) November 23, 2019
Coca-Cola Whaaat?
Oh my god it's almost the "coca-cola salad" which I made and was a disaster. How is jello and cream cheese a thing! pic.twitter.com/WSelt2mHqQ

— Michel (@michelmcbride) November 23, 2019
Let's Try to Forget it
Thanks to this scary thread, I've had the misfortune of learning that there is a popular Cornish dish called Stargazy Pie, made of sardines. pic.twitter.com/OGRsm25jxD

— Maria (@BeBraveAndTrue) November 24, 2019
So This is How it All Began?
Here is a copy of the recipe she used, clipped out of a newspaper or magazine. Wish I knew what year: pic.twitter.com/6gKjECLSrk

— Sheila Scarborough (@SheilaS) November 23, 2019
But, What Did it Taste Like?
My mother always made a mock apple pie with no apples but Ritz crackers.... pic.twitter.com/7es7c9Ar6Y

— Amy 🌸📚💗 (@Steelers_Girl74) November 23, 2019
We Partly Agree
This thread is a crime against humanity

— DevinNunesTHEDragQueen (@NunesDrag) November 24, 2019
Thanksgiving Day began as a day of giving thanks for the harvest. It is widely observed in the United States, Canada, Carribean Island and Liberia on different dates. It is an annual holiday and is observed differently in various cultures and traditions. Some of the popular food items during the festival include turkey meat, mashed potato, cranberry sauce, cornbread, green bean, gravy and stuffing.