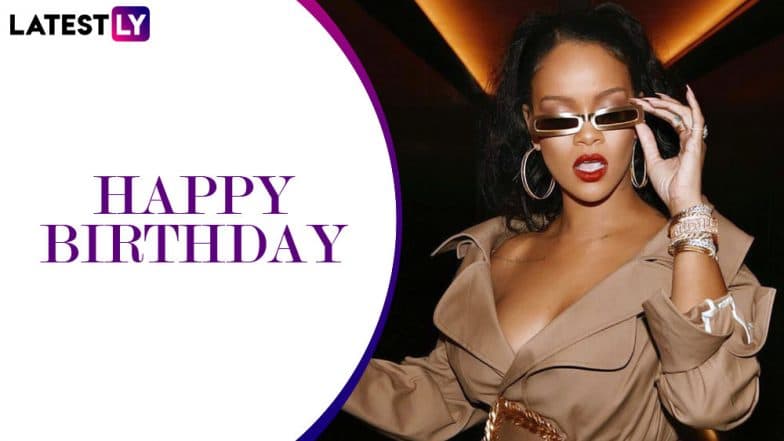 It is everyone's favourite Badgalriri's birthday today! The queen, Rihanna was born today. While her social media doesn't spark the birthday joy, instead she is prioritising to give away the due respect to Karl Lagerfeld's legacy. As per the Queen's Instagram, she's been mourning Chanel Designer Karl Lagerfeld's death yesterday, just a day before her birthday. She has captioned as one of the pictures as "Godfather." Nevertheless, it is Rihanna turns 31 today and she has been an inspiration to us all her life. The bold and beautiful Rihanna is not just an amazing singer, but her badass yet kind personality speaks volumes about how awesome she is. Right from her offbeat style to her minimal, yet kickass use of words, Riri is the true goddess we all want in our lives. Not only that, her life has been a bunch of life lessons that we all must acknowledge.
Here are some of the life lessons we must take from Rihanna's life. Rihanna's Birthday Challenge Is Trending On Twitter! What Happens When You Google Your Birthdate with RiRi's Name.
Be you, no matter what and be true to yourself.
Do what you want, speak your mind and rock anything you choose to wear- Rihanna is a VIBE, and a major one. Right from pulling off the PJs like a goddamn boss woman to her red carpet sartorial choices, Rihanna's style is like a transparent glass window to her personality. Not only fashion, you will hardly see her faking anything, unless it is for humour, which also BTW is one of her fortes. She has not shied away from owning each and every decision of her life.
Be independent
Probably the most basic lesson you'll take away from her life is that a lot of her personality comes from her independence. Rihanna has been an independent woman from quite early in her life and overcame every obstacle in her life to become who she is right now. She has taught us that financial independence is what makes you a real woman just like the Queen herself.
Inclusivity
Be her fashion shows or her Fenty beauty models, you will see women of Variety. She makes sure to include women or men of every skin colour and ethnicity. She never fails to make it a point to express inclusivity in every manner.
Having a man shouldn't be the utmost goal
One of the interviews of Rihanna that went viral, she clearly expresses that having a man shouldn't be one's goal, at least it isn't for her. The badass woman is obviously not against dating or having a boyfriend, but you must not keep yourself after the idea of having a man in your life.
Keep things stylish, JUST ANYTHING
Ultimate life lesson for any fashionista for sure. YOU CAN PULL OFF ANYTHING YOU WEAR, just do not hate your self for it. Do not beat yourself to look good because you do look good the way you are it is about how you carry your style. If you really love fashion, love yourself more than that, you'll automatically be able to pull off any style.
Happy birthday, Rihanna.
There is so much one can learn from Rihanna's life. Wish her a happy birthday, hope she keeps bestowing us with more and more life lessons.