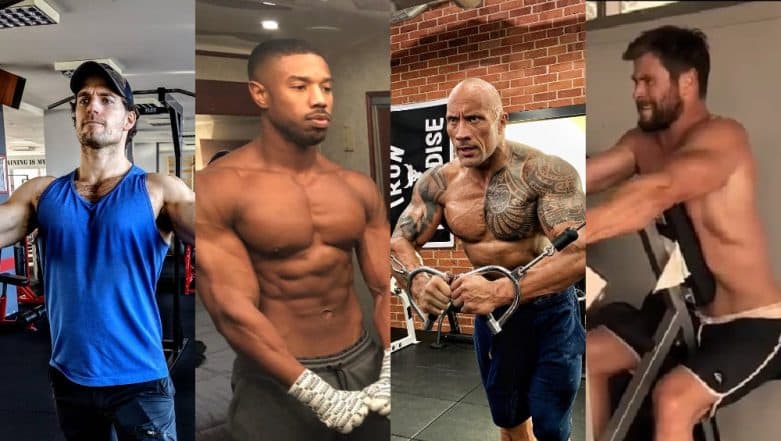 Fitspiration gets a whole new level of enthusiasm when it is shared with role models. Now the new year has kicked in and already many of you are breaking your healthy new year resolutions. Therefore, we have an interesting proposition to make that is easy to do and you wouldn't refuse.
We're certain that you've been dreaming of snagging Zac Efron's ultra-ripped body or taking a leaf out of Chris Hemsworth's fitness routine or even taking a piece of the delicious cuisine that Dwayne 'The Rock' Johnson gorges down as part of his workout routine. But how can you get that body these hunks hone? Well, research claims that the more you see other people do things you've been wanting to do, the more you are impacted and inspired to do it.
Are you getting where we're going with this? Well, time for you to buckle up, get your mobile phones and start following the IG accounts of these Hollywood hunks whose social media game revolves primarily around their workout regime and fitness tips.
The list cannot even begin without Dwayne 'The Rock' Johnson's name because this guy is a god behind the weights. Health and fitness are what he thrives in. And if you follow him, you'll always be kept abreast with his recent gym tricks. He likes to experiment and let his humongous fandom know what he is up to as a way to inspire them. Such a philanthropist.
We have done far too many gush pieces on Chris Hemsworth's body so it is pretty obvious that the second name on our list will be him, in all his might. Hemsworth, just like Johnson, has a certain obsession towards letting his fandom know what he is up to, fitness-wise. He, along with his trainer, have shared way too many cool new gym techniques, some that don't even need the gym weights or machines to get toned abs, ripped body and all the fitspiration!
Zac Efron
View this post on Instagram
Who would've thought that the Disney lad would end up so shredded in the near future? Well, health and fitness is no game for Zac, who constantly shares interesting videos and posts about his workout regime and how he gets things done while growing veins on his veins! He is hardworking and it definitely shows on his body. Ask the ladies!
View this post on Instagram
Talking about fitspiration and not taking Vin Diesel's name would be a crime that even Deepika Padukone won't spare us for. The Fast and the Furious franchise flagbearer is not just hot behind the wheels but also when he's behind a gym machine, getting ripped. Also, he doesn't mind giving fans some deets and insights on how to get a body like him.
Jason Statham
View this post on Instagram
One of the best action film actors, Jason Statham is a lot of things awesome, including a martial arts enthusiast. Didn't know about it? Well, that's precisely why we urge you to follow this man on IG as he will blow your minds with some off-screen action stunts that have been curated by him!
They didn't cast him to play Adonis Creed for nothing. Michael B(ae) Jordan is definitely one such celebrity whose Instagram will make you feel weak and strong at the same time. His stories are often about what to do next at the gym and how to maintain the body muscles and whatnot. Give the Killmonger a go.
Henry Cavill
Have you ever tried checking out this DC superhero's super awesome Instagram posts? Cavill's physical journey is dedicated to bodybuilding as he holds a fascination towards it. Needless to say, his Instagram does not disappoint.