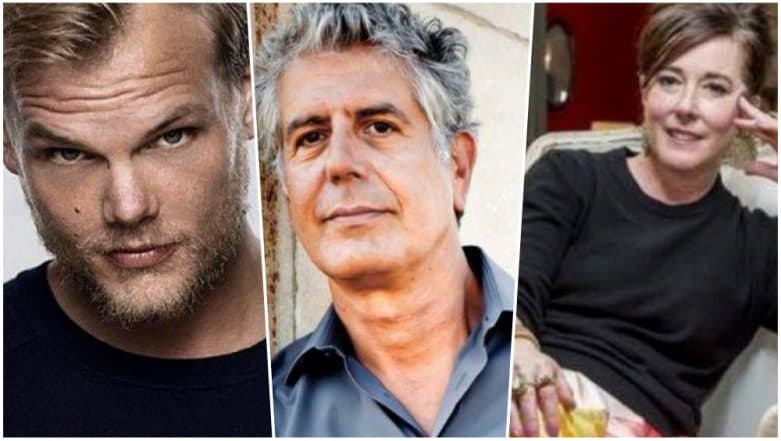 "Some people die at 25 and aren't buried until 75," is a quote that is commonly attributed to Benjamin Franklin, the founding father of the United States of America. It hits home to millions of broken souls, who are putting on a mask of normalcy for the world to see. According to the World Health Organization, 300 million people are battling mental conditions. And this year, many lost their fight against them. Some of them were celebrities, like Avicii, Anthony Bourdain and Kate Spade. While their deaths have been devastating, it has also helped us sit up and understand that no matter how happy someone may seem, they could be hurting inside. Let's honour some of the brightest people that we lost to suicides this year.
1 Avicii
Swedish DJ Avicii or Tim Bergling, known for hits such as Levels and Wake me up, was a force to be reckoned with. On the outset, everything was going for the young musician who had amassed dizzying fame and fortune at the age of 28. So when the news of his suicide broke in April 2018, fans were stunned. Not much is known about the late DJ's personal struggles, but his family summed it up in a statement: "He really struggled with thoughts about meaning, life, happiness. He could not go on any longer. He wanted to find peace."
2 Himanshu Roy
Mumbai's top cop Himanshu Roy's death came as a shock to the entire nation. The celebrated IPS officer helmed many high profile cases in the country. It is widely believed that Roy was depressed due to his medical condition and was fighting a battle with cancer. On May 10, 2018, Roy shot himself with a revolver.
3 Kate Spade
Fashion designer and business Kate Spade was found dead in June 2018 at her Manhattan apartment. She was the brains behind her signature line of handbags Kate Spade New York. No one except close family members knew that she had a long history of depression and anxiety. For friends, her death came as a shock since she had no outward signs of depression.
4 Anthony Bourdain
No one thought that the wise-talking food critic and chef Anthony Bourdain was dealing with personal demons. It was only after his suicide in June 2018 that the world became privy to it. In retrospect, there were a lot of red flags about his mental health that friends and family missed, such as his substance abuse problem.
5 Bhaiyyuji Maharaj
Spiritual leader Bhaiyyuji Maharaj, known for his affiliation with BJP committed suicide in June by shooting himself. Not much is known about the spiritual leader's mental health before his demise, but it came as a shock to scores of his followers.
6 Rick Genest (Zombie Boy)
Canadian artist, actor and fashion model Rick Genest, known as Zombie Boy, was found dead after a fall from his balcony in August. Although there were no suicide notes or traces of drugs in his system, it is widely speculated his death was a suicide.
7 Parvinder Chaudhary
Sprinter Parvinder Chaudhary was an 18-year-old athlete who had represented India at International sporting events in November. He was found hanging from the fan in his hostel room at the Jawaharlal Nehru Stadium. An argument with his father over money was cited to the primary cause of his suicide.
8 Jessica Star
Meteorologist Jessica Starr who worked with the channel Fox 2 left the news fraternity shocked when she committed suicide on December 14. The 35-year-old was one of the most prominent weather anchors in the US. Her colleagues revealed that she had been depressed following a medical diagnosis. She committed suicide by hanging herself to death.
As distressing as celeb suicides are, their coverage by the media can pose more problems. It can have a copycat effect on others dealing with depression, pushing them to the brink of suicide.