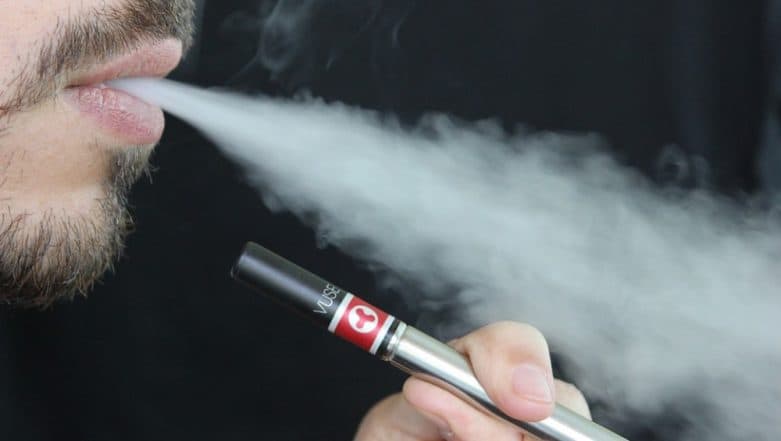 New Delhi, September 11: The Cabinet is likely to give its nod to a proposal seeking a blanket ban on the sale of e-cigarettes in the country today. The Union Health Ministry proposed to ban the sale of e-cigarettes and the Cabinet is expected to gree signal to it in today's meeting. Unlike cigarettes that burn tobacco, e-cigarettes use a heating element to vaporise liquid nicotine. The idea of banning e-cigarettes have been debated for a long time with people questioning if the move is absolutely essential for public health or the government is preventing smokers from using an alternative to quit smoking cigarettes. Ban Manufacture And Sale of E-cigarettes: National Health Forum.
E-Cigarettes Advocates:
Healthcare activists and several organisations have not been in favour of a ban on the sale of e-cigarettes. "It will lead to counterfeiting and smuggling. The government only wants to upstage the courts and that is why we are seeing a ban," Amir Ullah Khan, an economist and a former advisor to the Bill and Melinda Gates Foundation was quoted by News18 as saying. Dr Alex Wodak, former president of the International Harm Reduction Association, believes a ban on e-cigarettes will harm the health of millions of Indians. WHO Says E-cigarettes 'Undoubtedly Harmful'.
The Confederation of All India Traders or CAIT is also against a ban on vaping. "Cigarette smoke exposes smokers to over 400 toxins and 69 known carcinogens, and e-cigarettes, which are an electronic, combustion-free alternative provide users a similar amount of nicotine, without emitting these toxins and cancer-causing chemicals. It has been established by leading public health bodies like the Public Health England that ENDS are at least 95 percent less harmful than cigarettes and globally, these products are being used to strengthen tobacco control measures of various countries like UK, Canada, New Zealand…" CAIT wrote in its letter to the Health Ministry.
Gujarat Tobacco merchants and Growers Association have written an open letter to Prime Minister Narendra Modi, saying e-cigarettes are a harm reduction substance and ban on it will destroy livelihoods of farmers who are growing tobacco.
'Ban E-Cigarettes'
The Indian Council of Medical Research (ICMR), however, is pitching for a ban on the sale of e-cigarettes, citing studies that have shown that these have the potential to cause nicotine addiction. The two organisations - National Health Forum and Shram - said the banning of alternative smoking devices such as e-cigarettes, heat-not-burn devices, vape and e-nicotine flavoured hookah will be a "landmark decision" with positive effect for reduction of respiratory diseases.
The National Health Forum Managing Trustee Mandakini Sinh said the decision of Ministry of Health on e-cigarettes and similar such products is "correct and a step in the right direction".