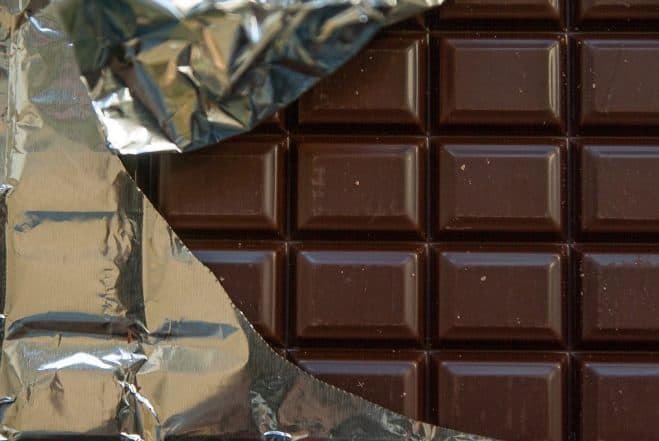 Hypertension has grown to epidemic proportions in the world. India itself has a high prevalence of high blood pressure and the incidences are increasing. What's worse is that the awareness levels among the people are very low about how to control it. Hypertension happens when the pressure exerted by the flowing blood against the walls of the arteries is high. Lifestyle causes are mainly to blame for increasing incidences of high blood pressure. If you want to reduce your blood pressure without medicines, certain smart tweaks in your diet and lifestyle can help. And sometimes, these remedies are quite palatable. Dark chocolate is one of them. Here's how dark chocolate reduces blood pressure. From Healthier Heart to Sharper Brain, Amazing Health Benefits of Chocolate You Didn't Know About.
Eating a small amount of dark chocolate every day can help bring down your BP. It contains flavanols that may reduce blood pressure. A 2015 study proved that eating high-polyphenol chocolate over a period of eight weeks improved cardiovascular functions by decreasing systolic and diastolic blood pressure. Another German study went to prove the same thing when 44 adults between 56-73 years of age were given dark chocolate for a period of 18 weeks.
So does that mean you can forgo your hypertension medication? Although dark chocolate helps, it is no substitute for medication because the reductions are modest. But here's how it can help. You can eat dark chocolate in moderate amounts along with DASH diet. Can DASH Diet Reduce Blood Pressure? Here Are 5 Things You Should Eat.
Eating fibre-rich foods with healthy fats can effectively lower hypertension. It's also important to note that dark chocolate should be pure with very low sugar. Milk chocolate that is high in dairy and sugar may not give you the same results.
For best results, eat dark chocolate with other BP-lowering foods such as bananas, beets, kiwis, oats and leafy greens.