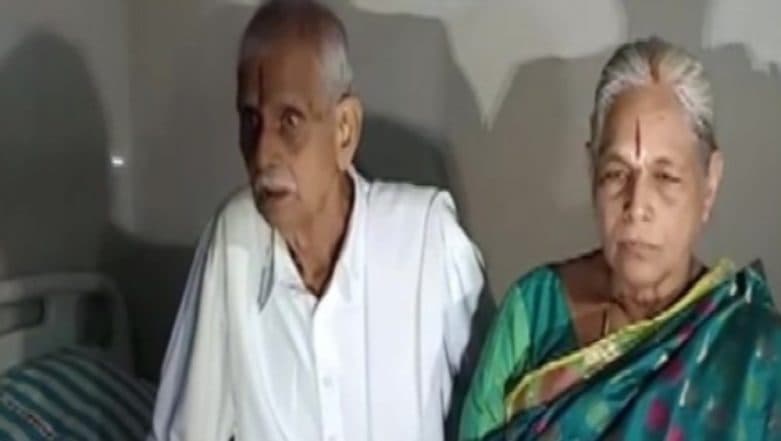 After Mangayamma Yaramati from Andhra Pradesh defied all odds to give birth to babies at the age of 73, her 80-year-old husband Sitarama Rajarao suffered a stroke. He suffered the attack a day after his daughters were born. The husband and wife had declared themselves as the  'luckiest couple in the world' after the delivery following IVF treatment.
He is currently undergoing treatment in a hospital. The incident has raised questions about whether doctors should give treatment to elderly women in India. Talking about the children, Rajarao was quoted as saying, "It is due to the grace of God and doctors that I have now become a proud father of two baby girls. God has answered our prayers. This is the happiest time of my life." When he was asked who would look after the children if anything were to happen to their parents, he said, "Whatever should happen will happen. It is all in the hands of God." Andhra Pradesh: 74-Year-Old Woman Gives Birth to Twins Through IVF in Guntur.
By delivering babies at an old age, Mangayamma had become the world's oldest ever to give birth. She went through a caesarean section on Thursday, following a successful IVF treatment. She delivered the children after going through in-vitro fertilization (IVF) in a private hospital in Guntur. The previous record was said to be held by a 66-year-old Spanish woman in 2006, according to the Guinness World Records.
The couple had used an egg from a donor, fertilised with Rajarao's sperm and conceived during the first round of treatment. Yaramati was admitted to hospital in January, and the healthy babies were delivered by caesarean. The mother and babies are safe and stable.
She reportedly said that neighbours used to call her a 'childless woman' all these years. But her husband was supportive and did not let the accusations affect their relationship. They thought of having a child through IVF after one of their neighbours recently conceived and delivered a baby through artificial insemination, at the age of 55.