The words "disability" and "dance" seem to have nothing in common, save for their alliterative effect. But there's more to the two than what meets the eyes. Far from being an impediment, dance could help the disabled explore their creativity and perhaps even help them heal. When Shiamak Davar, perhaps India's most well-known name in dance, started his academy, a girl with polio came to attend the classes. The event turned out to an eye-opener for both the girl and the ace choreographer. "After a year, she told me that should actually feel her arm move slightly. At first, I didn't understand, but over time, I realised that dance can heal and it is actually therapeutic," he says. He went on to establish Victory Arts Foundation in 2004, an NGO that helps people with disability explore their true potential and recover through dance. On International Day of Persons with Disabilities 2018, Shiamak tells LatestLY why the human spirit is stronger than any physical limitation.
In 2004, Shiamak founded Victory to make dance available to the underprivileged and those with special needs. "Victory makes dance available across age, gender, caste, class and ability, without prejudice," he says. Fourteen years since its inception, Victory does more than just that. It has been a therapeutic medium, helping the disabled heal through dance.
How Dance Heals
There's a dizzying amount of scientific evidence that point to the therapeutic effects of dance, especially for the differently abled. Various illnesses such as cerebral palsy, Down syndrome, Parkinson's disease and multiple sclerosis affect bodily movements. Studies suggest that music and dance can help in improving movement, physical functionality and the emotional health of the person. Nail Salon Turns Away Woman With Cerebral Palsy Because 'She Was Shaking Too Much'; Walmart Employee Steps Up To Help.
Studies have shown that dance therapy also improves motor performance, self-esteem, attention span, concentration and emotional recognition in children with learning disability.
At Victory, people with disabilities like cerebral palsy, autism and mental retardation are taught to forget about their physical limitations and surrender themselves to the music and dance.
"When you dance you sweat, and you release 'feel good' endorphins that make you happy. Good music and dancing is a great way to be in a happy state of mind. It leads to significant improvements in motor performance, reduced stress, anxiety and depression levels, pain management and body image, self - esteem, self - expression, emotional stability and an overall sense of well-being – all thanks to the impact of dance therapy." says Shiamak.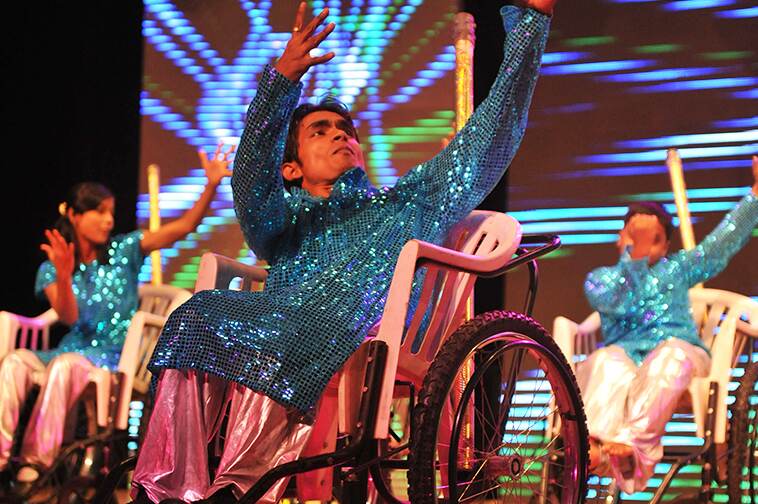 Transforming Lives Through Dance
Victory has helped touch many lives, delivering many from a life of disability to one of opportunity. One of the many lives Shiamak has transformed through dance is that of Zenia Malegamwala. As someone who was born with Arthrogryposis multiplex congenita, Zenia depended on her wheelchair. She thought she could never dance even though she wanted to.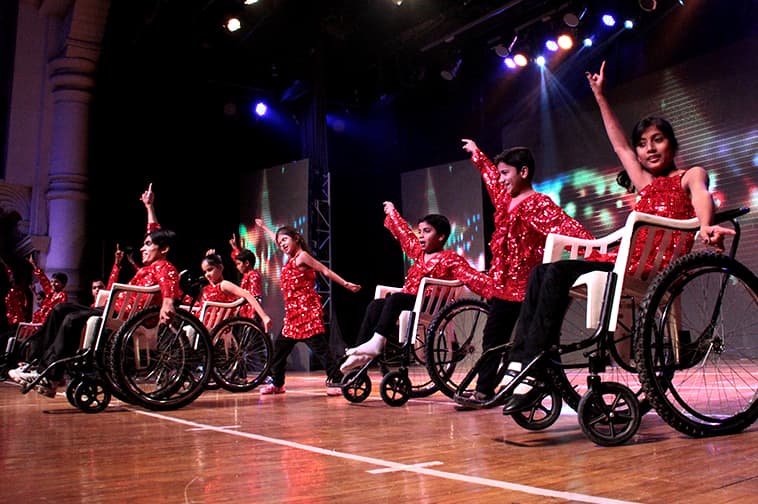 In 2006, Zenia's life was turned around when she joined dance classes for people with disabilities at her school ADAPT. Today, as a part of Shiamak's Victory on Wheels team, Zenia has not only realised her long-standing dream of dancing, bur has also found a great way of keeping herself fit. She was awarded Dr Batra's Positive Health Award in 2012 for her unbeatable spirit.
Shahnawaaz Sheikh has been on callipers since the age of seven. But today, he's working as a dance instructor, teaching others with special needs like him. Shahnawaaz is not an ordinary dancer; he can perform stunts like wheelies with his wheelchair and handstands during his performances. Dancing has given him not only a purpose in life, but also a livelihood.
For Shiamak, every class is an unforgettable memory. "Just Just the pure joy on their faces when they dance, when they perform on stage, it is the most fulfilling experience. It is with Victory that I took my motto of 'Have Feet. Will Dance.' One step further to 'Have Spirit. Will Triumph.' And every time I see them dance, it is a triumph and victory for all of us," he says.