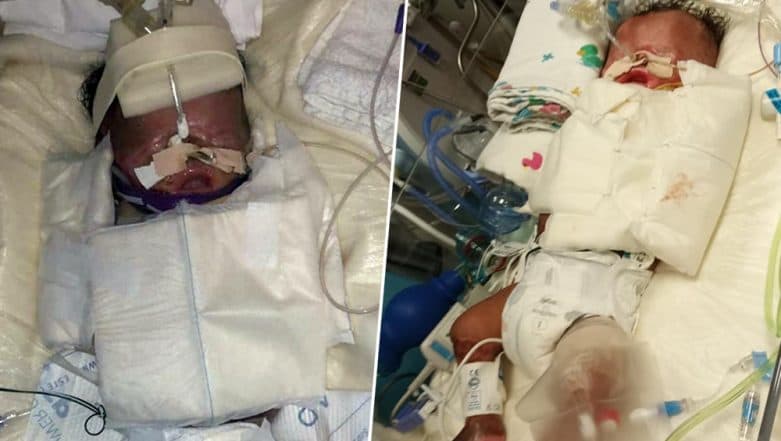 Premature births are not too uncommon to be heard off. But this baby born in Nottingham City Hospital was born ten weeks premature! The chances of its survival were very meagre as it did not have any skin. The doctors did not know how to treat him and warned the parents he wouldn't make it. But after undergoing from his biggest surgery which involved developing skin grown in a lab using his own cells, he is finally getting better. 5-month-old Ja'bari Gray was taken care of by specialists at Texas Children's Hospital and has opened his eyes and ready to go home. He is sure a miracle baby! 900 Gms Newborn was Saved After a Life-Saving Heart Closure Operation in Mumbai.
The baby is now gaining weight, somehow dealing with pain medications and slowly recovering. For the skin grafting, the specialists had to perform a biopsy. The cells from his skin were isolated, fed nutrients and spread. The big surgery of replicating the skin and grafting took place on Friday, May 24. It was indeed a tough time for his parents Jake and Priscilla who were just 19-year-olds with their first child born so weak. His mother Priscilla was quoted to a news report, "He was already starting to grow his own skin on his own, but there was still a lot of his body without it. Afterward, when the doctors said he made it through, it was such a relief."
View Pics of Baby Born Without Any Skin
Because he did not have any skin, the doctors could not regulate his body temperature. From the day he was born, his eyes were closed but doctors were able to open his eyes too. From the time he was born until now, the child has gained triple his weight. When he was born, the doctors in San Antonio did not how to deal with the medical condition, which is a rare skin disease. Amritsar's Miracle Baby Boy: Newborn Flushed Down Train Toilet, Recovered Alive.
Although the baby is recovering he still has to go through more surgeries. Over the next year, the child will have to go through at least 4 more operations.  The doctors told the parents twice that the baby probably wouldn't survive but they were ready to do everything for the child. But all this while, the parents used to dress him like a fighter and the little one has proved he's a fighter. This skin condition is now being investigated by some experts.