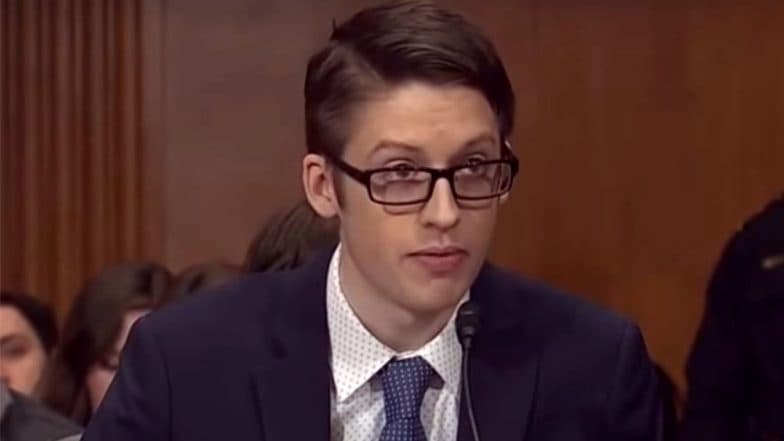 A US teenager who defied his mom, an anti-vaxxer, by getting flu injections testified in front of the Congress on Tuesday, March 5. Ethan Lindenberger blamed the social media, especially Facebook, for bolstering efforts of anti-vaxxers to spread misinformation about vaccines, adding that strong countermeasures should be taken to contain the problem.
The Ohio teen said while his mother is well-meaning in her efforts, she was blinded by all the online conspiracies against vaccines, putting him and his siblings at risk of measles. Is Vaccination Safe for Your Child? Here's What Every Parent Should Know about the MMR Vaccine.
In a Reddit post, the teenager explained that his parents "are kind of stupid" and that he wants to get vaccinated now that he was 18. Anti-Vaxxers Using Facebook and Google? Spread of Measles in the US Due to Anti-Vaccine Ads Reports Find.
He explained how he was influenced by his mother's opinions on vaccines from a very young age. But as he grew up, he realised that she was a victim of the rampant fear mongering brigade. Despite showing her studies and articles from CDC and WHO that prove the safety of vaccines, she would still seek out illegitimate sources like the church and online groups for validation.
Watch Video:
It came to a point when the teen's school started viewing him as a potential "health threat" since he wasn't immunised. The incident became a turning point for the teen who decided to get himself vaccinated despite his mother's disapproval. Anti-Vaxxer Memes Go 'Viral' as Measles Outbreak Rise Globally.
Lindenberger's mother, while proud of her son, is not completely convinced by his actions. She spoke to The Associated Press saying that the pharmaceutical industry has made her son its poster child. In another interview she gave Undark, she likened her son's actions to him spitting on her face. "If I have a choice, I want to know what my choices are and make the decision as an educated mom," she said.
The anti-vaccination campaign is among WHO's biggest medical threats to the world. Previously eradicated diseases like measles are making a comeback after the spread of misinformation in the age of social media. Anti-vaxxers are paranoid about the effects of vaccines and have also been using means such as Facebook to spread their agenda.
Despite multiple studies absolving vaccinations, anti-vaxxers are adamant that it can lead to developmental disorders like autism.