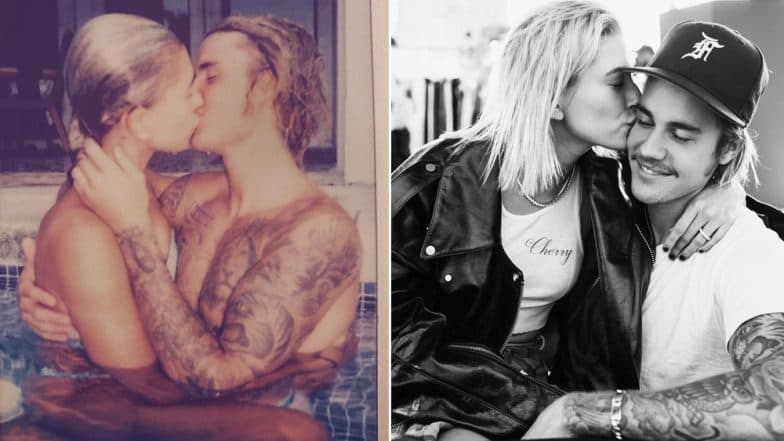 Popular Canadian singer Justin Bieber and American model Hailey Baldwin has given us couple goals with their pictures on social media. While the duo simply can't keep their hands off each other in every single picture, it seems they refrained from having sex until being married. The pair in Vogue's March 2019 cover story revealed that they maintained year-long abstinence. In the interview, Bieber while talking about his marriage said that his beliefs about God and sex have a sharp contrast from today's secular Hollywood norm.
While the couple is known for their PDA filled pictures on Instagram, the couple's statement has come as a shock to many. The pop singer said that he also gave up drugs to feel closer to God. The couple got engaged in June 2018 when he was already more than a year into his decision of not having sex until marriage. He also admitted to having been a sex addict and described it as "a legitimate problem with sex". Justin Bieber and Hailey Baldwin Are Here to Prove that 'Spring is the Season of Romance' - View Pic.
He also admitted to using Xanax, a drug between 2013 and 2014.  Vogue quoted him as saying, "I found myself doing things that I was so ashamed of, being super-promiscuous and stuff, and I think I used Xanax because I was so ashamed." Talking about his spiritual beliefs, Justin said, "He (Jesus) doesn't ask us not to have sex for him because he wants rules and stuff. He's like, I'm trying to protect you from hurt and pain." Justin Bieber and Hailey Baldiwn Are Busy Celebrating Valentine's Week in Just the Right Way - View Pic.
He further said, "I think sex can cause a lot of pain. Sometimes people have sex because they don't feel good enough. Because they lack self-worth. Women do that, and guys do that. I wanted to rededicate myself to God in that way because I really felt it was better for the condition of my soul. And I believe that God blessed me with Hailey as a result. There are perks. You get rewarded for good behaviour." Justin Bieber Can't Keep Calm About His Wife Hailey Baldwin Bieber On Instagram; Get's A Pasty Yellow Simpsons' Version Of Them Together - View Pic.
However, it is due to the beliefs that the couple got married after a short courtship period. Justin also rubbished all rumours about Hailey being pregnant. Justin was quoted as saying, "When I saw her last June, I just forgot how much I loved her and how much I missed her and how much of a positive impact she made on my life. I was like, Holy cow, this is what I've been looking."