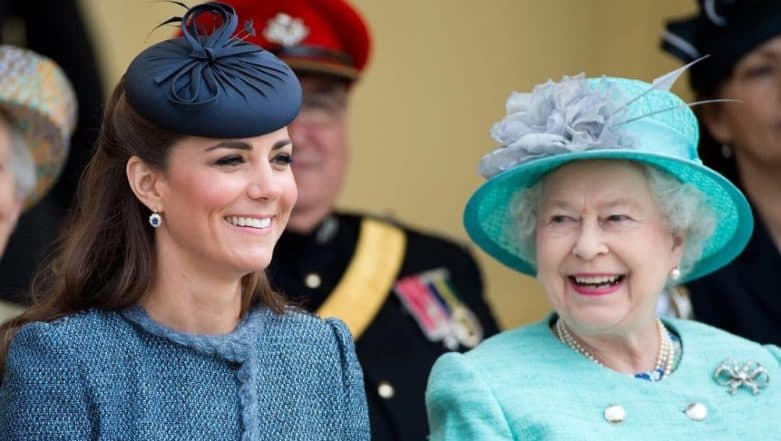 Queen Elizabeth II has bestowed the honourable 'Dame' title to Duchess of Cambridge Kate Middleton! On Monday, the Buckingham Palace made an announcement that the mother of three has been appointed to Dame Grand Cross of the Royal Victorian Order by Queen Elizabeth II. The title comes as a high rank recognised and granted by the queen.
The title 'Dame' is used by the royal monarch to recognise the services of individuals towards sovereignty. It is assumed that the monarch took notice of Kate Middleton's work as a member of the royal family while granting her with such a big honour. Interestingly, the honour was bestowed upon the Duchess of Cambridge at around the same time when she and husband Prince Williams celebrated their eighth wedding anniversary.
The royal couple who had a wedding ripped straight out of a fairytale, tied the knot inside Westminster Abbey back in 2011. With this new title, Kate Middleton joins the group of royals comprising of Camilla, Duchess of Cornwall and Sophie, Countess of Wessex, with her new title. It sure is a befitting gift for Kate Middleton by the Queen on such a special day.
As per history, the position of Grand Master of the Order was first created back in 1937 and was taken over by the Queen Mother. Over heer death in 2002, Queen Elizabeth II then appointed her daughter, Princess Anne to represent the spot in 2007. It sure is a big celebration for both, Prince Willims and Kate Middleton as not only do they celebrate their eight years of togetherness but also this new title earned by her.