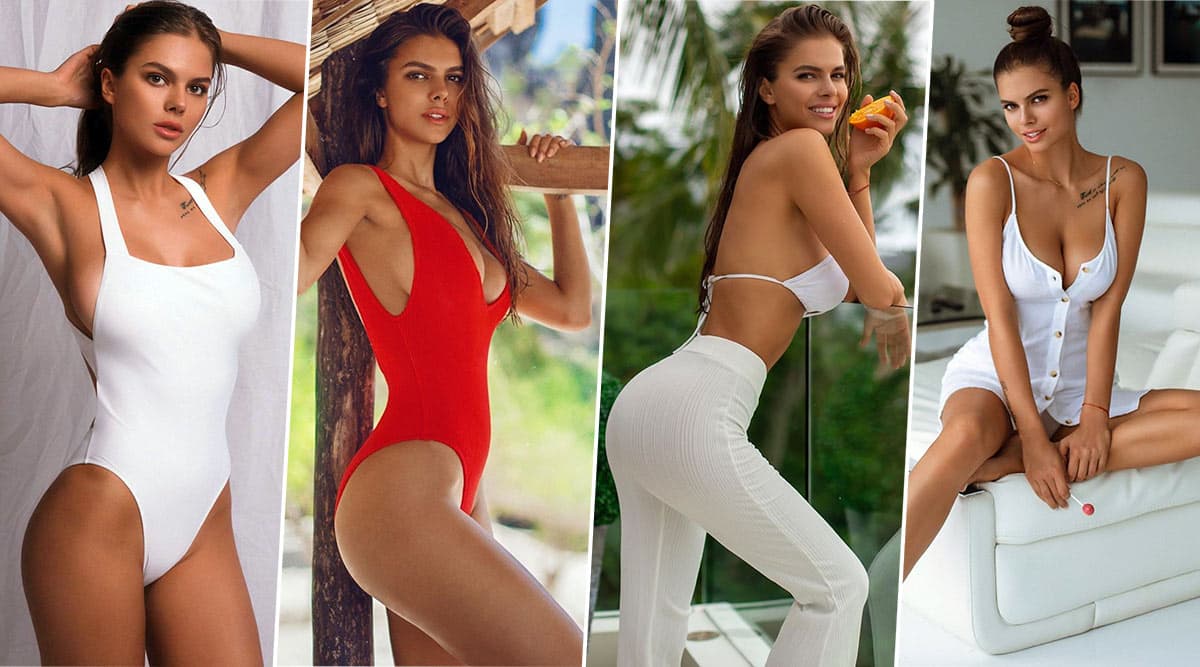 If you are a football fan and have spent some time on social media, you must have come across the name of a Russian model named Viktoria Odintcova. She has been in the news recently after she claimed that she once ignored Cristiano Ronaldo when he tried to slide into her DMs. She said that she didn't respond to the football megastar, but also saying she is currently in contact with Neymar. Ever since, Google searches for Odintcova have been on an all-time high. Also known as Viki, a breath-taking Russian model with incredible curves. She boasts of 5 million Instagram followers and her social media is a treat to look at. Viktoria Odintcova Says Cristiano Ronaldo Slid Into Her DM! Hot Russian Model Claims Juventus Star Messaged Her on Instagram.
the Russian model came in the news back in 2017 when she was criticised for a dramatic photo shoot. She hung herself off a Dubai skyscraper and the pictures can send chills down your spine, Viki Odintcova held by a male assistant's hand while she leans out from the 1000ft building backwards. It was the epitome of faith one can ever have. She posted the video and pictures on her Instagram account to her more than three million followers at that time and said: "I still can't believe I did it. Every time I watch the video my palms go sweaty."
About Viki's style which is eccentric, she opened up to Shot Magazine. She said in the interview. "Sometimes you can see me in sneakers, jeans and a leather jacket. On the rare occasion, I have heels and dresses on, I love to wear clothes that show off my curves," she said. Take a look at some of her hot pictures:
View this post on Instagram
Mind-Blowing
View this post on Instagram
Hot in Red
View this post on Instagram
Just Wow
View this post on Instagram
Can't take our eyes off!
View this post on Instagram
The Russian beauty was asked on a YouTube show called Makarena if anyone as famous as Ronaldo had ever double tapped on one of her posts. And she replied to that saying: "That happened… He (Ronaldo) even wrote to me. It was a long time ago. He wrote, 'Hi, how are you?' I deleted the message and didn't reply". However, Odintcova also added that: "It seems to me they write everyone the same message, they send out a newsletter and then whoever replies, 'OK, let's do it.' For me that's not interesting".