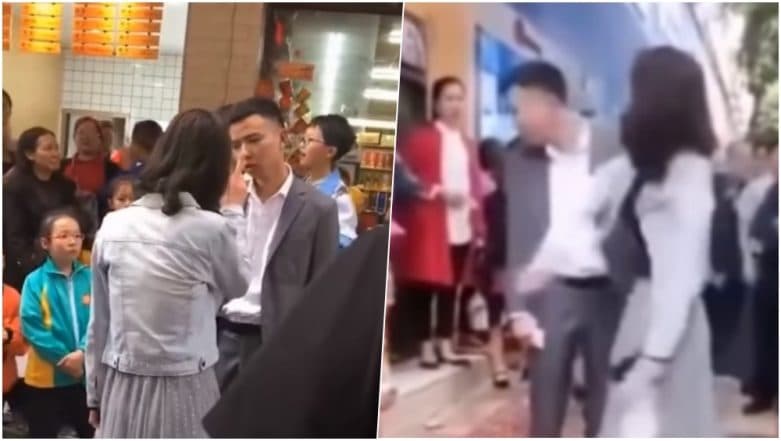 Valentine's Day is supposed to be a day of expressing love towards your partner. Couples eagerly wait for this day to spend some romantic time with each other. Most people give gifts, go on dates and express how they feel to their partner and make it a memorable one. But one couple's celebration on the eve of Chinese Valentine's Day is going to be memorable for a lot of people. While most people ring in the day of love on February 14, the Chinese people celebrate Valentine's Day on May 20. A video of a Chinese couple's celebration of the day is going viral but it has nothing to do with love. In fact, the girlfriend is seen slapping her boyfriend 52 times! Yes, a video is going viral on social media which shows a girl slapping her guy more than 50 times because he did not buy her a phone! Indonesian Man Catches Cheating Girlfriend, Announces Breakup With Her on Ad Billboard, View Pic!
The incident that took place in Sichuan province left even the passersby in shock when the girlfriend was slapping her boyfriend in public. The police carried an investigation into the matter, which confirmed that she slapped him 52 times! The whole incident was captured on a CCTV and soon as the appaling video came online, it went viral. The girl was furious, was shouting at him and then continued to hit him across his face one after another. As per reports in Asia One, "Officers then tried to take the couple to the police station for mediation, but the man -- fearing that his girlfriend would get into trouble -- stopped them from taking her away." Woman's 'Snake Stockings' Mistaken for Real Snakes, Husband Beats Her with a Baseball Bat (See Pic).
Watch Video of Girlfriend Slapping Her Boyfriend 52 Times Because He Did Not Gift Her a Phone:
The video is so shocking but what's even more surprising is that when a woman tried to intervene and stop the woman, the guy defended his girlfriend and let her continue to hit him. He agreed that he had indeed made a mistake by not giving her phone she desired and letting him hit her was the only way of calming her. Apparently, the couple later vowed that they would never create a scene in public again. Well, one thing for sure, this boyfriend sure has some great patience.