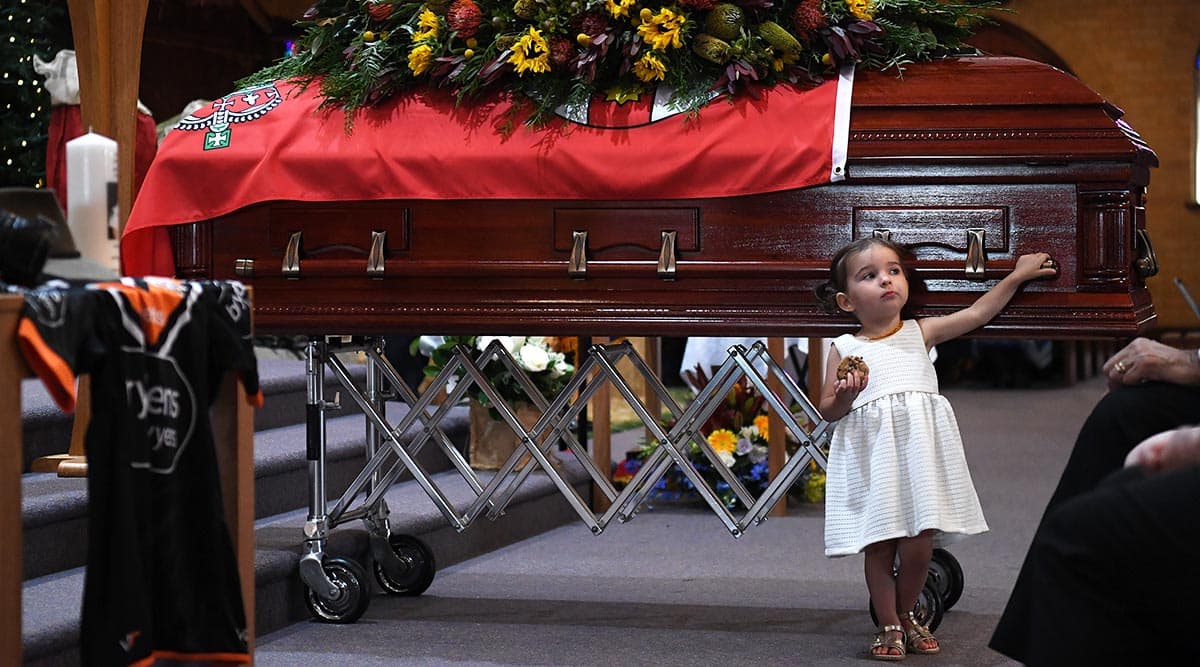 Australia is burning, and there is nothing much we can do, except for praying to give the citizens and animals strength to battle with the flames. Officials are reportedly speculating that the country could burn for months. The raging fire is refusing to stop. Firefighters are working round the clock, and many even lost their lives in the process. Pictures and videos of firefighters paying their tribute to those who died have taken over the internet. One of those sad moments is a young daughter of a firefighter who is captured innocently playing by his coffin. The heartbreaking pics came after a toddler received bravery award in honour of his late firefighter dad who died in the Australian wildfires. The one-year-old daughter of Andrew O'Dwyer wore his special service medal on her dress and his helmet on her head, as she stood by her father's casket in his funeral. In the pigtails and a white dress, Charlotte O'Dwyer stayed by her dad's coffin as mourners grieved the firefighter's loss.
The 36-year-old O'Dwyer, was laid to rest after he and his firefighter colleague, Geoff Keaton of the Rural Fire Brigade were killed on December 19, 2019, while they were battling the raged wildfires. Here's How You Can Donate and Help Those Affected by Destructive Australian Wildfires. 
Charlotte O'Dwyer 
The toddler at one stage touched her father's casket before wandering up to the pulpit at the church located in Horsley Park, the suburb where O'Dwyer's RFS brigade is based.
Charlotte Receiving Special Service Medal On Behalf of Her Father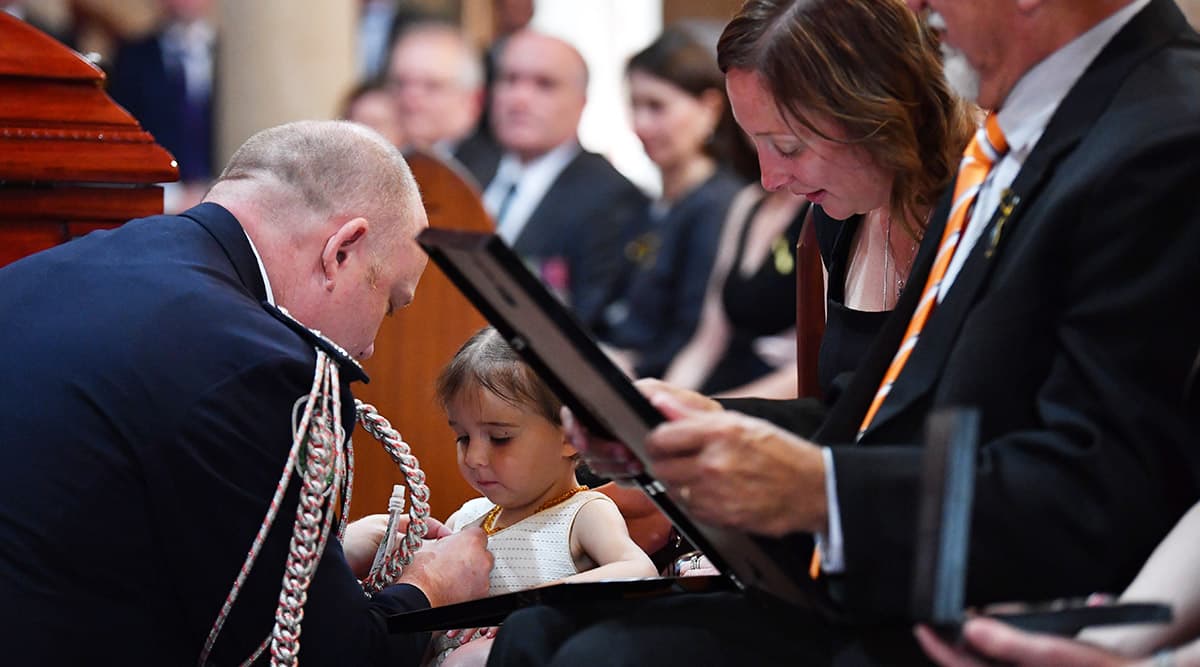 Charlotte even wore her father's special service medal on her dress and his helmet, while the rest of the visitors and officers continued to mourn the firefighter's death.
Charlotte Wearing Her Dad's Service Helmet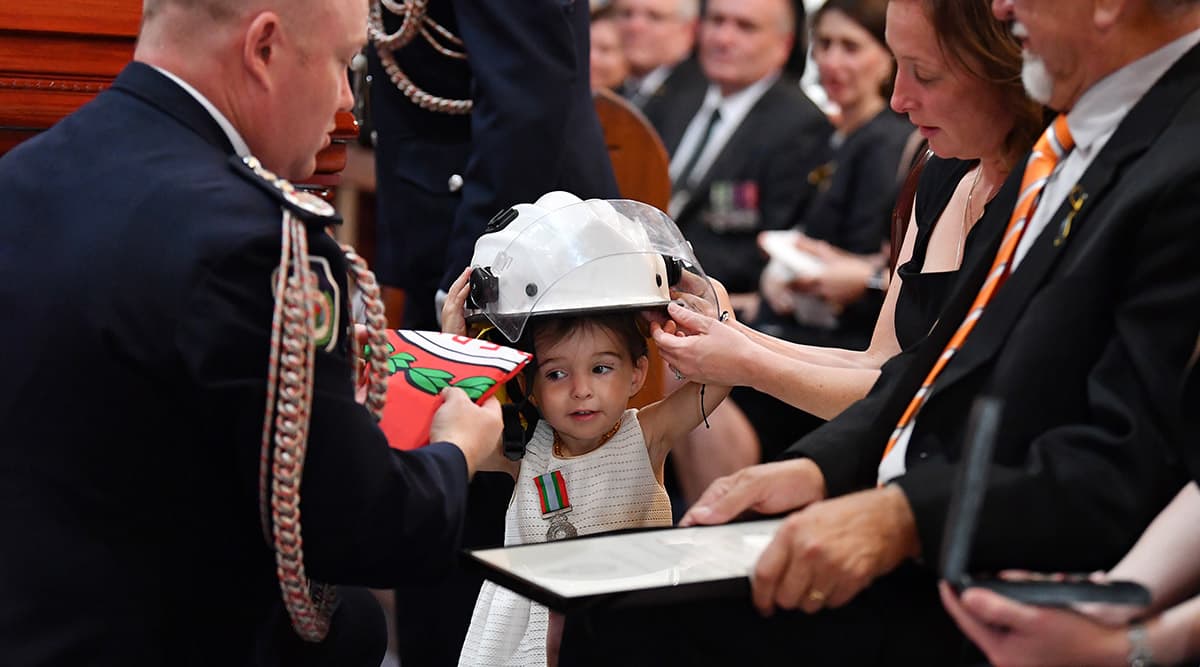 Rural Fire Services commissioner Shane Fitzsimmons was reportedly quoted saying the packed church, "Charlotte should know her father was a selfless and special man, who only left because he was a hero.There are no words that can adequately describe our sorrow, our respect, our regard, for the loss of Andrew ... in that tragic accident." These Kangaroo and Koala Rescue Pics and Videos Will Leave You in Tears. 
Charlotte Standing Beside Her Dad's Coffin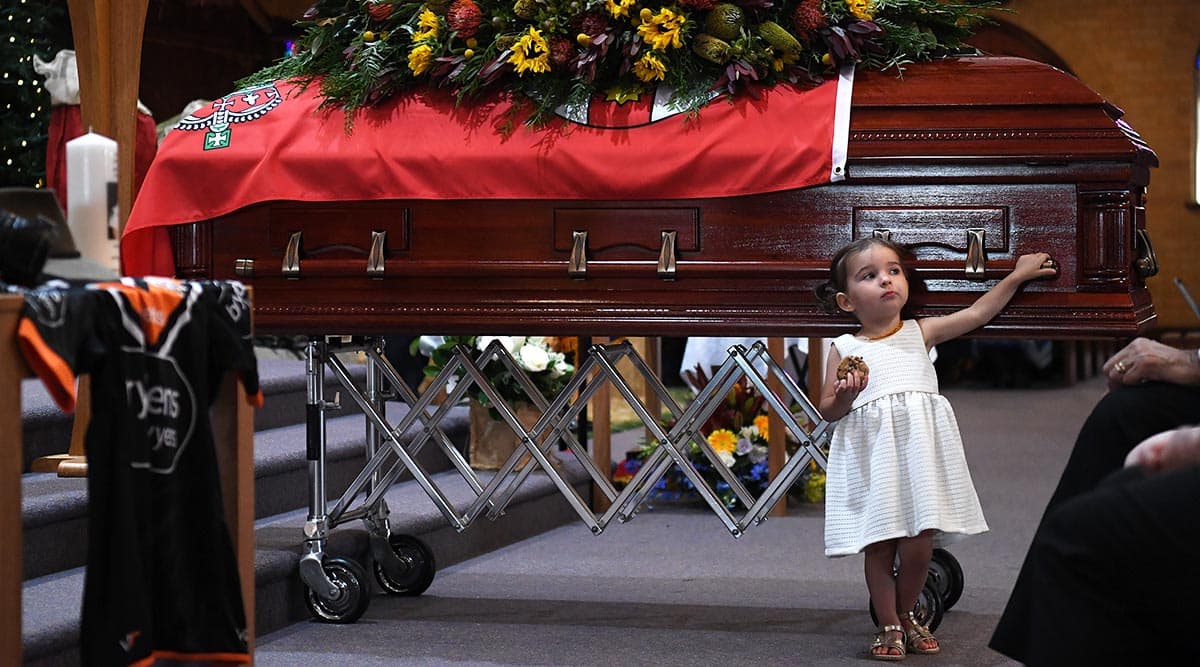 At least 25 people so far have reportedly died in the raged fires, and many went missing. Victims are being shifted to rescue camps. Forecasters warn that the dangerously hot and windy conditions will continue this week too. Government and rescue organisations have created online portals to accept donations in any form to help the needy.