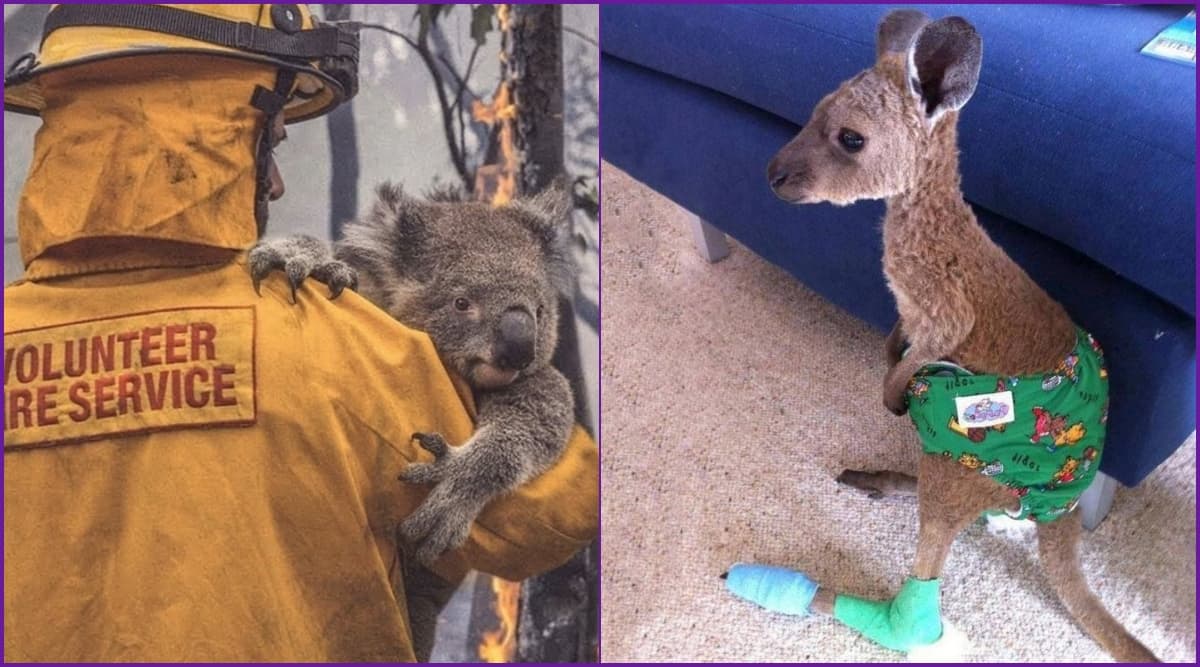 Australia is currently raging with bushfires and already a million of animal lives have been lost in these fires. The wildfires which have been going on for months have now grown intense and the place known world over for kangaroos and koalas is losing their pride to these fires. The disaster has caused an emergency situation and disturbing images of the grave loss of habitat and animals are coming up every single day. The latest being, a picture of a baby kangaroo fully charred while trying to make an escape from these wildfires. But among the heartbreaking pictures and stories, we thought of bringing you a few heartwarming tales of the kangaroos and koalas that have been rescued.
Koala Running to Firefighter For Help
Koalas are running to the firefighters in Australia looking for help. Tragedies bring the best one of humans and the animal kingdom.#bushfires #PrayForAustralia pic.twitter.com/4j0nNg4awE

— Marvin HernandezGarc (@MarvinHG502_209) January 4, 2020
While firefighters are trying their best to contain the fire from spreading further, koalas are running towards their way to seek respite. Pictures of koalas tugging on to firefighters to take them to a safe place. This also reminds us of a heartbreaking moment which captured a koala and a firefighter staring into a forest raging with fire.
Koala Drinks Water From Cyclist
A cyclist stopped to give water to a thirsty and dehydrated koala in Adelaide. My heart is broken for the ones and all other animals that are struggling and also didn't make it in other burning parts of Australia 😞😢💔🍃🌿🐨🌿🍃 pic.twitter.com/o8vigR4G4t

— Angie Karan Ⓥ 🌱🐾 (@angie_karan) January 3, 2020
A koala is said to have stopped some cyclists in Adelaide and asked for water. These animals are not just burnt but if managed to escape are suffering from dehydration. The group of cyclists had stopped midway to help the koalas off the road, but this one walked up to one for water. Thirsty Koala Drinks Water From Bottle Amidst Heatwave in Australia, Video Goes Viral.
Kangaroo Asking Water From Young Boy
Heartbreaking 💔 #AustraliaFires #AustraliaBushfires A badly burnt young kangaroo seeking help from a teenage boy, who doused the marsupial with water to save it pic.twitter.com/TYmE55SXqv

— Lily Was Here (@WhereIsLilyNow) January 4, 2020
The above picture taken from New South Wales shows a marsupial taking some respite as a young boy drenched it in water. The boy later even offered the animal with some water.
Woman Braves Fire to Save Koala
A woman named Toni Doherty went viral for her efforts of saving an injured koala by braving the fires. The incident took place in November 2019, when she was passing through New South Wales and saw the animal in agony. As her instinct, she did not think twice and went ahead to rescue it. She wrapped the injured animal in her shirt, offered water and admitted it to a special hospital. The animal, unfortunately, could not sustain the burns, but the story of her bravery still remains fresh.
A Kangaroo Wearing a Diaper
A baby kangaroo wearing a diaper after being saved from a forest fire.. pic.twitter.com/l6Plg7tYV5

— Land of cuteness (@landpsychology) January 4, 2020
It is not clear where this picture is taken from but the fact that the baby has been saved and tended to is important.
Volunteers Saving Rescued Animals
These are some of the accounts where not just the firefighters but even the residents, volunteers are striving and working to save the animals who have been severely burnt. They are also working to encourage more people to join in some way or the other to help the animals who are now left homeless as their habitats are ravaged. Among all the devastating pictures, videos and news of deaths caused by the fires, these rescue stories are the warmth, faith and hope we need.