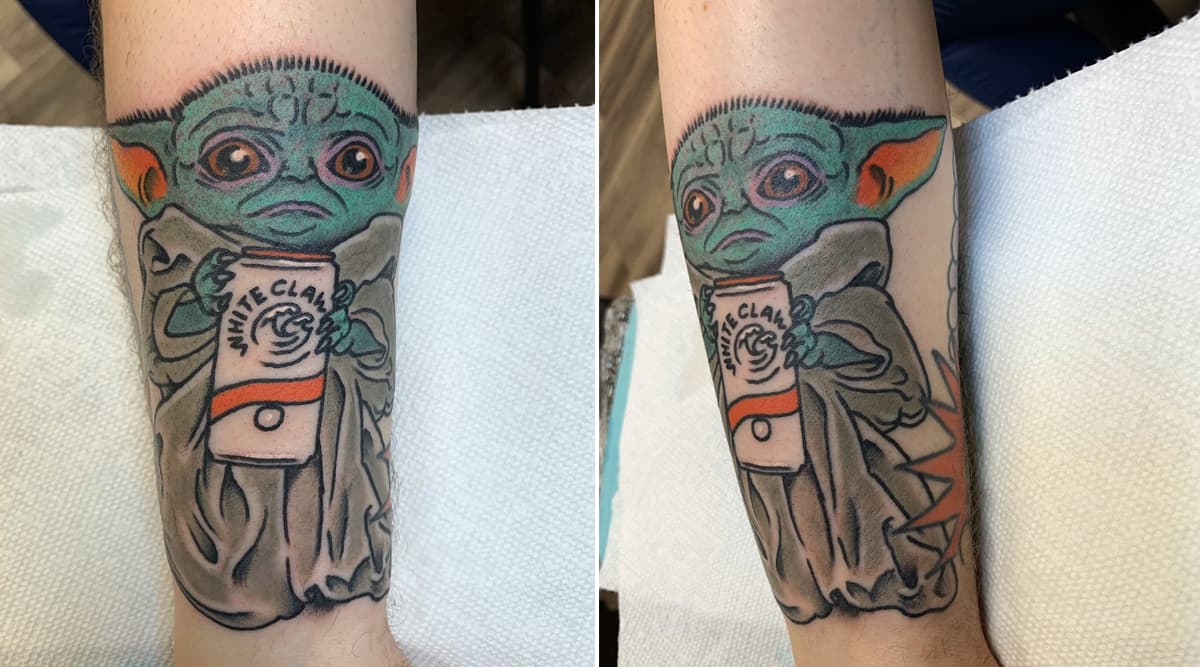 Internet is just so obsessed with Baby Yoda, a younger version of the Star Wars Jedi Master ever since his debut on The Mandalorian. People are only in love with the character. Baby Yoda is so cute that we want to squeeze his little face and protect him forever. And fans will never take it lightly, if anyhow they see their precious character is getting misinterpreted! So when a guy made a tattoo of the Star Wars' character on his hand drinking white claw, people just seemed to infuriate fans! The Baby Yoda drinking white claw picture has gone viral on social media as it gets heavily criticised by the internet. The raged netizens slammed the person for ruining their favourite adorable character. Funny Baby Yoda with His Soup Memes Are Going Viral and Our Hearts Are Collectively Stolen.
Brock McLaughlin, who also seems to be a Baby Yoda fan, as his Twitter handle goes by the name, "Baby Yoda's Baby Daddy" got a tattooed made on his forearm. Because that is what you do, when you want to make your pop culture love big and official. Sharing the images of his fresh Baby Yoda tattoo on the social media platform, McLaughlin writes, "Ain't no laws when baby yoda drinking claws. To end 2019 I got a tattoo of Baby Yoda drinking White Claw. Enjoy babbbby!" Funny Baby Yoda Memes and Jokes: These Memes Having Cute Baby Yoda's Pictures Will Melt Your Heart While You LOL. 
View Pics of the Baby Yoda Tattoo!
Ain't no laws when baby yoda drinking claws.

To end 2019 I got a tattoo of Baby Yoda drinking White Claw.

Enjoy babbbby! pic.twitter.com/jG5MoeBSME

— Baby Yoda's Baby Daddy (@brockmclaughlin) December 4, 2019
The tattoo shows the baby-faced Yoda gripping a can of White Claw—a popular alcoholic seltzer. The beverage reportedly inspired a wave of memes this year. McLaughlin told the Daily Dot that his tattoo is a combination of his two favourite things that made joy this year—Baby Yoda and White Claw. Hence, he wanted to make it official and cherish in his memory forever.
But, people just seemed not to like the tattoo at all. While social media just cannot get enough of any and all Baby Yoda content, McLaughlin's tattoo was not well received by many!
Check Reactions:
A sadder tattoo there has never been. pic.twitter.com/x6Se5a7up7

— Baby Yoda (@BabyYodaBaby) December 5, 2019
Uh, Oh!
I don't care who got the baby yoda white claw tattoo, I just want them brought to justice.

— kidhutdog.com (@brdylnzndrfr) December 5, 2019
They Clearly Didn't Like It!
been trying to find the words to explain just how much i hate this but i cant. it sucks to no end https://t.co/hqLSPW4fEw

— kelbin (@pissboymcgee) December 5, 2019
What is your view on McLaughlin's tattoo? Ever since the character was first introduced, fans have shown their affection by also making tattoos on their bodies. There are dozens of different ways to plaster the little character on your body, and McLaughlin's tattoo seems to be just another one. The Baby Yoda tattoo craze is not going to end anytime sooner!