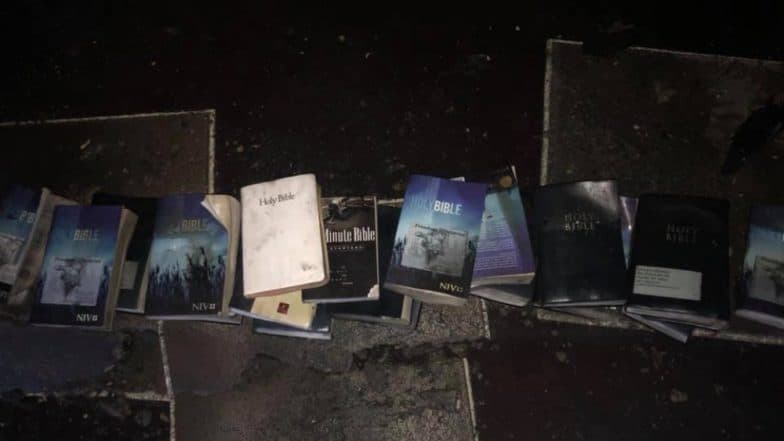 A fire broke that out in a West Virginia church on Sunday charred everything inside the prayer hall but not a single Bible was burnt. Coal City Fire Department which arrived at the scene to douse the fire were dumbstruck when they entered the church. Not a single Bible in Freedom Ministries Church in Grandview, West Virginia was caught in the fire. In a Facebook post, the fire department expressed their amazement on seeing the religious books being intact. The fire department also mentioned that not a single firefighter was hurt in the incident.
Sharing pictures of the Bibles found inside the church, the fire department wrote, "In your mind, everything should be burned, ashes. Not a single Bible was burned and not a single cross was harmed!!" The department shared pictures of damage caused to the church including broken tiles, pieces of wood and torn curtains. Photos also show a cross standing unharmed in front of a wall blackened by the smoke. New York Dog Dies Saving Couple From Massive Fire, Owners in Deep Pain.
Here is the Coal City Fire Department's Facebook post:
As the fire department's Facebook post went viral, firefighters and people employed with different rescue operations commented about similar experiences they encountered at work. One of the comments read, " Out of every structure fire I have responded to in the past 20 years, not one Bible has burned, they might have smoke damage or chared around the edges but you could still read every page. We gave the owners back alot of bibles over the years." Swiggy Delivery Boy, Who Saved 10 People Trapped in Mumbai Hospital Fire, Rewarded Rs 1 Lakh.
Freedom Ministries said in a Facebook post said, "We are overwhelmed with all the love, prayers, concerns, and offers of help!! God is working, we know. We can't thank you all enough. Please know we love you and forever grateful." The cause of the fire is still unclear.