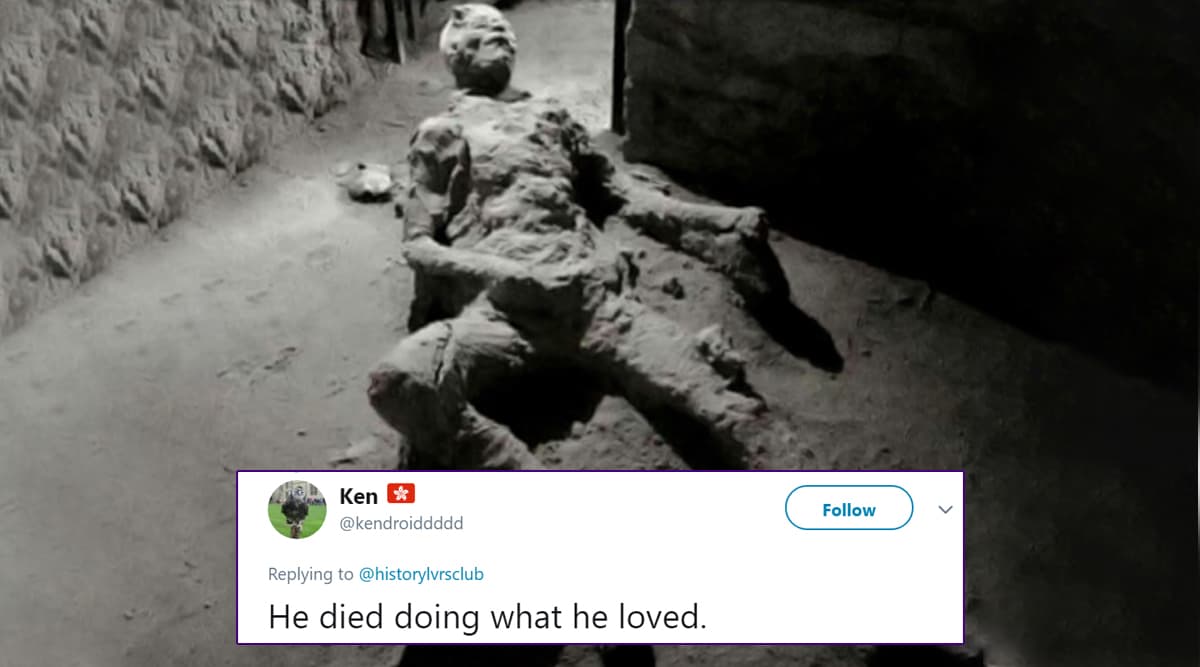 A volcanic eruption of Mount Vesuvius which is located in Italy's Gulf of Naples crippled the city of Pompeii in 79 AD. Over thousands of people were dead under the layers of ash and debris. An excavation took place in the later years and scientists found several remains of people underneath. A photo shared back in the year 2017 is trending on Twitter again. The remain of the man looks like he was masturbating when the unfortunate incident took place and he ended up dead! A Twitter handle happened to share the picture on their timeline and netizens have the funniest reactions. Bizarre Pic of a Croc Shoe Man Wearing Crocs Go Viral, Baffled Twitterati Flood With Funny Memes and Jokes.
A Twitter account called History Lovers Club shared the old remains have shared the photo with the caption, "Masturbating man, Pompeii, 79 CE." Interestingly, the image was shared initially by the Pompeii Parco Archaeologico in 2017 with no reference of the masturbating in any case. In fact, an archaeology expert from the University of Naples had stated in a report, "The individual in the photo is an adult man, killed by the hot pyroclastic surge (hot gas and ash cloud, which killed most of the population living around Mount Vesuvius), with both arms and legs flexed due to the heat." However, the same picture on Twitter is now going viral with the funniest reactions. 'Sperm Extractor' Pic Goes Viral! Internet in Splits as Memes and Jokes Follow…As Expected.
Check the Picture of Remains of 'Masturbating Man' Here:
Masturbating man, Pompeii, 79 CE pic.twitter.com/4xcxDiBmIL

— History Lovers Club (@historylvrsclub) September 23, 2019
Doing What He Loved!
He died doing what he loved.

— Ken 🇭🇰 (@kendroiddddd) September 23, 2019
Too Literal
Die hard

— Dragonrojo (@Dragon_Rojo_90) September 23, 2019
Eternal Embarrassment 
Poor bastard eternal embarrassment

— 💋🇺🇸🏳️‍🌈🍻Barbara®™⭐️💋 (@BarbaraEEllison) September 23, 2019
Oops!
Instead of coming, he left

— M0i/@®d0n€ (@amadosebenezer) September 23, 2019
Too Dark
Mount Vesuvius came first

— Squire Trelawney (@greg90374301) September 24, 2019
What Happens Here, Didn't Stay Here Though
What happens in Pompeii literally stays in Pompeii. pic.twitter.com/3uWVlKCZfI

— Horror Morgue (@HorrorMorgue) September 24, 2019
Without a Bang!
Might as well go out with a bang

— JFK9000 (@jfk9000) September 23, 2019
Damn!
Imagine dying like this to be seen by GENERATIONS after

— Choupinoupinette (@AAluminium) September 23, 2019
The truth here, however, is too harsh as revealed by the scientists. In the tragedy, 394 were killed by falling debris of the collapsing buildings. A lot of other people became victims of the superheated gas and ash released from a volcano. Many residents also died of thermal shock. So while the truth is far from what the image actually is, it is again going viral with another interpretation by netizens!