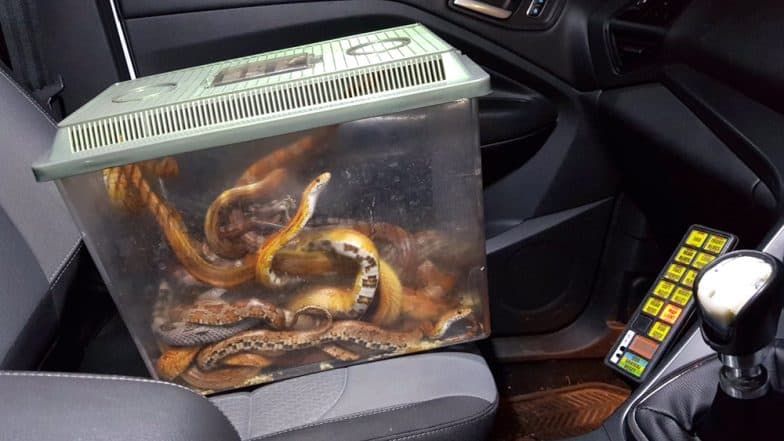 A plastic box full of live snakes were dumped outside a vet's clinic in Frome, Somerset on Saturday. The box contained nine wriggling reptiles, much to the worry of the people who found it. They were abandoned in terrible heat at the veterinary sanatorium leaving the snakes at the risk of dehydration. Two police officers responded to a call and found the box full of snakes outside the vet's clinic. A force spokesman said that Avon and Somerset Police special constables were called in the midnight by a group of youngsters outside the vets. Hungry Snake Eats Itself, Swallows Almost Half of Its Body (Watch Rescue Video)
According to RSPCA inspector Hayley Lawrence, the reptiles were in 'reasonable condition despite being dehydrated'. They have currently been placed in temporary homes. The RSPCA said that although the reptiles were dehydrated they appeared to be fine, but it was "lucky they were found when they were". If an owner doesn't come forward, the snakes will be rehomed in two weeks. ASP Special Constables tweeted a picture of the snakes with the caption, "Another odd shift in #Frome, found dumped outside the vets, in the box luckily! S/Insp Rich." Kansas Woman Finds Snake Crawling on Gas Pump Machine's Touch Screen! Creepy Video Goes Viral.
Check Out The Picture Below:
Another odd shift in #Frome, found dumped outside the vets, in the box luckily! S/Insp Rich pic.twitter.com/1m1sZ7zAMp

— ASPSpecialConstables (@ASPSpecials) August 17, 2019
Inspector Lawrence was quoted as saying, "It is never acceptable to dump an animal. If people are struggling to look after their pets, there are many charities and organisations who are able to help. Reptiles have very specific needs such as heating and it is lucky these snakes were found when they were."
A spokesman for Avon and Somerset Police said, "We were called to a group of youngsters outside vets at Broadway Junction, Vallis Way in Frome at about 12.30am this morning. They had a cardboard box which contained four or five snakes, which it appears had been dumped outside the vets. We contacted the on-call vet took them and was contacting the RSPCA."