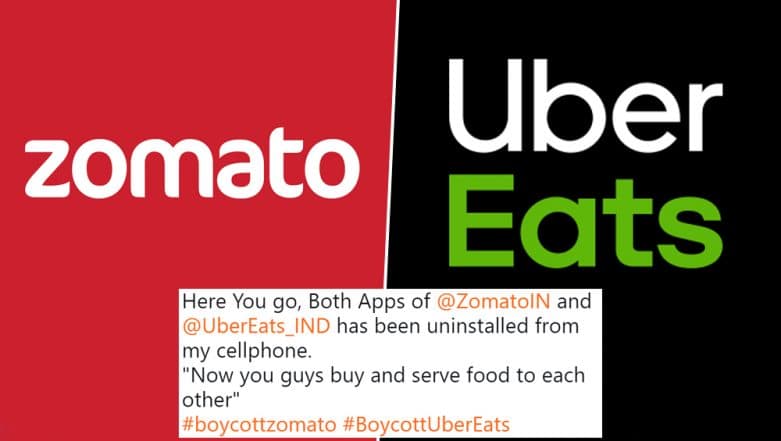 Responding to a bigoted customer who asked for a Hindu food delivery executive instead of a Muslim, Zomato on Wednesday tweeted that 'food doesn't have a religion'. While Zomato's tweet was majorly supported, people also took to Twitter saying that the customer's demand for a Hindu delivery executive should have been met. He had tweeted that as the auspicious Hindu month of Shravan had begun, he did not want his food to be delivered by a Muslim. The incident led to social media feud and #BoycottZomato soon began to trend on Twitter.  And now, rival food delivery app, Uber Eats who supported Zomato's stand is also being slammed online. The app-based food ordering company is facing the wrath of internet users threatening to uninstall their app using the hashtag #BoycottUberEats. Meanwhile, people are cracking jokes on Swiggy who have been tight-lipped on the incident until now. GIFs and funny jokes on how Swiggy would react to the ongoing incident are being shared widely on social media. Uber Eats Backs Zomato For Standing Up Against Bigoted Customer Who Refused Food Delivery From 'Non-Hindu'.
Standing by Zomato, Uber Eats had tweeted saying, "@ZomatoIN, we stand by you." On one hand, when food delivery app Zomato was being inundated with messages of support for their stand, on the other side they are being slammed on social media. And now the wrath has extended to Uber Eats who merely backed a rival organisation's opinion. Enraged social media users took to Twitter sharing screenshots of uninstalling both apps, Zomato and UberEats from their phones.
Here is What the Customer Demanded From Zomato: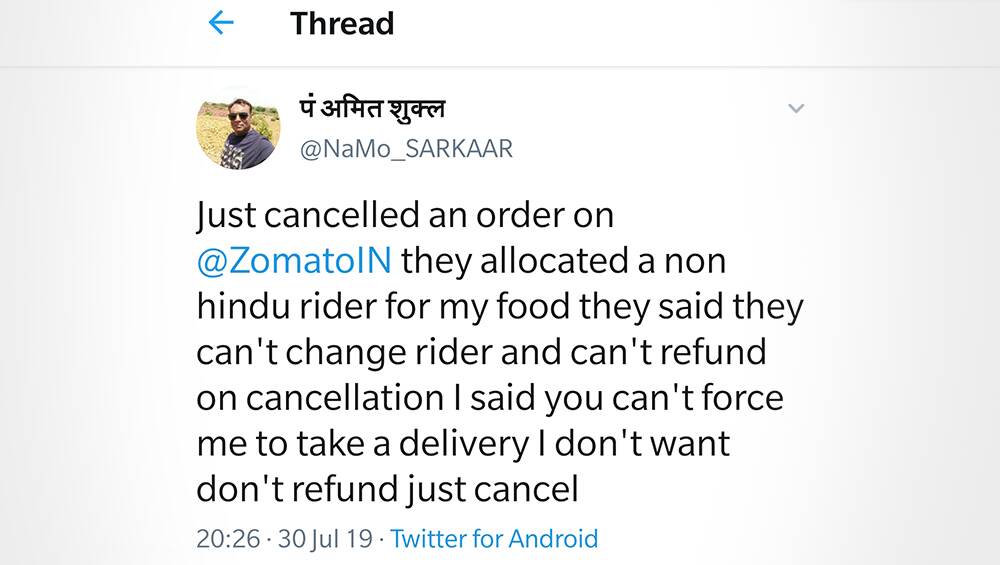 Check Out Zomato's Reply:
Food doesn't have a religion. It is a religion. https://t.co/H8P5FlAw6y

— Zomato India (@ZomatoIN) July 31, 2019
Uber Eats Responds With Support:
.@ZomatoIN, we stand by you. https://t.co/vzjF8RhYzi

— Uber Eats India (@UberEats_IND) July 31, 2019
#BoycottZomato and #BoyCottUberEats Continue to Trend on Twitter:
Repeated the process !! Downloaded the shitty Uber eats app and deleted it #BoycottUberEats pic.twitter.com/yJWaY6eW3y

— Ram (@chatrapatiarya) August 1, 2019
Check Out The Tweet Below:
Here You go, Both Apps of @ZomatoIN and @UberEats_IND has been uninstalled from my cellphone.

"Now you guys buy and serve food to each other"#boycottzomato #BoycottUberEats pic.twitter.com/SqSWTvqs4Q

— एक देशभक्त פטריוט (@GarvitDeshbhakt) August 1, 2019
Many shared videos of uninstalling both the apps from their phones.
#BoycottUberEats #boycottzomato #IStandWithAmit U PPL r losing premium customers like me ,I used to give 10 orders per month but not from @Zomato and @UberEats_IND fro. Yesterday pic.twitter.com/7p0rWmYd8t

— CA Dhananjay Singh🇮🇳🇮🇳🇮🇳🇮🇳 (@CADhananjay1) August 1, 2019
Zomato Has Been Rated Terribly Low on Playstore:
#boycottzomato #uninstallzomato

Feel free now pic.twitter.com/1bXrDLFPw4

— Adv.Brijraj Dodiya-ब्रिजराज डोडिया (@Adv_Brijraj) July 31, 2019
Both Continue to Face the Heat:
Yes food has a religion #BoycottZomato #Zomato @deepigoyal pic.twitter.com/WmSzyDw6m2

— Amit Rajwant (@amitrajwant) July 31, 2019
Zomato is Being Accused of Being Biased in Their Opinion:
Uninstalling #BoycottZomato

Bye bye @ZomatoIN because of your hinduphobic policies

— Nandini ........ ❣️ (@NakhareWali) July 31, 2019
Here's What Twitter Users Think is Swiggy's Reaction Right Now:
#BoycottUberEats live video from @swiggy_in office pic.twitter.com/eZwz6zOtXD

— Sanju ghosh (@Sanjugh14554769) August 1, 2019
HAHAHA!
People are boycotting ubereats and zomato

Swiggy be like #BoycottUberEats#boycottzomato pic.twitter.com/vLFFHHL41J

— Ajay GurJar 🇮🇳 (@_lost_human__) August 1, 2019
Swiggy Being the Audience!
Swiggy watching #BoycottUberEats pic.twitter.com/DlB5G6tAA5

— Indian Bhau (@BhauIndian) August 1, 2019
Swiggy Employees Right Now!
Live scenes from Swiggy office after #BoycottUberEats #boycottzomato pic.twitter.com/A01mXdjrJK

— TMC goon🎭 (@thegirl_youhate) August 1, 2019
As the fight on continued on social media, Zomato issued a detailed statement explaining why they believe that 'food does not have a religion'. Defending themselves they said that the company respects every religion and is not biased towards any. For the same reason, they have tags like 'Jain food, vegan food and Navratra thalis' so that people can easily select food of their preference.