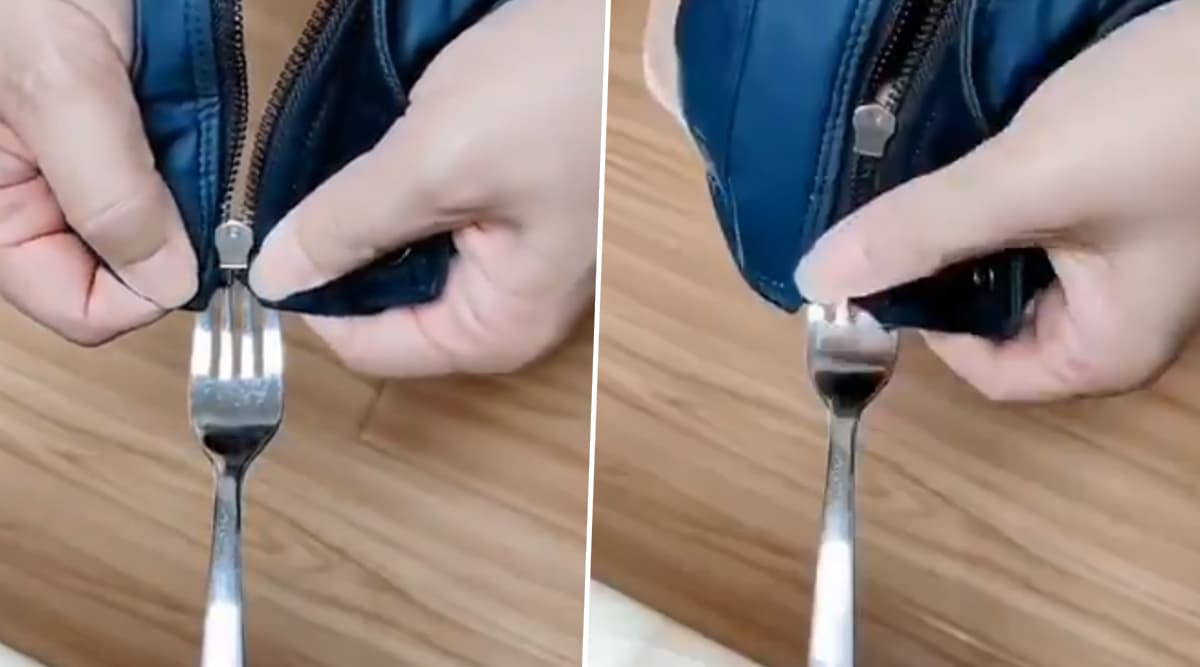 The Internet has come up with yet another quick hack that probably we had not imagined. It is to fix your zipper! Those zips are a profound invention, used on so many items and products because it is just so darn convenient. But when that zipper does not seem to close up properly anymore, things get little annoying. Especially when you have a quick date or party to attend, and you cannot zip your favourite leather jacket anymore, all you wish was for a quick hack to the rescue. Well, a Twitter user seems to hear you as his simple trick video to fix broken zip in just a few seconds is insanely going viral. How to Peel Garlic Quickly? Here's an Easy Viral Hack That Even Made Chrissy Teigen Go 'Whaaat'! 
The video posted by a Twitter user, Jesse Torres uses a fork to fix the zip of his jacket. Well, he places the zip hook at the middle tine of the fork and carefully arranges his jacket to hook it with the chain. And the zip is up! The video is of fourteen seconds, and that is the exact time you would need to fix that broken zipper. Twitterti seemed to love the hack and Torres' clip has so far gained more than 2 million views since uploaded, and the count is only increasing. This Cake Cutting Hack Video is the Internet's Latest Favourite, Viral Clip Amazes Social Media Users. 
Watch Viral Video:
Aww, dammit! Do you know how many great jackets I've tossed out because the zipper broke. No more! pic.twitter.com/2VWTWpUxTI

— Jesse Torres (@jstorres) October 22, 2019
Isn't it simple and extremely quick? Jackets that can't close and keep you quite as warm anymore, ruined jeans that you had to undo them and the contents of your bag spilling out in the streets are all situations that you just do not have the patience for. The humble zipper has not changed much ever since it was invented and neither the problems that we all face till today. Quick hacks such as the one shown in the viral video is a total lifesaver!