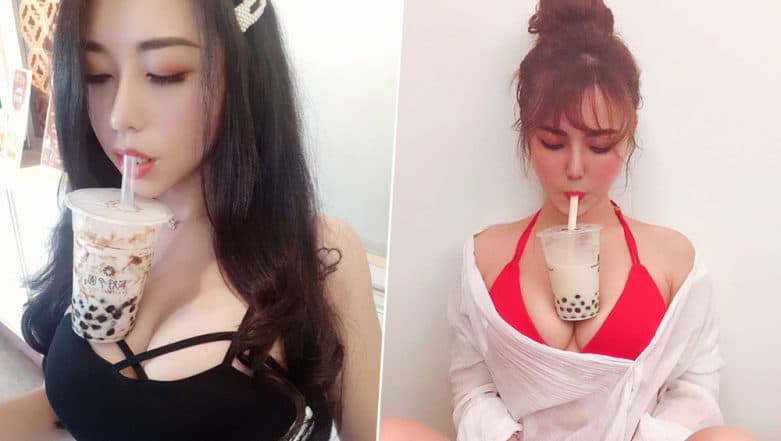 Some of the trends on Instagram make you wonder WHY?! But not this one, where you can see women around the world balancing glasses of bubble tea on their boobs! Believe it or not, this trend is sweeping Instagram wearing women are sharing quirky pictures of themselves, balancing their drinks mostly bubble tea on their boobs. The trend started in Japan and has now taken over the social media platform. It all started when a social media influencer shared a video of her drinking the bubble tea "hands-free." Pictures or video of the new trend is shared under the hashtag, #手放しタピオカ that reads #Tebanashitapioka and translates to "hands-free tapioca." Chinese Girl Suffers From Constipation; Doctors Find 100 Undigested Bubble Tea Pearls in Her Stomach.
For women with big boobs making videos and clicking pictures like these is easy but small-boobed women are coming up with really cool spoofs of this trend. Over hundreds of women have taken to Instagram to share their own boob videos and images balancing bubble tea glasses. There are different versions to this new trend, some have tried this challenge while driving while some while working, some just casually balancing the bubble tea cup on their boobs while checking their phones.
Doesn't she look amazing?
View this post on Instagram
That's some talent
View this post on Instagram
Small boob version, called version 2.0
View this post on Instagram
We're not saying anything
View this post on Instagram
Just wow
View this post on Instagram
Nice
View this post on Instagram
Many of these women can be seen texting, reading or simply posing while trying out this new challenge. Many artists are also getting creative with this new trend and are taking over social media with their own unique and creative versions. .