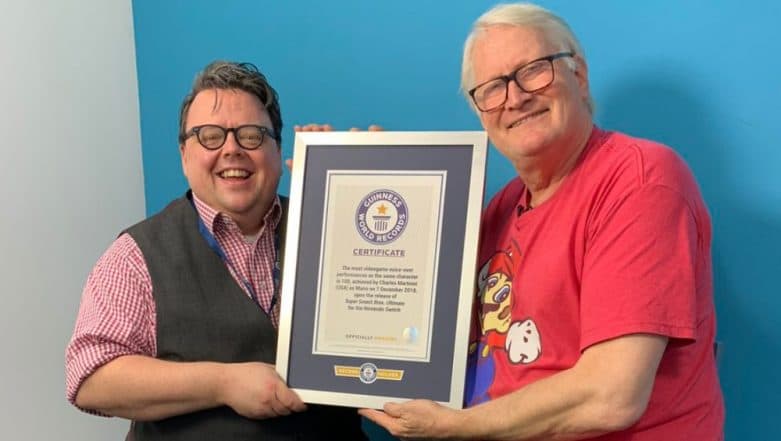 Charles Martinet who has been the voice behind Nintendo Mario for almost 25 years now has entered the Guinness World Records for the 'Most video game voiceover' performances as the same character. With the release of Super Smash Bros. Ultimate, he has completed 100 performances as the same character precisely as of December 7, 2018. Earlier last week, Charles collected the certificate from Guinness World Records London HQ.
Charles has been lending his voice for Mario since 1992. The 63-year-old American voice actor has also voiced the dragon Paarthurnax from Skyrim, Wario, Luigi, Waluigi, Baby Luigi and Baby Mario. He has also lended his voice for Jet Set Radio, Super Punch-Out, Shinobi, Ratchet and Clank, Kane & Lynch, and Lord of the Rings.  As the news of the official honour went viral, Nintendo and Mario fans were quick to congratulate the voice actor on social media.  Man, Who Inspired Nintendo's 'Super Mario' Character, Dies.
Charles accepting certificate at Guinness World Record London office:
With Craig receiving my record certificate @GWR for most video game voiceover performances as the same character – 100, as Mario – on 7 December 2018 upon the release of #SuperSmashBrosUltimate #woohoo! Many thanks to #Nintendo and #GWR pic.twitter.com/ICfKlK9hO1

— Charles Martinet (@CharlesMartinet) December 14, 2018
Charles also posted a video on Instagram post accepting the honour. Watch it below:
View this post on Instagram
At The Record section in GWR office, Charles talked about  Mario series' most impressive record titles, the best-selling video game and the most speed-run Mario game. He was speaking at Guinness World Records: Gamer's Podcast, a weekly show on gaming and interesting records.
Watch the podcast below:
Watch Mario's voice evolution from 1995-2017
After dropping out of the University of California, Berkeley where he was studying international law, Charles began voice acting in 1986. He landed the job of a lifetime with Nintendo in 1990. In case you would like to listen to Mario other than the game, then you keep a close check on Charles' Instagram account. He has a habit of taking people by surprise by approaching them and talking in Mario's voice.