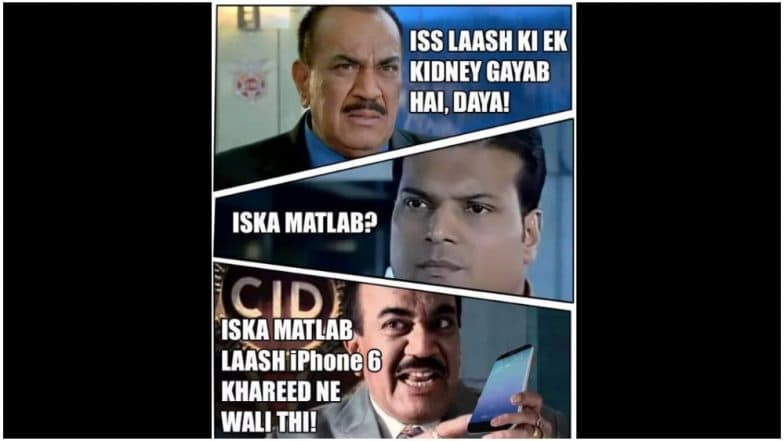 CID, the TV show that began in 1997 is bidding goodbye after 21 long years of entertaining viewers. India's longest running TV show had a huge fan following and was loved by young and old alike. According to reports, the last episode of CID will be aired on October 27. Over the years, the show's actors became quite well known among the Indian TV watchers. CID jokes on Daya and ACP Pradyuman's conversation were a hit even in the early 2000s.
In recent years it also found a way into social media's meme content with jokes on some of the popular characters of the show. Facebook and Twitter page only dedicated to CID jokes have tens and thousands of followers. As the show that entertained us for over two decades comes to an end, we revisit the jokes that were the internet's favourite. CID To Bid Goodbye! Here's When The Last Episode of the Sony Channel's Crime Show is Likely to Air
Here is the popular core team of CID:
Here are some of the CID jokes:
Ok m back 😂😂

Cid jokes r good 😂😂#WeLoveLostBoy @lostboy54 pic.twitter.com/MqZH9jKHcs

— micky (team 🔔) (@mickyInd) February 15, 2018
The show has different crime scenes and how the intelligent CID team solves each other. The popular characters in the show include ACP Pradyuman, Senior Inspectors Abhijeet and Daya and Inspector Fredricks, Sub-Inspectors Purvi and Pankaj and forensic experts Dr. Salunkhe and Dr. Tarika.
Very Funny CID Jokes https://t.co/mYj8R5TVe4 pic.twitter.com/aNFhScitWs

— Karan (@k4_karan) November 19, 2016
The show cast include Shivaji Satam, Aditya Srivastava, Dayanand Shetty, Dinesh Phadnis, Narendra Gupta, Shraddha Musale, Ansha Sayed and Ajay Nagrath in key roles. Many other actors have also worked in the show over the years.
Meanwhile, fans expressed their dismay as news of the show coming to an end started doing rounds on social media. CID is produced by BP Singh and Pradeep Uppoor under the banner of Fireworks Productions. It airs on Sony TV at 10:30 PM every Saturday and Sunday. The show has completed over 1546 episodes in the past two decades.