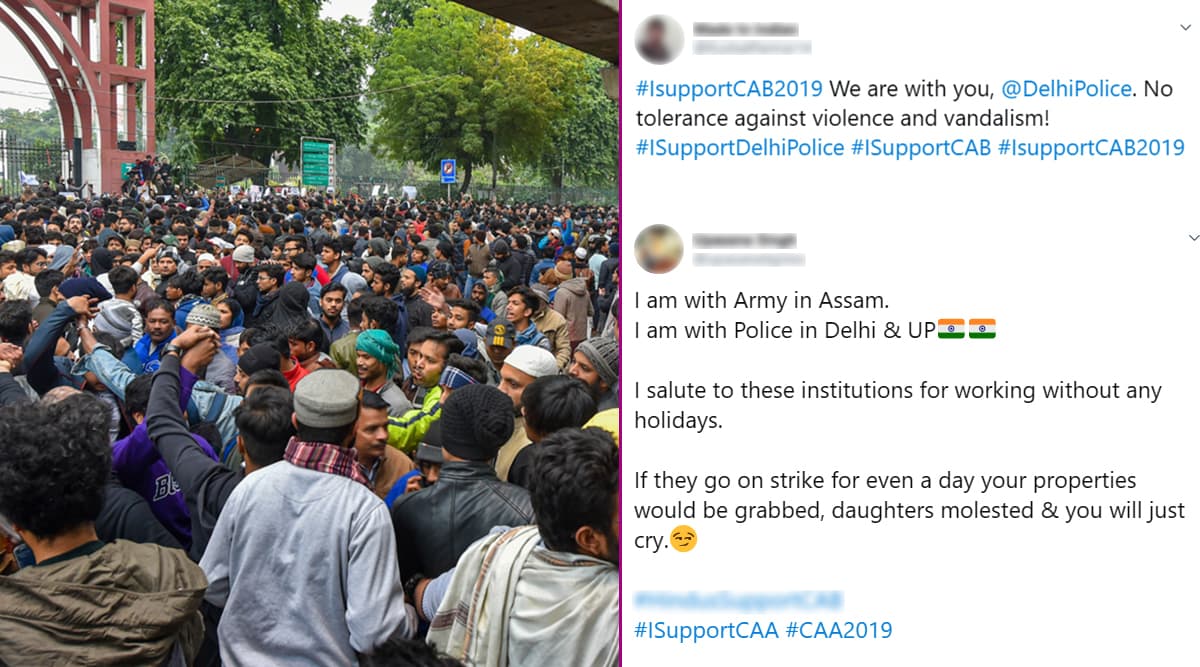 Indian citizens are witnessing a revolution across the nation. This is a period of serious revolts that are taking place in synchrony. There have been ongoing protests in various parts of India against the Citizenship Amendment Act (CAA). What is the act about? The act seeks to amend the definition of an illegal immigrant for Hindu, Sikh, Parsi, Buddhist and Christian immigrants from Pakistan, Afghanistan and Bangladesh, who have been living in the country without documentation. With the Citizenship Amendment Bill now becoming an act, they will be granted fast-track Indian citizenship in six years. The amendment of citizenship laws has seen a massive protest across the country. Curfew has been declared in various states, and the government has also banned internet at several places in view of the ongoing protest. People have taken to Twitter expressing their solidarity against the act and others lending support to CAA. 10 People With Criminal Background Arrested in Connection With Violence During Anti-CAA Stir, None of Them Students. 
Students and citizens of all ages are protesting against the act for two reasons. Firstly, Assam bore the brunt of immigrants from 1951 to 1971, while other states did not. Protestors feel it is unfair to impose more on the state. The act undoes Assam Accord which was signed by the centre in 1985 putting the date of detection and deportation of foreigners as March 25, 1971. CAA has a new cut-off date of 2014. Secondly, the act discriminates against Muslim communities and violates the right to equality in Constitution. These are the two significant reasons why people are participating in rallies, protesting against the act. But some protestors have reportedly been killed in Assam and while students injured amid action by the police and army officials. Curfew Lifted in Guwahati, Broadband Internet Services Restored Days After Anti-CAA Protests in Assam. 
With the ongoing protests, curfews and internet banning, people across the country have taken to social media to express their support or displeasure for CAA. Twitterati is divided! Various opinions have poured in with some taking a stand with the students, and others supporting the act, with #ISupportCAA. West Bengal CAA Protests: Internet Suspended in Several Districts to Curb Spread of Rumours Amid Violence. 
Internet Is Divided!
Every essay that I wrote in school on India started like this: "India is the largest democracy in the world which allows people of various religions and cultures to exist." Today I can't start with the same line. It seems ironical!#JamiaProtest #CAA2019 pic.twitter.com/nV9nPYBWUG

— Dhek.vaishali (@dhek_vaishali) December 17, 2019
Opposes CAA:
India was and should remain secular!! #CAA2019 #NRC_CAB_GoBack #NRC_CAB pic.twitter.com/zIShLHUKHp

— Anamika Tiwari (@Anamika191994) December 17, 2019
Youth Protesting Against CAA:
This is how the protest should be.Much power to the youth the future of india.#CAAProtests #CAA2019 pic.twitter.com/qV9rXrVg7A

— Akhil Tripathi (@takhil656) December 17, 2019
Some Support CAA:
I am with Army in Assam.

I am with Police in Delhi & UP🇮🇳🇮🇳

I salute to these institutions for working without any holidays.

If they go on strike for even a day your properties would be grabbed, daughters molested & you will just cry.😏#HindusSupportCAB#ISupportCAA #CAA2019

— Upasana Singh (@upasanatigress) December 17, 2019
Supporting the Delhi Police:
#IsupportCAB2019 We are with you, @DelhiPolice. No tolerance against violence and vandalism! #ISupportDelhiPolice #ISupportCAB #IsupportCAB2019

— Made In Indian (@KushalParmar14) December 17, 2019
Students Being Misled?
I wonder what the youth is protesting for? Indians are Indian, irrespective of caste, creed & colour.#stopmisleading#fakesecularism#ISupportCAB pic.twitter.com/cw5Hljo0up

— Sonia_thechanges (@soniajgupta1) December 17, 2019
In Assam, verified reports state that so far three civilians have been shot to death by the security forces during protests. Again, students of Aligarh Muslim University and Jamia Milia Islamia University have been protesting against the act. Delhi Police entered the Jamia Millia campus and detained several students for alleged involvement in violent protests against CAA on Sunday. AMU students had to leave the hostel as cops entered and injured many on December 15, 2019. At least 26 students have been booked for the night clash with police, followed by which the examinations have been cancelled. In view of this, students across the country reportedly took to streets, in solidarity with Jamia Milia and AMU.