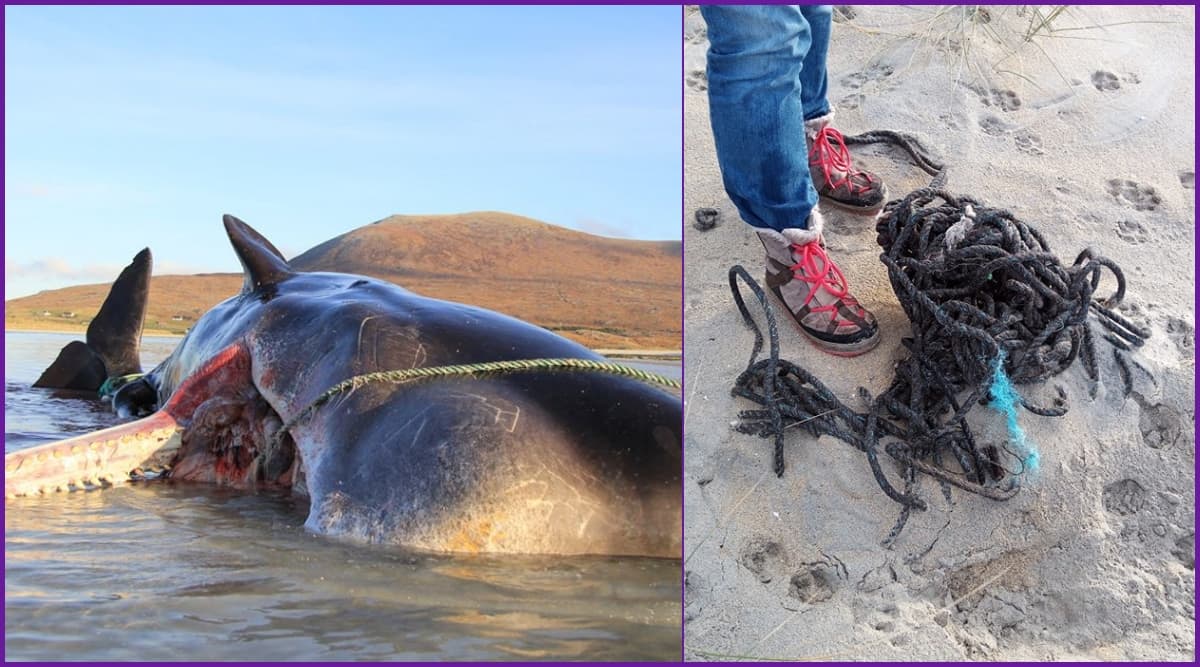 A dead sperm whale washed ashore on the Luskentyre beach in Scotland's Outer Hebrides islands was stuffed with almost 200 pounds of trash! A team of experts performed a necropsy and were shocked with what emerged inside the young whale's stomach. The male sperm whale was found dead ashore on November 28. Fishing nets, rope bundles, tubes, plastic garbage were some of the items found in its body! The workers are calling it a "litter ball" found inside his stomach. Gruesome pictures of the finding were shared on social media. Fifty Dead Pilot Whales Wash Up on an Iceland Beach and No One Knows Why!
It was a 13-foot-long whale and apparently starved to death as its intestines had become dysfunctional. The ingesting of so much trash impacted and obstructed the digestion process. When the representatives of Scottish Marine Animal Strandings Scheme (SMASS) got to performing the necroscopy, the whale had been dead for more than 48 hours. And just when they struck a knife, the insides "sort of exploded" as they mentioned in the Facebook post.
Watch Pics of Dead Sperm Whale and the Waste It Had Ingested:
Here's a Video of the Fish's Body Exploding With Waste (Viewer Discretion Advised):
It is a horrific sight and shows how much waste this fish must have ingested which included plastic cups, gloves, rubber tubes among other debris. Dan Parry, who has been organising plastic pickups at the same beach told in a report, "The fishing industry need to do better, but equally, we all need to do more. Watching this today, makes me despair for the environment, totally falling apart around us."
A lot of marine lives are being lost due to plastic pollution and a result of human waste entering the sea waters. Just last month, a  22-foot long male whale washed up on a beach in Wales had plastic sheeting and marine waste in its stomach. There was also a large mass of ropes found from his body.