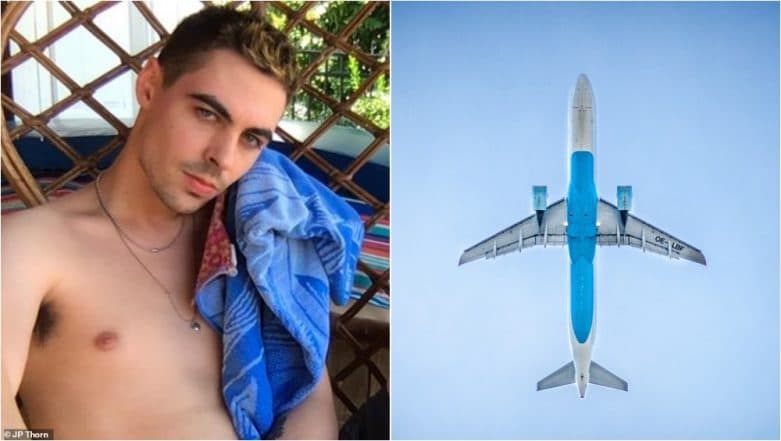 A passenger was shocked when he received a message from a Delta pilot on Grindr app during his flight. The pilot who was in the cockpit messaged a flyer onboard saying, "I see you're on my flight. Enjoy the ride to Chicago." 27-year-old JP Thorn was flying from Saint Paul in Minnesota to Chicago when the message was sent to him.
Thorn who is a college student said that the incident happened in August. He had just landed and checked his phone when he saw the message sent to him on the gay dating app by the pilot who was flying his plane. Thorn told The Post that the message was sent 30 minutes before landing which means the pilot sent the message during their 90-minute trip. (Don't flights tell their passengers to put their phones on Aeroplane mode while take up and not use it until landing?) Black Doctor's Credentials Questioned by Delta Flight Attendants After She Tried to Help a Distressed Passenger.
Thorn told The Post, "My deductive reasoning led me to believe that he was the pilot. I messaged him back and he told me that he was one of the pilots." Thorn chatted with the pilot while heading to catch his connecting flight and described the pilot as a "nice guy".  Talking about their conversation, Thorn said, "He asked me about our flight, how it was on the way, and [the conversation] was really standard. I said there was no turbulence, then he made a joke about turbulence."
Here is the tweet that garnered attention:
remember when my pilot messaged me on grindr at 30,000 feet in the air pic.twitter.com/0q7QNDX7MV

— JP (@emobandtshirt) November 25, 2018
A screenshot of their chat went viral after Thorn shared it on Twitter. It has received more than 30,000 retweets and over 218 thousand likes. Thorn reportedly said, "I got a lot of people saying I should've met up with pilots because they make a lot of money. That was pretty funny. It's the only airline I tend to use," he said. "I don't think they get into too much controversy." Delta has not responded on the incident and Thorn said he would with Delta again.