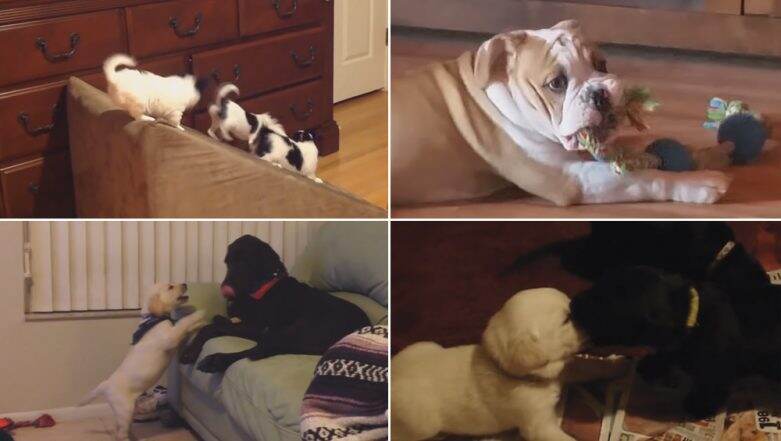 March 23 is celebrated as National Puppy Day in the United States. Dogs have unconditional love for humans, they are man's best friends is something that we know and some of us would have experienced. Any dog owner or lover would know how much joy a puppy brings to one's life. And this day honours the very same bond shared between a man and a dog. It celebrates the unconditional love that puppies bring to one's life. If you do not own a dog then don't worry, we will give you a cute dose of dog and puppy videos which you can watch through the day. If you love watching dog videos then we are sure you'd enjoy the videos below. Golden Retriever as Mayor! Californian Town Elected a Dog, View Cute Pics of Max.
Puppies love any kind of attention, they just need someone around and while they entertain themselves, their tactics will also entertain you. They are always in a playful mood and you just cannot say no to them. The baby canines can are usually full of innocence before they grow into full-grown naughty dogs. Let us look through some of the funniest and cutest puppy videos. Puppy Struggles to Save a Cock Fight, Watch Funny Video Viral From Coimbatore.
Cute Puppies Doing Funny Things
Literally, anything that a puppy does is so funny. Like the one just sticking his tongue out or just barking, looks funny because of their cute faces.
Funniest Puppy Videos
The above video has combined some of the funniest moments of the little canines. Be it playing, eating or just doing regular things, these puppies look too funny while at it. We are sure this will leave you with a smile.
While we look at some puppy videos, do you know about the pet dog who responds to all Harry Potter spells? A dog named Remus is trained so well by his owner that he does all the actions as per the magic spells. Remus became an internet sensation, soon after his owner posted a video of him following all the spells correctly. Another such clever dog was a pet Golden Retriever who had locked himself out from his house in Washington. To get inside the house, this dog rang on the doorbell camera.
There are many dog videos that keep coming on the internet and each one is cute indeed. We hope the above videos brought a smile on your face and you spend a very happy National Puppy Day!